Sustainability Heroes: Cat Hirst
Sustainability Heroes: Cat Hirst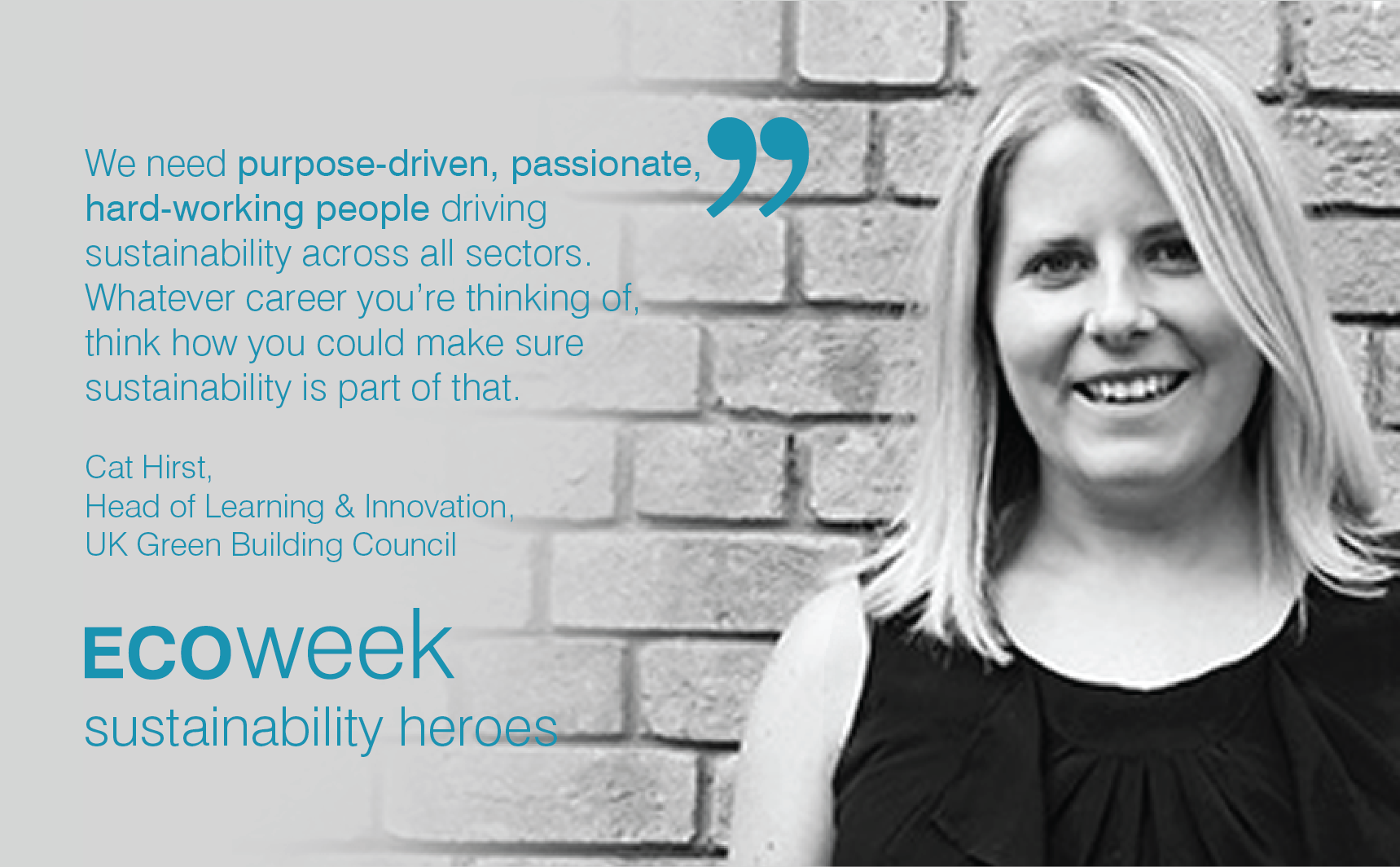 To mark ECO Week 2017, which aims to promote the wide range of careers related to the environment and sustainability, we are profiling a range of professionals who are leading the way within the sustainability sector. We're calling them our 'Sustainability Heroes'!
Throughout the week we will publish a series of short, snappy interviews that give us insight into their day to day life at work, what motivates them, and how they got to where they are.
Our second Sustainability Hero for ECO Week 2017 is Cat Hirst, Head of Learning & Innovation for UK Green Building Council.
Name: Cat Hirst
Job title: Head of Learning & Innovation
Organisation: UK Green Building Council
How long have you worked here? 5 years
Previous roles that led to this job? Associate Director, Sustainability, AECOM
What did you study? Where? Geography at the University of Durham
Where do you live? Brixton, London
What motivated you to pursue a career within the sustainability sector?
I've loved the nature and outdoors from a very young age. At school geography and science were my favourite subjects, so it was a fairly natural progression for me to go into job in sustainability. To have a career where people AND the environment are so important means that there's always something to be passionate about. Also, working in such a fast moving industry ensures there's never a dull moment!
What's the highlight of your working week?
I meet so many different people though my job. Every week, I work with people from the UK-GBC membership (over 400 organisations) with such interesting backgrounds and very diverse perspectives on sustainability in the built environment. Because UK-GBC is a not for profit, I am always amazed by the goodwill of our members. It's a highlight to meet all these great people, and collaborate on really important programmes and initiatives together.
What traits do you admire in colleagues?
It may sound a bit of a buzz word, but a sense of 'purpose' is really important for me. I love the fact my colleagues have a clear idea of their own leadership purpose, no matter how junior/senior they are. I also think it's important for colleagues to be authentic. People who are happy to be themselves at work, as well as home, makes for a great team dynamic and creates a supportive environment.
What has been your biggest set back at work? How did you overcome it?
In my previous job as a sustainability consultant, I had a few instances where clients just didn't grasp the value of sustainability, or see the improvements we were trying to make to the building design. This resulted in some seriously depressing meetings and wasted work. BUT I realised that if I saw the world from their perspective (that there was no need to be sustainable) then we would be facing much bigger problems! It was this insight that led me to apply for the job at the UK-GBC. I realised that I could have a much bigger impact if I educated people and worked to change the mindsets of the whole buildings industry.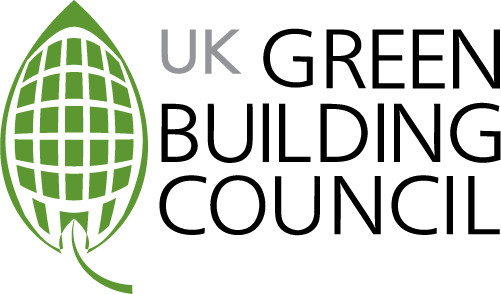 What do you consider to be your biggest achievement in your career so far?
Work wise, I'm most proud of developing our Future Leaders programme. Now in its 4th year, it's becoming really established within the industry, and provides a much needed forum for tomorrow's leaders to grapple with the most critical issues that the sector will face in the future. We're now up to 100 Future Leaders, and I must say, in such crazy world, it really reassures me that we're equipping such a fantastic group of people to lead us to a better future.
What keeps you awake at night?
Almost nothing! I am an incredible sleeper! Despite this, the busier I am with work, the more I need to keep my brain clear of worry at night, so I can ensure I'm rested for the next day. Working for a not-for-profit means we're tight on resources, have lots to do, and more big ideas to come up with. I try to remember that I'm much better at work after a relaxing night's sleep. That said, one of first things I worry about in a morning is the troubles in the world, often as I'm listening to the news. There are so many deep seated global issues which seem to manifest themselves in so many ways – politics, environmental disasters, civil unrest, inequality. BUT then I remind myself that I'm in a job where I can do something about it, and hurry on in to work…
How do you juggle the work / life balance?
Anyone that knows me will say they don't know where I find the time. I'm always busy (apart from when getting my 8 hours/night sleep). During the week, I play hockey and tennis – sport is brilliant for releasing the tension of the day (as is a gin & tonic!). So I make sure I never lose the Friday feeling! Often that means working very hard in the week, so I can relax and enjoy my weekend. Fortunately, my colleagues have a similar view. And it helps that I never dread going into work on a Monday – I'm very lucky with that.
What gives you the 'Friday Feeling'?
Step 1: Feeling that I've had a super productive week at work and I've done all the major things on my to do list.
Step 2: A gin and tonic with colleagues or friends.
Step 3: Knowing I have a fun weekend plan, with a bit of downtime also programmed in. At the grand age of 32, I've also realised that a bit of chill out time is absolutely crucial!
What advice would you give graduates embarking on a career within the sustainability sector?
Please do it! We have major challenges ahead with climate change, lack of resources, inequality, and poor health and wellbeing. We need purpose-driven, passionate, hard-working people driving sustainability across all sectors (buildings, retail, food, education etc). So whatever career you're thinking of, think how you could make sure sustainability is part of that.
What does success look like?
Success will be when we have no specialist 'sustainability sector'. I hope to put myself out of a job, and instead every person working and living on this planet understands how to incorporate sustainability in their personal life and their work, and we are all reaping the benefits. A cleaner, fairer, smarter world we can be proud of which lasts for future generations.
---
This post was authored by: Claire Martin