Sustainability Heroes: Andrew Pendleton
Sustainability Heroes: Andrew Pendleton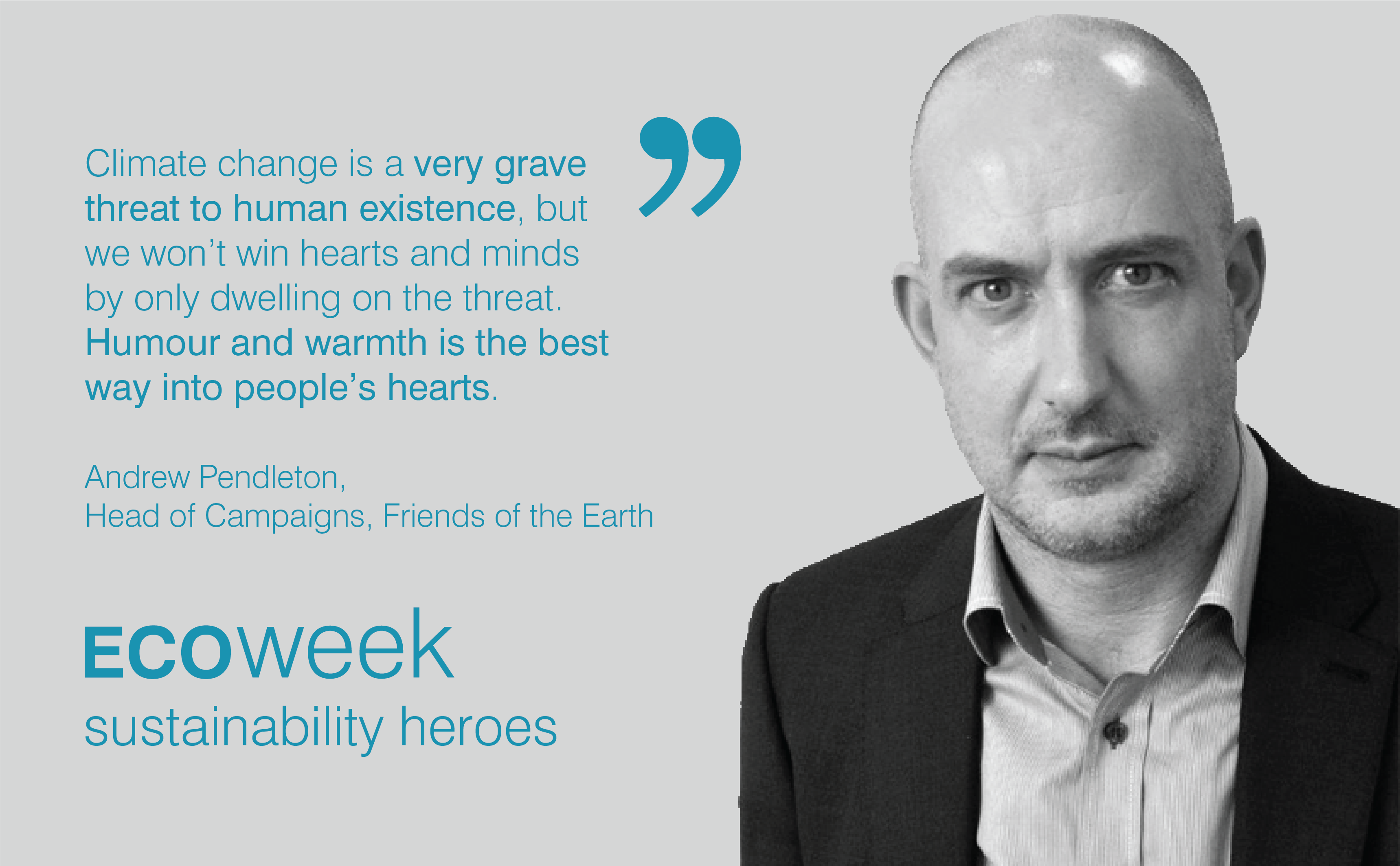 To mark ECO Week 2017, which aims to promote the wide range of careers related to the environment and sustainability, we are profiling a range of professionals who are leading the way within the sustainability sector. We're calling them our 'Sustainability Heroes'!
Throughout the week we will publish a series of short, snappy interviews that give us insight into their day to day life at work, what motivates them, and how they got to where they are.
Our first Sustainability Hero for ECOweek 2017 is Andrew Pendleton, Head of Campaigns for Friends of the Earth.
Name: Andrew Pendleton
Job title: Head of Campaigns
Organisation: Friends of the Earth, England, Wales and Northern Ireland
How long have you worked here? 5 years
Previous roles that led to this job? Associate Director, Climate and Energy, IPPR
What did you study? Where? Communication and media production, Bournemouth Uni
Where do you live? Hammersmith, West London
What motivated you to pursue a career within the sustainability sector?
I didn't pursue a career in sustainability; it pursued me. I was working as a journalist 15 years ago, and was talked into an interesting job in Charity Communications, which then led to an opportunity to develop policy analysis skills and then to focus on climate change. I've now been working on climate, energy and latterly also other environment issues for 10 years.
What's the highlight of your working week?
I can't say it happens every week, but the thing that motivates me is when one of the campaigns I'm responsible for is right in the thick of it. Campaigns take a long time to plan and execute, but when they're doing their work – engaging people, challenging power, causing controversy – that's what fires me up. On fracking, we've had a lot of that and it's been enjoyable as well as quite nerve-wracking.
What traits do you admire in colleagues?
My most talented campaigner colleagues are the most tenacious p
eople I know. One of the most important characteristics of both journalism and campaigning is not taking no for an answer. Good campaigners are excellent at this, which can make them challenging colleagues at times, but pays dividends when they run campaigns that stand up to politicians and business and support people to safeguard and improve their environment.
What has been your biggest set back at work? How did you overcome it?
I've had loads. I'm a bit of a risk-taker and so that comes with setbacks. Career wise, I've applied for a couple of jobs I really wanted and been unsuccessful. But I've been very lucky; something else has always come along. Very early on in my career, while working for the BBC in Nottingham, I produced a piece of work that wasn't up to scratch. The presenter of the programme I was working for sat me down and said, 'you'll have to do this again as it's not good enough'. That was a lesson that's stayed with me; however good you are at something, you always have to work hard at it too. My Primary School motto was 'Nothing But Your Best' and while that's not always possible, that's always stayed with me too.
What do you consider to be your biggest achievement in your career so far?
Very early on, while I was at
the 
BBC in Nottingham, I was part of a team that won two Sony Radio Awards, and in terms of conventional achievement, I've
never really topped that. A few campaigns I've been involved with have led to changes that will probably have made a difference – I developed and ran a campaign calling for companies to be compelled to disclose the carbon emissions. That is now required, for listed companies at least. The bees campaign I've been responsible for throughout much of my time at Friends of the Earth has secured a 'national pollinator strategy' from government. And our fracking campaign has helped keep the UK frack free for the past 6 years.
What keeps you awake at night?
Mostly my family; children are the greatest pleasure and the most stress. I'm never comfortable if I feel I haven't done the best job I can do, but there's no point in allowing work-related things to lose you too much sleep. I mean it's not as if the planet is at stake or anything.
How do you juggle the work / life balance?
I really enjoy flexibility at work. Most of my employers have been really good at letting me have this. I also now only work 4 days per week and this allows for a much better balance. It's not always possible, but because my partner works full time and has the higher-paying job of the two of us, I can spend a bit more time with my son.
What gives you the 'Friday Feeling'?
Friday. Honestly, there's nothing like getting home to my family, opening a beer and drawing a line under the working week (cue the press office calling me up for a media interview over the weekend).
What advice would you give graduates embarking on a career within the sustainability sector?
Don't take it too seriously. One problem with the sustainability sector is that it can take itself and its causes very seriously. That can be a real turnoff for lots of other people. Of course, climate change is a very grave threat to human existence, but we won't win hearts and minds by only dwelling on the threat. Humour and warmth is the best way into people's hearts.
What does success look like?
We spend long hours on campaigns interrogating our aims. Perhaps too long. But it matters because without a clear aim and vision of success, it's difficult to take strategic decisions. So, to me, success looks like a really clear understanding of the strategic aim of a campaign. Then, when the world throws lots of unexpected things at you, you can measure what you do about them against what you want to achieve. Someone once said that campaigning is more like Jazz than classical music. There's a central theme, but everything else is improvised; there's no score for human behaviour and events will always happen.
---
This post was authored by: Claire Martin