Global Ethical Finance Forum 2015
Global Ethical Finance Forum 2015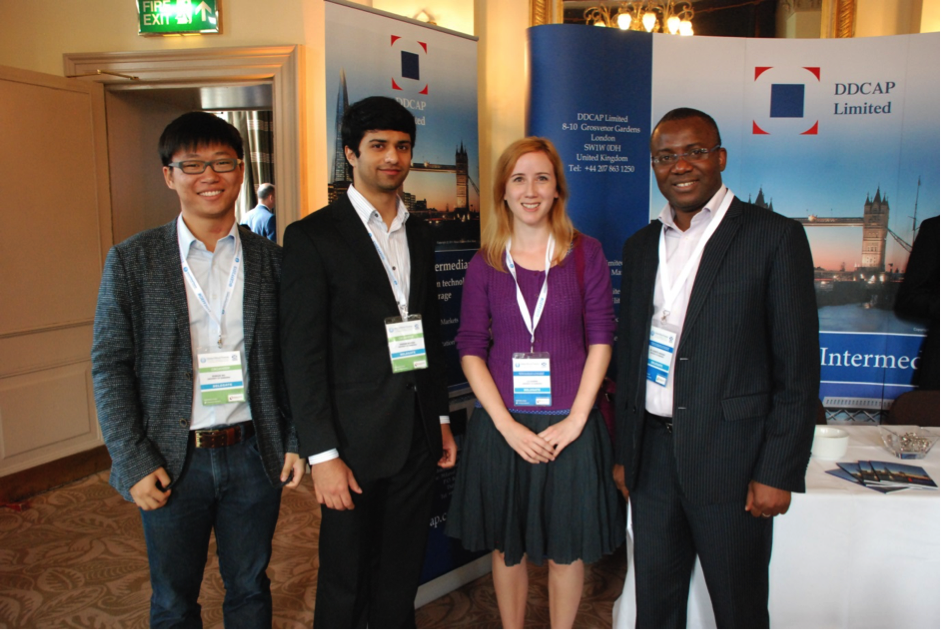 By Liz Cooper, Research and Policy Manager
Ethics, social responsibility and sustainability are attracting more and more attention in the world of finance and investment, following financial crisis and recessions, and in the context of climate change. This month, Edinburgh hosted the first Global Ethical Finance Forum, organised by Middle East Global Advisors.
The aim of the forum was to bring together finance and investment professionals to share knowledge and discuss around the theme of collaboration and convergence between different approaches, including Islamic Finance, Socially Responsible Investment (SRI) and the incorporation of Environmental, Social and Governance factors (ESG). The University of Edinburgh acted as a partner to the forum. In attendance were representatives from Social Responsibility and Sustainability, the Business School, and student volunteers.
The University of Edinburgh has recently undertaken a review of its approach to investment of its endowment funds, including a new policy, and a comprehensive review of fossil fuels-related investments, which has led to divestment from three companies operating in coal and tar sands industries. An engagement approach is being undertaken with other firms, to call for much greater investment in alternatives to fossil fuels and carbon mitigation strategies. Many delegates at the forum were aware of Edinburgh's approach to investment, and of differing approaches taken by other universities such as Glasgow and Harvard. This forum was therefore an interesting opportunity to hear a range of views from investment professionals across the world.
During the two-day event, a number of different aspects of ethical finance were discussed. The history of ethics in finance was traced, with a shift being noted from a culture of honesty in banking that was focused on relationships in the past, to transaction banking, striving for short term profits at the expense of others. It was recognised that finance is something intangible, and generally not well understood by the general public, which allows those in control of large sums of money to act in ways that may not benefit society as a whole. Delegates agreed that banking and finance must change, and must learn lessons from the recent financial crisis. The Emir of Kano, Nigeria, gave a high profile interview on day two, sharing experiences from his former role as Governor of the Central Bank of Nigeria, and calling for those in positions of power to recognise their responsibility to all of society. As well as being driven by a desire to do the right thing, there was a broad consensus (demonstrated by the use of real-time voting technology) that SRI and ethical investment lead to equal or better long-term performance, rather than a decrease in financial performance. The need for more awareness of this among investors, and the need for more incentives for fund managers to focus on the long-term, was discussed. It was recognised that the skill level of fund managers is a better indicator of performance – therefore incentives to attract skilled professionals to manage ethical funds are needed.
In terms of how to implement ethical investment or SRI, a number of companies and organisations provide research on the ESG performance of companies, and a wide variety of indices are available to help fund managers and investors choose where to invest their money. But questions are raised regarding the accuracy of data used by these indices. Conference panellists called for more and better quality research on company practices, and on indices themselves, to inform investment decisions. There are still concerns among some investment managers that they risk not complying with legislation (the fiduciary duty) if they do not focus solely on financial performance. In the UK, the legal context has been recently clarified, and non-financial ESG aspects can be incorporated into investment decisions, as they have been linked to better long-term performance, but more education is needed among investment practitioners on this point.
Looking to the future, in terms of the forum, it would be interesting to see a broader picture of ethical finance covered – including more focus in impact investing and strategies such as shareholder activism. In terms of the future of finance, panellists at the forum discussed whether social media technology firms had the potential to wipe out banks, by coordinating peer to peer lending through their global networks. Overall, delegates agreed that a future where terms like SRI were obsolete would be desirable, as all finance would be ethical, socially responsible and sustainable.
Photo credit: GEFF 2015