Improving internet access at Dumbiedykes
Improving internet access at Dumbiedykes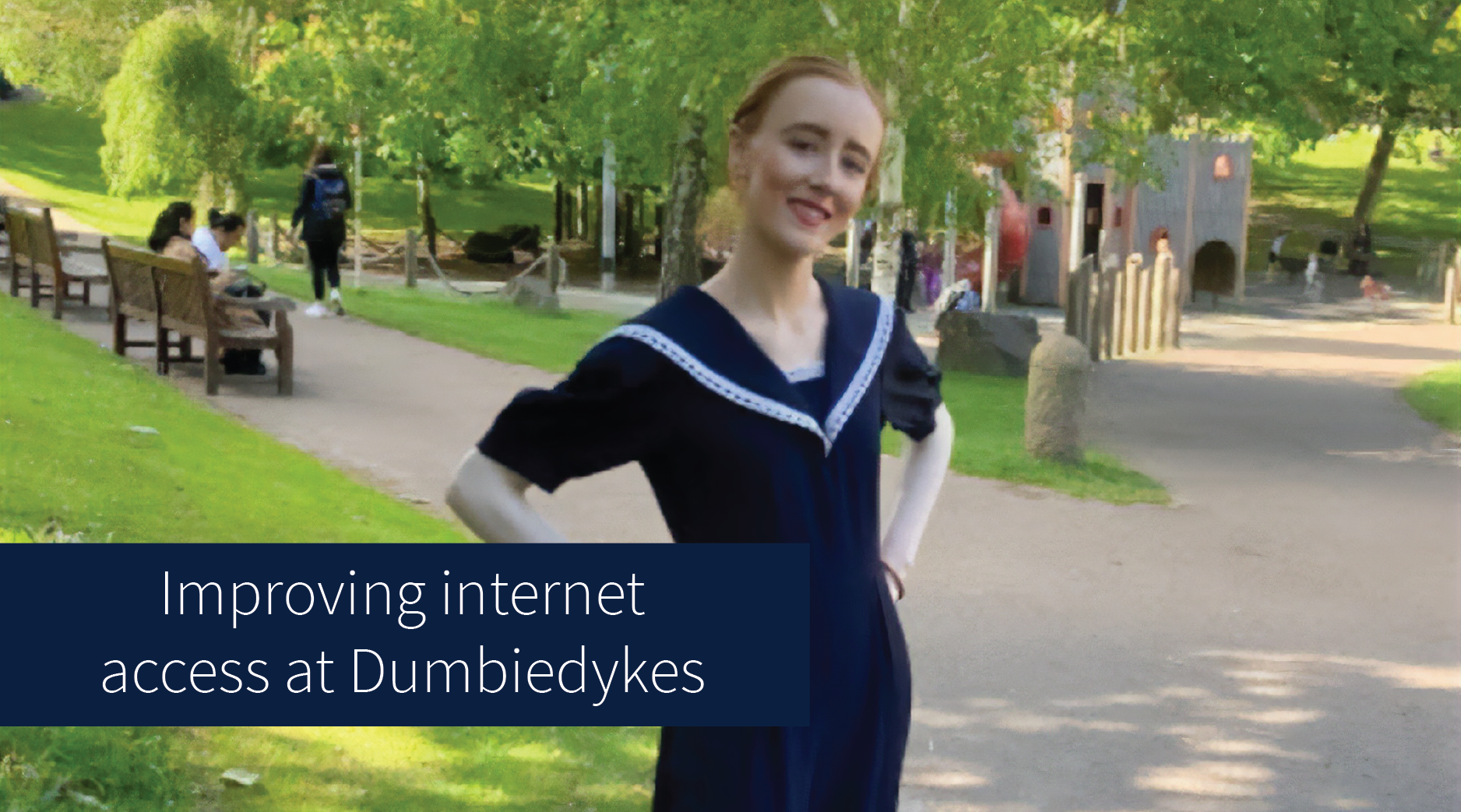 Iona Barrie, Dumbiedykes Digital Inclusion Intern, gives an update six months into her project to improve access to the internet and compatible technology in the Dumbiedykes community.
The digital inclusion project
I work in the University's Community Engagement Team at the Department for Social Responsibility and Sustainability, through Inclusion Scotland.
The Dumbiedykes Digital Inclusion project focuses on improving access to the internet and compatible technology within the Dumbiedykes community.
Dumbiedykes is a mixed-tenure housing estate in the Holyrood area of Edinburgh, immediately adjacent to part of the University's campus. The project is supported by the Edinburgh Futures Institute as part of its community engagement work on digital inclusion.
The original aim of the project was to ensure that every Dumbiedykes resident had affordable internet access. Following consultation with residents, the project scope has widened to potentially offering free computers to residents and teaching basic digital skills.
The project is being undertaken with community partners:
It also builds on project work undertaken by social innovation MSc students in the University's Business School. The hope is that digital access will improve residents' quality of life, bringing permanent positive social change.
Does digital inclusion affect quality of life? Evidence from Australian household panel data
Conversations with residents
Through tenacious investigative conversations, we've now identified the existing (and planned) internet infrastructure within Dumbiedykes, helping all of us in the project to consider a preferred technical, financial and governance solution that best meets community needs. These conversations are ongoing, so we can't tell you the outcome yet.
Engaging residents has been a challenge, so we've needed to be creative! The topography of Dumbiedykes means it is hard for many residents to go out of the estate to access services. There has also been no access to indoor space where we could hold consultations. In our early conversations with residents, the Gala Day came up as something which used to be an empowering annual community-wide event.
We figured running it again could be a way to reach residents; happily, some residents agreed and ran with the idea with us. Together, we distributed over 600 flyers to Dumbiedykes property occupants with information on the Gala Day, with the offer of digital inclusion support on the back.
What we've learned so far
1. Active roles for residents
Residents would like to have an active role in projects, as opposed to having them imposed on them without consultation.
2. Long-lasting outcomes
Residents would like to see a long-lasting outcome that is maintained for and by the community and genuinely open to all. In the past, the absence of properly resourced infrastructure has meant positive benefits have eventually faded into the background.
3. Avoid fractured working
We need to participate in their forums to avoid fractured working. There are many third-sector organisations outside our project group engaged with Dumbiedykes residents.
4. Join the dots
We can add the most value by joining the dots, connecting people and advocating for residents. There are pre-existing digital inclusion initiatives that have the potential to benefit Dumbiedykes residents.
Dumbiedykes is an incredibly diverse community in every sense. Residents are social housing tenants, private renters, owner-occupiers and tourists staying in Airbnbs. There are residents who have lived in the estate since it was constructed, and University of Edinburgh students living there for just a year.
Just 51.9% of Dumbiedykes social housing tenants reported having internet access at home in a survey run by the City of Edinburgh Council. This figure compares to a Scotland-wide average of 88%.
5. Involve students
Our students are residents and keen to play a positive role in the community for the time they're here:
I was a volunteer for the Dumbiedykes Gala Day 2022. It was amazing to see our neighbours in the community come together and engage in fun activities such as arts and crafts. My role was to provide affordable internet tariff information and collect feedback from the community on improvements they would like to see in and around Dumbiedykes. As a member of this community, I hope that activities such as an IT skills improvement programme can be implemented within Dumbiedykes, as many of our neighbours would benefit greatly.
Syaqif Bin Mohamed Kasim, digital volunteer (community team), 4th year Chemical Engineering student at the University of Edinburgh.
Activities, outputs and outcomes to date
Consultation
We held a consultation with Crannie users, some of whom are from Dumbiedykes, at a regular resident wellbeing afternoon in late August 2022.
Gala Day
We attended a community-led Gala Day ran on Saturday 24 2022 September, attended by around 120 Dumbiedykes residents. We were able to consult 31 residents about their needs and wants, including digital.
There was some great coverage of the Gala Day by the Edinburgh Reporter and the Dumbiedykes Matters Facebook page.
An informal group of residents has formed "Dumbiedykes People" that is looking at potential future activities for residents.
Dumbiedykes Gala Day has been revived (The Edinburgh Reporter)
Dumbiedykes Matters Facebook photo album
Looking forward to 2023
In the remaining six months of the project, I will be working with community partners and residents to try to:
Oversee a small group of volunteer residents who will assist other residents with basic digital skills.
Establish an internet café space within Dumbiedykes.
Work with stakeholder organisations to get an internet access solution put in place.
Get support in place to keep community events going over the longer term, led by the community.
Alongside my work here, I am studying for a BA (Hons) in English Literature and Creative Writing at the Open University. I sit on Inspiring Scotland's Autism Advisory Forum, and I freelance as a disability consultant.
Take action