A Hillwalker's guide to sustainability
A Hillwalker's guide to sustainability
Alexiane Charron, third year Environmental Geoscience student, shares top tips drawn from experience as Sustainability Officer at the Edinburgh University Hillwalking Club.
Alongside a desire to spend more time with our families, the pandemic also brought us a desire to spend more time in nature and green spaces. Many bought bikes but others dusted off their old hiking boots and headed to the mountains. In Scotland, hiking goes by the name of "hillwalking" and involves hiking in mountainous regions and reaching foggy, or fingers-crossed, sunny summits. Many hillwalkers also aim to climb as many of the 282 Munros (mountains over 3,000 feet) as they can, a pursuit known as "Munro bagging". Not all of us are as ambitious, however, and any kind of walking, whether through beautiful pine forests or hidden glens, is just as worthwhile.
Edinburgh University Hillwalking Club
Why go hillwalking?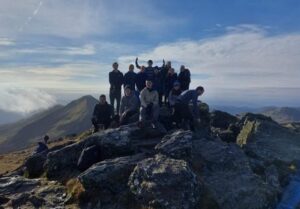 If the goal of becoming a Munroist hasn't already convinced you to pack your bag and head into the highlands, then here are a few more compelling points:
There is no better way to see the natural beauty of Scotland. The North Coast 500 is no doubt a stunning road trip, but for those who want to immerse themselves in nature, you need to leave the asphalt behind for the bog and heather.

It does wonders for your physical and

m

ental wellbeing

. From the sound of streams and bird songs to the incredibly silent summits, connecting with nature helps relieve stress by allowing you to be more mindful and present in the moment.

It's great for socialising. The conversations can be just as rewarding as the challenge and views (or lack of)! There's also nothing that brings people closer together than surviving through pouring rain, severe gales, and blinding fog, followed by a victorious fish & chips in the pub.
How to tackle anxiety with the help of nature
Sustainability tips
Here are some tips to get you started on your own adventures while making sure to respect the environment. 
Sustainable Travel
Use sustainable travel. Although hillwalking is a fairly environmentally friendly pastime, cross-country travel can be quite carbon-consuming. Using the train, one of the more sustainable methods of transport, or even travelling as a group would lower your carbon footprint. If you're feeling like an ultra-eco-warrior, you can try the train/bike combo by cycling from the train station to the start of your hill walk.
Equipment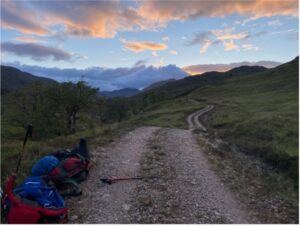 Equip yourself with second-hand or ethically and sustainably friendly gear. Giving equipment a second life can reduce the manufacturing footprint while also saving you money. Be mindful about fabric such as polyester or fluorochemically-waterproofed clothing which leach microplastics and chemicals and damage the environment.
Clean gear, and especially boots, between trips to limit unwanted species and seed transfer. Pay special attention to signs warning of tree diseases to avoid contaminating other forests.
Wildlife
Respect wildlife and management. Catching the sight of your first Scottish red deer is likely to remain in your memories for some time. But these impressive creatures, alongside many others like highland cattle, mountain hares, grouse, and frogs, deserve both admiration and respect. Give space to the animals and pay attention to bird nesting signs asking you to remain on paths and avoid certain areas. It's also important to respect wildlife management so make sure you're not going during the stalking season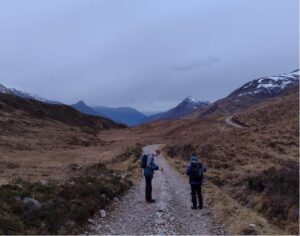 .
Scottish Outdoor Access Code – Heading for the Scottish Hills [External]
Route
Stick to paths. Although not always possible when stumbling through the fog, it's important to stay on existing trails to avoid erosion and damaging vegetation and habitats (scree slopes are particularly vulnerable). This is especially important when it's raining as the surrounding vegetation you choose to step on can quickly turn into bog. It might be worth investing in some knee-high gaiters!
Choose quieter hills. Not only will you benefit from private views, but you will reduce your impact on well-trodden paths and the risk of erosion.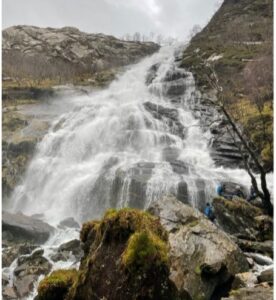 Waste
Clean up after yourself. The well-known quote 'take only photographs, leave only footprints' should always be in the back of your mind when you're on a hill walk. Don't throw anything away, including apple cores or banana peels as they take time to decompose and will disturb the local ecosystem. If you can't use toilets, make sure to stay at least 30 meters away from open water sources and bury your waste with a trowel. Carry a plastic bag with you to store your rubbish until you find a bin, and bonus points for picking up any trash you see along the way! 
Scottish Outdoor Access Code – Human waste [External]
Food
Choose eco-friendly food and packaging. Eating more plant-based and bringing reusables like thermos flasks and Tupperware will reduce your environmental impact.
Connect with nature
Connect with nature. Not only will it improve your mood, but it could help the planet. Creating an emotional connection with the environment makes you more likely to be environmentally conscious in your consumption and lifestyle. When you experience the outdoors, see its beauty, and feel its wonder, it reminds you of its need for protection. While seeing wildlife reminds us that we are not alone in the environment. It is too easy to dissociate ourselves from nature and ignore our impact when we stay within concrete walls, floors, and roofs.
Reconnecting with nature for sustainability [External]
More information:
Scottish Outdoor Access Code [External]
Mountaineering Scotland: Minimal Impact Advice [External]
Heading for the Scottish Hills: Deer Stalking Service [External]