Sustainability Champion spotlight: Leading by example through events
Sustainability Champion spotlight: Leading by example through events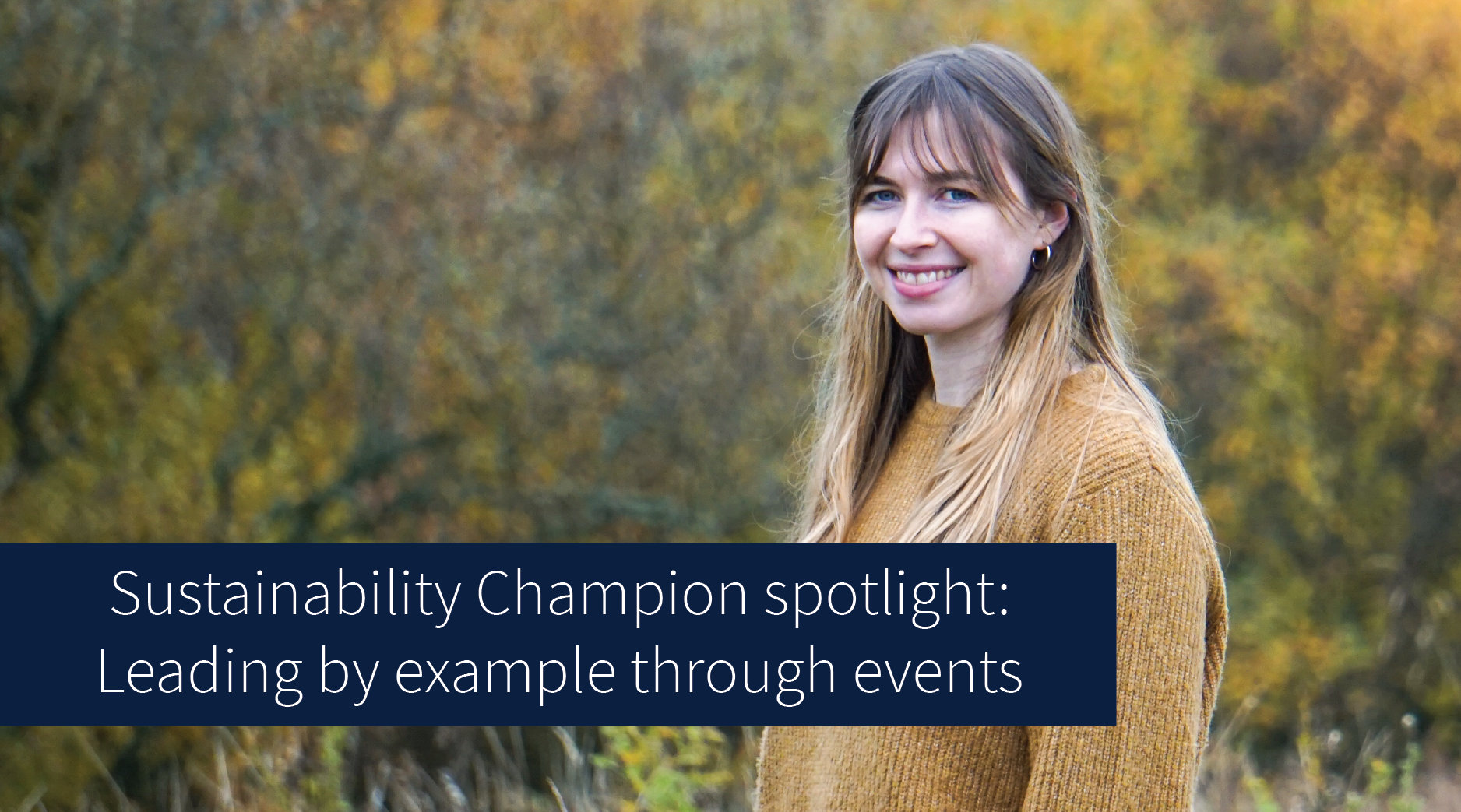 Sustainability Champion, Eilidh Patterson, Events, PR & Communications Administrator at the Business School, reflects on how events have changed since 2020, and how these changes offer opportunities for sustainability. She also shares her sustainability tips for hosting and attending events.
Covid-19 has changed the way we work and live
The Covid-19 pandemic has made us value our health and well-being more, putting more of an emphasis on a good work/life balance.
There is an increased demand for flexible working and for safe, inclusive and sustainable environments that provide opportunities for social interaction and community building. Ultimately, we need to take care of our local areas and be aware of the impact we have as individuals on our planet.
How events have changed and will continue to change
2020 exposed the fragility of the events industry, but also demonstrated its resilience.
Event organisers quickly learnt the use of new technologies to be able to deliver digital events, forever changing the way organisations host and engage with their audiences.
Unfortunately, with the pandemic being a prolonged and ongoing issue, the industry is having to adapt and evolve as we navigate through this uncertain period. Having coordinated a variety of online events across this period, from panel discussions to pitching competitions, I believe that investing in the technology that will support both in-person and online events is worth it for a number of reasons.
Having the tech for your events (and those that are willing to learn it) adds:
flexibility
opportunity
immense quality to the diversity and delivery
broader benefits in terms of sustainability and accessibility
From personal experience as the Events, PR & Communications Administrator for the University of Edinburgh Business School, I believe we are in a completely different place than we were twelve months ago.
As organisers, we have attended enough online events in the last eighteen months to know the do's and don'ts of virtual hosting and exchanged many learnings across our community. Of course, there are certain aspects of in-person events that cannot be matched, for example, networking is particularly difficult online. However, compared to the first few months of the pandemic, participants are more understanding, more engaged and willing to put themselves out there online, meaning we have the opportunity to influence change.
As a team, we have noticed the demand for content to be recorded, so that attendees can watch or re-visit at their convenience. This wasn't usually offered as an option pre-pandemic, but with online events, we expect it to be an integral part going forward which ultimately raises the question and need for hybrid events – hence the requirement for the tech!
Dialled-in and pre-recorded contributions
With events having a considerable environmental and social impact, there are higher demands and greater expectations for the industry to take more responsibility. With the establishment and global acceptance of online and hybrid events, we now have options when it comes to programming and how best to reduce our overall carbon impact from the planning stage.
For example, offering a speaker the option to dial in or pre-record their speech as part of an event is now far less daunting, and overwhelmingly reduces the carbon footprint of speakers travelling from far afield. In conjunction with this, with worldwide confidence in online delivery having grown, we have taken the opportunity to reach out to speakers across continents who can provide a different aspect and experience to an event, increasing inclusivity and diversity.
Over the past few years with the effects of the climate crisis becoming more frequent, drastic and closer to home, the need for action is imminent. Awareness around the global issue has become ever more prominent and I believe as organisers, if we clearly communicate our reasoning behind our sustainable choices, support will follow. Really, it is about leading by example.
We hosted COP26Cast last year, a discussion programme featuring leading global climate, political, business and civil society figures. These included numerous speakers from abroad as well as local. COP and Development Finance for the Global South featured speakers from Africa.
View recordings of Fresh Ideas Festival, 'Spent Lives: Taxi Driving and the Uber Economy'
For our Fresh Ideas Festival, one of our sessions 'Spent Lives: Taxi Driving and the Uber Economy' included two speakers from San Francisco, Kasturi Ray and Julietta Hua. I remember this session well as they mentioned before it started there was a fire tornado happening outside and warned that their internet could drop at any point for this reason.
Thoughts on how events contribute to the climate crisis and sustainability
Event-related activities can have damaging effects on the local environment, city and the planet. All aspects of events, such as transport, accommodation, catering, marketing and even waste management have an impact on nature, including our air, water and biodiversity. The ramifications of these impacts are climate change and the reduction of natural resources.
From my time at the Business School, I've learnt that 'green' processes should not be a last-minute conversation and in fact, should be embedded throughout all our procedures to significantly reduce the environmental impacts of our events. It is therefore our role as organisers to integrate more sustainable systems into the entire life cycle of the events we produce. However, this requires commitment and support between all stakeholders from the organisers, venues, local authorities, suppliers and participants.
It is apparent that people are more engaged with the climate crisis and sustainability than ever. If we develop our methods, clearly communicating our reasoning to produce more sustainable events, we demonstrate that it's not too difficult to make small adjustments, it just requires some slight modifications of mindset and actions.
Advice for hosting or attending events
Our team at the Business School aim to 'reduce, reuse and recycle'.  A simple motto that we need to follow as we reduce our habits of consumption and constant demand for more, to lessen our impact on the environment. At the Business School, we believe that no event is too small to make a difference and a small step is still progress in the right direction.
We have made conscious efforts as a department when it comes to event materials:
We advise against print materials, with marketing taking place digitally, and programme information provided online or via a conference app;
We reduce branding on materials in order for them to be reused for other events (for example on t-shirts, lanyards, or signage);
We ask for name badges and lanyards to be returned once an event has concluded for reuse;
We advertise unused materials to other departments to prolong item life;
We recycle or reuse materials for other activities.
My five top tips for hosting sustainable events
Consider a digital event or offering speakers who would be travelling internationally to 'dial in' or send a pre-recorded talk.
Go digital with event marketing and promotion to reduce unnecessary waste.
Use suppliers that have 'green' initiatives, who give something back. And promote their services and actions, encouraging others to follow.
For in-person events, provide vegan or vegetarian catering, and serve on crockery to reduce carbon footprint. An additional step would be to request local seasonal produce to further reduce emissions.
For in-person events, provide local public transport and venue access information so participants can plan their route in advance, encouraging the use of public transport systems to attend your event.
Go further