Positive Imaginings: cultivating environmental citizens
Positive Imaginings: cultivating environmental citizens
In May 2021, Rowanbank Environmental Arts & Education commissioned Daniela Izquierdo, MSc Ecological Economics alumna, to conduct ethnographic research with children aged 9 to 11 from areas of multiple deprivation in Scotland.
What is Positive Imaginings?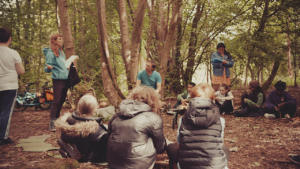 The goal of Positive Imaginings is to try to understand children's attitudes, behaviours, norms, and values during a series of play-based outdoor workshops that allow students to imagine a positive future, learn about the environment, seek solutions to tackle the climate crisis, and give them hope to take action to address these issues in the future.
The University of Edinburgh's Department for Social Responsibility and Sustainability is a partner in the Positive Imaginings project, providing funding as well as an in-kind contribution to deliver a project impact analysis report.
Find out more about Positive Imaginings
Research process
Since 2020, I have been participating in many volunteer projects for the University of Edinburgh, including local green space mapping. In May 2021 I was contacted for this exciting project.
During the workshops, I became deeply involved in the research process, interacting with and observing two groups of children in Primary 6 (P6) level at a primary school in Edinburgh learning about climate change and connecting with the natural world. These environmental workshops were held in a local woodland called Hawkhill wood.
I analysed the experiences of children with high levels of participation and interpreted the connections between the learning and teaching approaches used in different components of the programme to identify opportunities, challenges, and aspects of the programme that are most effective in helping children's environmental learning.
To implement the latter, I applied the participant observation method and used the Environmental Learning Outcomes Survey (Ballantyne, Packer, & Everett, 2005) to record observations of learning processes, a tool to measure learning outcomes and level of engagement of the participants.
Key findings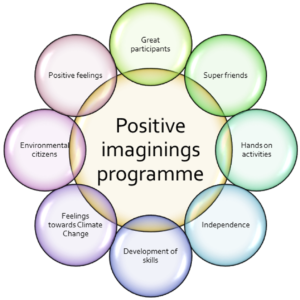 The cluster analysis identified around eight themes that emerge from the children's participation and observation during the environmental sessions in the woodland (image right):
Great participants
Super friends
Hands on activities
Independence
Development of skills
Feelings towards Climate Change
Environmental citizens
Positive feelings
Positive change in behaviour
The first two weeks of the programme were critical to the emotional and behavioural development of the youngsters, considering that the children came from areas of multiple deprivation in Scotland and the Covid-19 confinement had a huge impact on them.
During these weeks, we witnessed a variety of confrontations between the children ranging from isolation to aggressive behaviour towards their peers. By the third week, the children were behaving in a loving and polite manner to their peers and adults. It was a noticeable positive change in the behaviour of both groups of children.
During the five-week of outdoor workshops, the children demonstrated how to fully adapt and improve their personal and intrapersonal skills. The children developed the ability to become great participants, showing full engagement during storytelling activity and they learned to listen to adults and experts, respecting the opinions of others.
The children became very participative and supportive. They always asked questions, expressed their opinion, and participated in the activities. For example, they loved reading some little notes from a story about planet B and provided some creative solutions and ideas to help their friends on this other planet.
Imagining a bright future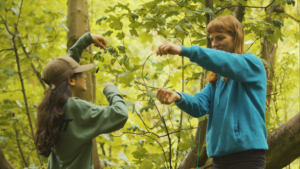 Another advantage of the workshops is that the outdoor learning activities increased children's curiosity and opportunities for exploration. The children began to imagine a bright future for themselves and to appreciate and care for nature, developing positive thoughts that decreased climate anxiety.
Children expressed their positive feelings in different ways, such as visualising a bright future, expressing optimistic views, or showing their happiness by singing, laughing, smiling, chatting with friends, and making nice comments to their friends. During handicraft and free play time, the children showed significant levels of emotional engagement. Everyone could hear the children laughing and running into the woods, thrilled to be able to participate in so many activities in the forest.
They got the time, space, and encouragement they needed to let their imaginations run wild. The children were always willing to help out in various activities. Children showed their creativity and ability to think outside the box. In the last weeks, I observed how children enjoyed practising activities such as drawing their "Dreamworld in 25 years". Playing with natural clay and crafting dream catchers were among the hobbies that revealed these exceptional abilities and visions for the future.
Building friendships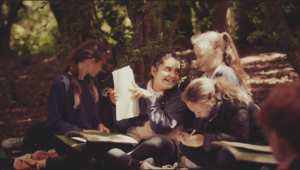 They also began to interact with their peers and build new friendships. During the first weeks, it was observed that the children preferred to play with the same group of friends; however, in subsequent sessions, most of the children played with all their classmates and swapped groups as desired.
Our young learners began to take initiative and communicate their ideas clearly and confidently. They also showed a high level of independence during activities and creating a close relationship with their peers, sharing ideas and responsibilities while they were playing and learning.
These workshops had a change in children's behaviour from anxious, disinterested, angry, and sad children to happy, joyful, confident, calm, and relaxed children. They also learned to take care of nature, themselves, and their friends.
A new generation of environmental citizens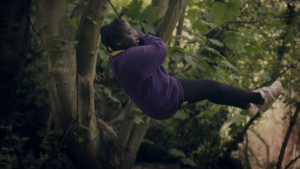 As a result, we inspire our new generation by giving them the necessary tools and environmental knowledge. They became environmental citizens who are aware of the impacts of climate change, how these can be avoided or reduced, why the natural environment is important for us and our planet, and they understood human-nature interdependence.
The children realised that they may be change agents in the fight against climate change. These workshops assisted kids in envisioning a better future, learning what they can do to help save the planet, expressing their concerns, and seeking support in dealing with climate emergency.
A personal reflection on the project
This first experience as a freelance researcher was rewarding. I want to publicly thank Elizabeth Vander Meer for unconditionally supporting me in my take-off as a professional. I am proud of my work and glad that Lucy and Arran loved it, which will be of great use in obtaining more funds for their inspiring project.
Besides that, this research has been used by Rowanbank's playwright to help inform the writing of the script for their environmental shows. It will also help inform future workshops around Scotland and help primary schools have a better insight into environmental education and outdoor workshops.
I can definitely say, from personal and research experience, that involvement in circus arts can be transformational. Social circus leads to positive social change and self-confidence. Positive Imagining's blend of circus and climate change education has clearly captured the imaginations of young people in Edinburgh, through unique, creative and positive engagement with nature.
Quote: Dr. Elizabeth Vander Meer Research & Policy Manager (Climate Change and Biodiversity)
Go further
Follow Rowanbank Environmental Arts & Education on Instagram
Find out about opportunities at the University of Edinburgh to learn about the climate crisis