Global Mental Health in the Climate Crisis: Urban Green and Blue Spaces for Community and Student Health
Global Mental Health in the Climate Crisis: Urban Green and Blue Spaces for Community and Student Health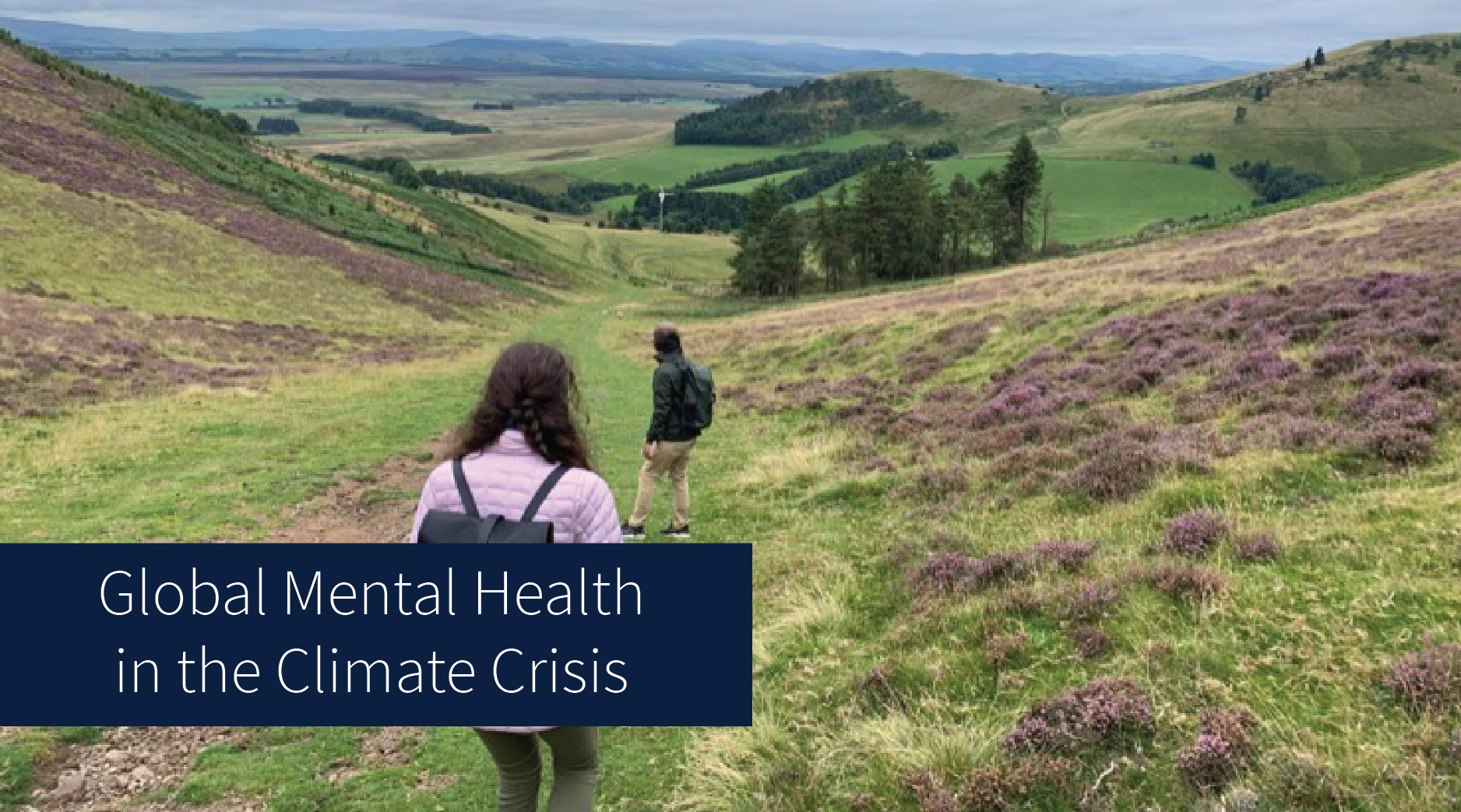 During Summer 2021, Shannon Branigin (MSc Global Mental Health and Society) completed a placement-based dissertation with the Department for Social Responsibility and Sustainability (SRS). Her research focused on global mental health, the climate crisis, and sustainable development, looking into Edinburgh's urban green and blue spaces as opportunities for mental health systems.
What is Global Mental Health?
Global Mental Health (GMH) is a growing field that brings together interdisciplinary perspectives on mental health. Major goals in the field include lowering the "treatment gap," or mental healthcare inequities worldwide, and advancing community-based mental health services to support diverse and culturally sensitive forms of intervention.
Global Mental Health and the climate crisis
Due to the rising impacts of the climate crisis on human livelihoods and wellbeing, mental health and climate change are increasingly interlinked. Clinical research relates the occurrence of mental illnesses such as PTSD, anxiety disorders, and substance abuse disorders to experiences and losses associated with extreme weather-driven disasters such as hurricanes, wildfires, and flooding. Emerging studies have coined new terms for experiences to describe psychological responses to rising climate change and its long-term effects, especially among youth, such as:
"eco-anxiety" (the fear of environmental damage and disaster)
"eco-grief" (emotional sadness in response to environmental damage and loss),
"solastalgia" (emotional or existential distress due to climate change)
Due to existing disparities across the globe in access to and quality of mental health services, climate change moreover poses a disproportionate risk for mental health consequences among low-resource communities.
In response to these concerns, my dissertation with SRS focused on global mental health solutions from social, structural, and environmental perspectives. It explored Edinburgh's urban green and blue spaces (UGBS) as opportunities for expanding the reach of mental health services and strengthening Edinburgh's environmentally sustainable development. 
What are Urban Green and Blue Spaces?
In my project, I referred to UGBS as the collection of manicured or wild nature areas in the City of Edinburgh. These include green spaces such as parks, lawns, meadows, hills, sports fields, shrublands, woodlands, and more (entailing the green of vegetation). They also include blue spaces such as beaches, lakefronts, coastlines, river paths, and more (entailing the blue of water). Luckily, Edinburgh has an enormous amount and diversity of UGBS!
What did I do?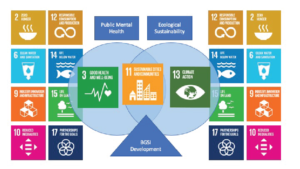 My research included both deskwork and fieldwork. At my desk, I took a theoretical approach to connecting UGBS to public health systems, arguing that UGBS as services for urban residents motivates their development for mental health interventions and sustainability. In the field, I focused on Edinburgh's UGBS as a case study, interviewing lead stakeholders in city greenspace management, education, and health planning.
I worked with SRS throughout my entire research process. SRS's emphasis on Edinburgh's work towards the Sustainable Development Goals for 2030 (SDGs) guided my project, as a core theme of my research was to explore how Sustainable Cities and Communities (SDG 11) could connect Good Health and Wellbeing (SDG 3) and Climate Action (SDG 13).
Though the research process remained remote, SRS provided resources and connections for my fieldwork, offered opportunities for organisation involvement, and helped me hone my skills in professional communication, stakeholder engagement, and project management. 
Case Study Findings
The overall goal of my project was to identify ways in which the quality of UGBS, specifically Edinburgh's UGBS, could be improved. My analysis of interviews uncovered three major ways in which UGBS could be improved for both urban mental health and environmental sustainability:
On-the-ground service delivery, expanding mental health and environmental services offered in UGBS. For example, NHS & Lothians recently created a Green Health Programme that works to strengthen green health prescribing, a medical practice of prescribing time and activities in UGBS as a form of mental health intervention. To do this, UGBS must be maintained and prioritised in urban planning for activities to take place.
Needs-based contextualisation, specifying ways of improving UGBS that answer to the needs of the local community. This pathway emphasises the great diversity in use and desires for UGBS according to the specific communities that use them and the specific wildlife that occupy them, moving away from a universal approach to UGBS development.
Structural interconnection, emphasising the need for collaboration between greenspace, environmental, and public health sectors in UGBS development, as well as the need for strengthening and connecting wildlife habitats across city networks.
Urban Green and Blue Spaces for Student Mental Health
An important part of working with SRS included considering the mental health experiences of university students on campus. The University of Edinburgh has several major green and blue spaces on and around its campuses, and secondary work that I did for SRS identified ways in which UGBS could be improved for student use and benefit.
These include expanding university mental health services to incorporate UGBS activities for mental health in student counselling; connecting students to local UGBS opportunities, such as wildlife conservation efforts and community gardens; and compiling a list of local UGBS and their activities as ways of informing students about the opportunities in the city and spaces around them.
I found my work with SRS very rewarding. My project emphasises the urgent need for greater mental healthcare—especially in the wake of the Covid-19 pandemic and lockdowns—and how healthcare may be framed in the context of the global climate crisis and sustainability efforts. Exploring how to effectively use our urban spaces for health and climate is essential for prioritising community and student wellbeing in the future. Especially during this global pandemic, it makes a simple walk in the park seem a whole lot more important!
Go further
Why not include the SDGs in your dissertation when you come to do it? The skills you get by including how to meet the Sustainable Development Goals are just what employers are looking for. Speak to SRS or your academic supervisor to discuss how you can include the SDGs in your research.