Write for us!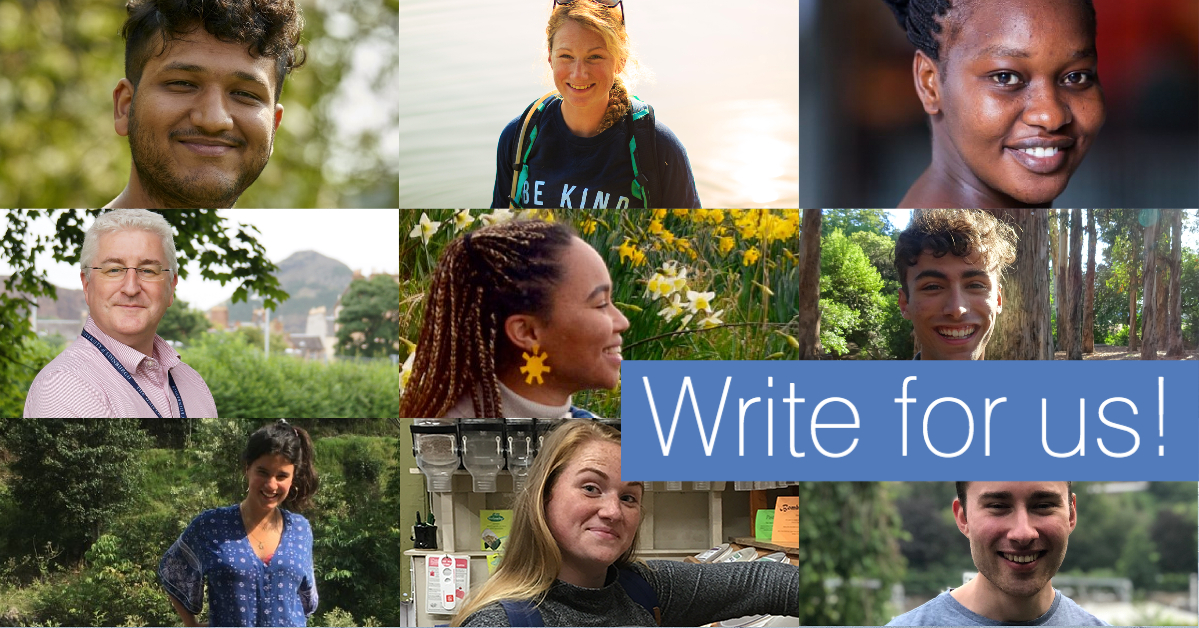 We have compiled a list of topics to inspire you to contribute to our blog, The Seed.
Our blog is for discussing, debating, understanding and promoting social responsibility and sustainability issues of local and global significance to the University community.
We welcome blog posts from students, staff, alumni, and anyone with a link to the University of Edinburgh.
How to submit a blogpost
Contact us so we know what you're planning to write (SRS.Department@ed.ac.uk)
Submit a draft as a word document of around 500 – 800 words (this can vary depending on the topic)
Think about the kind of images you'd like to include, and send high-quality versions along with your draft, along with any captions
Our preference for the cover photo is a landscape image of you in a natural place, or of you doing something related to the topic you're writing on. If there's anyone else in the photo, please get their permission for us to use it. You can also use free-to-use stock images.
Your blog post should be written in the first person. When referring to ideas, other people's work or online resources make sure to add web links. Use subheadings to break up your blog post.
Note we may edit the content of your blog post before publishing.
Contact us
Email: SRS.Department@ed.ac.uk
Social media: @edsust on Twitter | @edinburghsustainability on Facebook | @uoe_sustainability on Instagram
Potential blogpost topics
A year since Scotland announced a climate emergency: what next?

What is climate migration?

Why we need a just recovery from Covid-19

What is a green new deal and why do we need one?

What is the difference between Fairtrade and direct trade?

Why we need to protect access to green space

Why we need to switch to a sharing economy

How to extend the life of your clothes

The flaws in the fashion transparency index

What Covid-19 has proven about the world's supply chains

SDGs in practice: what they mean for education at Edinburgh

The future of business travel

Zoonotic diseases and climate change

A beginners guide to foraging

Impact of Covid-19 on the global south

Local issues
Do you have an idea you think is missing? Let us know.
Voices for the Planet
This is a series looking at stories of first-hand experiences of the impacts of the climate crisis from around the world from staff, students and alumni.
Explore the Voices for the Planet series