Voices of the Planet: Nikki Kay, Australia
Voices of the Planet: Nikki Kay, Australia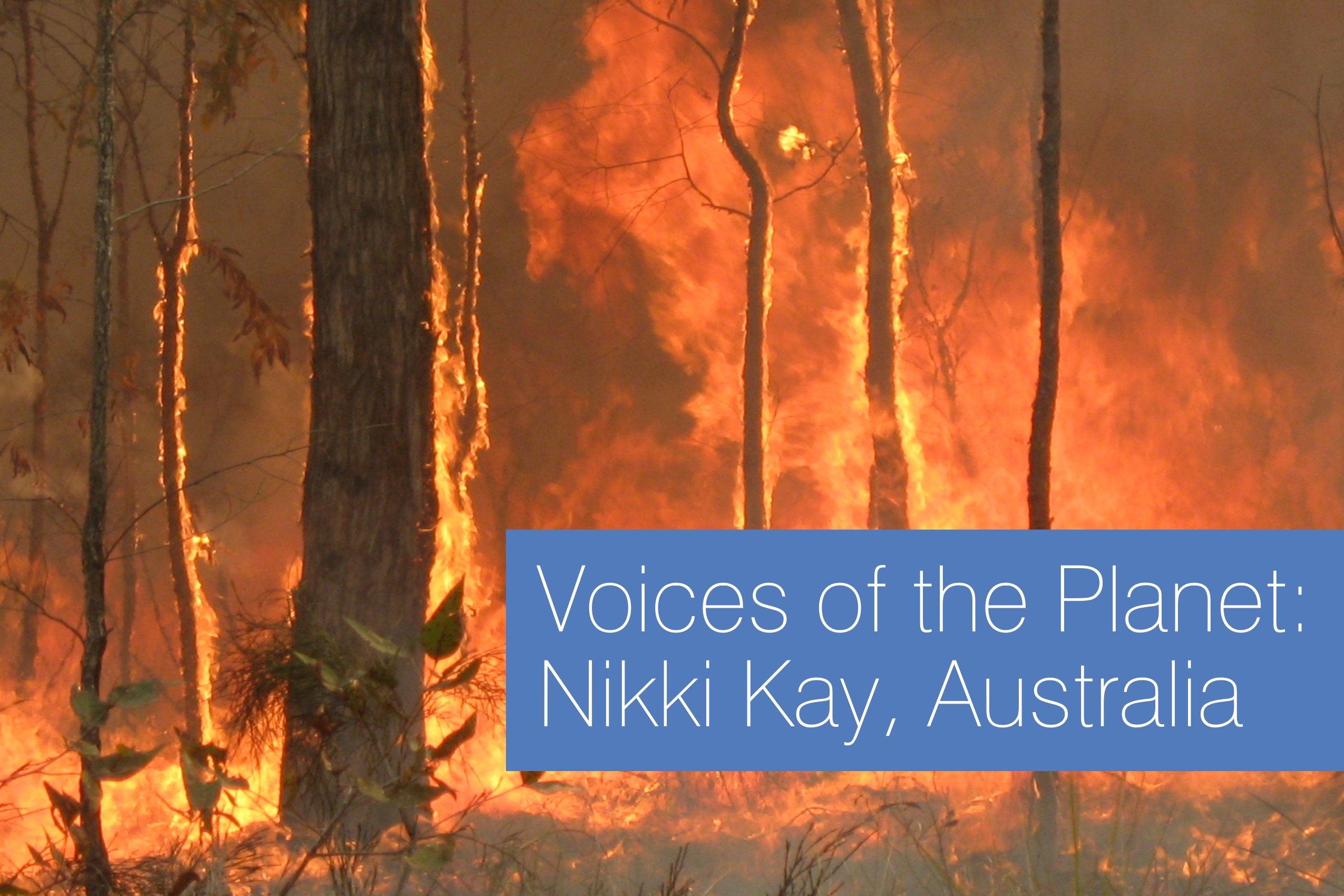 In our next Voices of the Planet entry, we hear from Nikki Kay, the Head of Marketing, Recruitment and Communications at the School of Geosciences on the recent wildfires in Australia.
I like to think of myself as a fairly pragmatic person. I don't cry often. When things get tough, I roll up my sleeves and look at how I can tackle the problem. But in recent months I have shed more than a few tears. I am watching my country become an inferno. I have felt a distinct sense of loss, coupled with stagnant helplessness at what we are facing.
Right now, it's winter as I wander the rainy cobblestone streets of Edinburgh. I marvel at the historic architecture, the mossy graveyards and misty alleyways which create the unique gloomy, gothic allure that makes this city so romantic. My breath creates plumes of steam in the cold grey air. I am aware of how far away from my home country I am. What a different world I now inhabit! I could not be on a more opposite side of the planet, both in distance and lifestyle.
I grew up on the Gold Coast in Australia. It's a modern tourist town, with skyscraper buildings sprawled over miles of golden beaches, bordered by bushland and tropical rainforest.
My childhood home was on the edge of town, with the native Australian bush abutting our large plot of land. Memories of my childhood are filled with the sound of birds and the wind in the trees. We'd throw raw meat to the kookaburra's who would catch it mid swoop. At night I'd listen to the clattering of possums as they scarpered over our tin roof. The smell of jasmine outside my bedroom would be sweetly cloying in my nostrils. Our days were hot and bright with an electric blue sky, and sun so fierce that we would cower from its glare. Winters back in Australia are often warmer than some of the sunny summer days I've had here in Scotland.
With summer, come the bushfires.
Australians are no strangers to bushfires. They are part of our culture as much as the Vegemite sandwich. I remember my father watering our house with the garden hose to protect from looming fires nearby.  We once returned from holiday to find a long black scorch line on our property where the flames had crept up towards our house before our neighbours battled them back. I recall as an adult leaving work to see fires licking up the trees, and the roads closed as a local nature reserve took flame. I arrived home to piles of ash blown on my doorstep.
But this year is different. We haven't seen anything like this before.
Since the start of September last year, an estimated 10million hectares have gone up in flames. That is almost the size of England. In comparison, these bushfires are 80 times larger than the California fires which were called 'the most destructive wildfire season on record.' One particular fire was the size of New York's Manhattan.
The smoke, which is visible from space, is impacting the neighbouring country of New Zealand over 2,000 kilometres away. Even the moss-covered rainforest of the World-Heritage Gondwanan Rainforest have burned. People are dying. Thousands of homes destroyed with hundreds of thousands of people forced to evacuate.
Fires are merging to create 'mega-fires'. Flames have been reported 70 metres high. Fires so fierce they are creating their own weather events including lightning – which causes more fires. Fire 'tornados' have swept up and flipped over 12-tonne fire trucks.
The most devastating issue is ecological and environmental damage. Almost a billion animals are estimated to have perished so far. Some species may be extinct or will become extinct very soon.
Australia has an ecosystem unique in the world.  It is one which has already been under threat, with some 34 native species going extinct in the last 200 years. After the fires, our animals will struggle with food and water shortages as their habitats are destroyed. Habitats which will take decades to regenerate – if they recover at all, and are spared from future fires.
It's utterly mind-boggling. And our summer is not yet over.
Why is this happening?
It is complicated, but conditions are occurring due to a combination of long-term trends and short-term weather patterns. Australia's temperatures are climbing to ever-higher records as the climate warms. The length of hot, dry and windy seasons are occurring earlier and lasting longer. Lack of winter rains over the last 3 years are baking our landscape dry and turning us into a tinderbox. December saw two of our hottest days ever on record, with the rest of summer still to come.
A study found the increasing extreme temperatures that caused our bushfires last year were four times more likely because of human-caused climate change. Current climate projections have confirmed that Australia faces more dangerous fire weather conditions in the future.
I'm sure many of us have seen the sad but 'adorable' footage of koalas approaching people for bottles of water. This is not normal. These tree-dwelling, nocturnal creatures are rarely on the ground and do not approach humans. They usually don't drink water as the eucalyptus leaves they eat are rich in moisture. For this unnatural behaviour to occur shows the extreme stress of these shy animals in this heat.
I cannot help but notice how our bushfires have been changing our lives and landscape over the years. Every year, our bushfires seem to become larger and more destructive. Fires are being classed as 'catastrophic'. And our community approach to them is changing. After the terrible tragedy of the 2009 'Black Saturday' bushfires with nearly 200 lives lost, it is no longer ok for us to stay and defend our homes. More often the official message is 'Get out. Now. We can't save you.'
So we watch these post-apocalyptic scenes on TV, reminiscent of a Mad Max movie. We need to start honest discussions that this may mark the beginning of Australia's new normal. I am watching our politicians point fingers, the media in an uproar, and communities devastated. So many of my friends and family are getting caught up in debates over policy, industry, management, communities and environment.
I think the world and Australia need to make meaningful reductions in greenhouse gas emissions. Australia is the world's biggest exporter of coal. Our country ranked last out of 57 countries for our climate policy. Back in 2008, a climate change report predicted that without action, we would face earlier and more intense fire seasons by 2020. There have been many warnings which we ignored. This is our wake up call. Australia needs to change, and the world needs to change.
I hope that from this tragedy that we can try and make changes for the better. We need more than reactive measures from our government and donations from the public. Our government needs to make more inclusions for ecological scientists and earth scientists in debates and policymaking. We need to find a way to balance the health and prosperity of our human communities with the protection of our irreplaceable biodiversity in an ever-changing world.
It's not surprising to feel inadequate in the face of all this disaster. How can we make any impact in the face of such carnage? However, I take hope when I see people making small changes that are resulting in big outcomes. In Australia, there has been a mass community backlash at specific media platforms. Thousands of people are cancelling their newspaper or website subscriptions, resulting in huge media conglomerates finally acknowledging climate change.
For me, I'm not going to be perfect, and I can only try my best. I've enjoyed travelling around Europe since I moved here to Edinburgh, with such exciting locations a short flight away.  However, aside from visiting Australia, I now aim for my holidays to be here in the UK and by train. There is such breath-taking nature and vibrant cities here in Scotland, which is right on my back door. I still love bacon and steak, but some days I try and have less meat.  We can all do our bit.
My career is in communications, and I am at a fascinating time in my life. I work within the School of Geosciences at a time where the world faces some of the most critical issues in history. We are host to exciting initiatives such as the Edinburgh Centre for Carbon Innovation, and Scotland is becoming a significant world influencer in the climate change debate. And the 2020 United Nations Climate Change Conference will be taking place in Scotland this year.
I am inspired by the academics and students who are all dedicated to making a difference as they study our fragile planet and the interactions we have with it. I get to see first-hand how complex and interwoven these situations are and how everyone can play a part. You can be a scientist monitoring and warning about change. You can be working in nature or with communities. You can be advising the government or industry, or working in education and media. We all are working together towards a common goal, in so many different areas. I take heart that my job involves seeing waves of fresh-faced students arriving to learn how they can contribute.
In the meantime, my Australian friends are sharing photos of skies clogged with smoke. We phone and message each other "Are you ok? Do you know anyone affected?" GoFundMe pages are set up for friends who have lost homes. People post they are either evacuating or protecting their property, then we wait in social media silence for them to return. While my home town is currently safe, I see photos of our beaches cloaked under a smoky sky, and the sun a hazy red.
I will fly back home to visit family next month, where I will see these effects in their stark reality. It is also one of the hotter months of the year, and I wonder what will happen. Will fires reach my town and my loved ones? Summer is not yet over.
And the fires still keep burning.
I would also like to take this time to acknowledge the First Nations people, who have been the sustainable custodians of this land for thousands of years. They are mourning the trauma to their country in ways that we cannot imagine. It's time we worked more closely with these communities and embrace the knowledge, wisdom and traditions that have cared for this land in order to ensure Australia's sustainable future.
Photo credits:
Most photos owned by Nikki, ocean and sky photos taken by @louiseseascapes with Melbourne photos taken by friend Carly Thomasims.
Voices of the Planet is a series highlighting the impacts of the climate crisis by sharing the first-hand experiences of staff, students and alumni, focusing on those in the global south.  
Other Voices of the Planet entries:
Keep up to date with the Department for Social Responsibility and Sustainability:
Follow us on Instagram, Facebook or Twitter.
Want to write your own submission? Get in contact with us on srs.department@ed.ac.uk.