reuse and recycling
The future of fashion: an interview with Pauline Op de Beeck
The future of fashion: an interview with Pauline Op de Beeck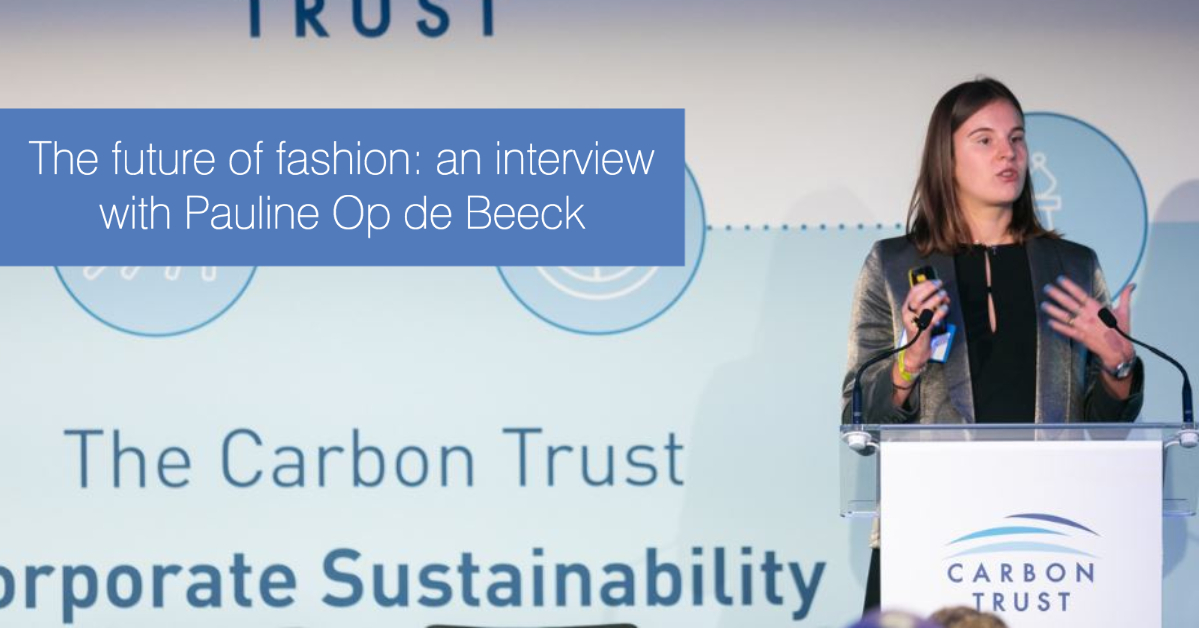 Edinburgh Alumna Pauline Op de Beeck was recognised as one of Forbes' 30 under 30 in Retail and Ecommerce for her work in driving the fashion industry to be more sustainable. We chatted to her about her top tips on how you can influence the industry, her favourite material innovation and what she thinks the future of fashion will look like.
What is your role at the Carbon Trust?
I'm a Client Manager and the Sustainable Fashion Lead at the Carbon Trust, which means I manage the company's work with fashion, retail and manufacturing sectors across the UK and Europe. I help them identify projects to become more sustainable in their organisations and supply chains that relate to carbon. I frequently speak at conferences, where I offer a business development lens and share insight into how we work as a mission-driven organisation. We also write educational pieces in an effort to drive the sector forward and inspire action.
We also use the power of the recognition of the Carbon Trust to assist organisations in signing ambitious commitments and then delivering them.
How did it feel to be recognised as one of Forbes' 30 under 30?
I thought you had to apply for the recognition, but Forbes actually got in contact with me asking me to apply for it. I've always seen it as something for founders or co-founders of companies, so I was really pleased that everything I'd been doing on social media and speaking at events had been picked up by a publication of that size, and that they recognised the work that the Carbon Trust had been doing on these issues.
When I actually got chosen, it was a massive shock. I really appreciate that they are taking a sustainability lens to these awards, particularly in the retail and e-commerce category. There needs to be a balance of new wonderful, sustainable brands as well as the recognition of that sector, and existing companies also need to adapt.
Crisis is always a time for change, but particularly for this sector.
What made you initially interested in fashion and its impacts on the environment?
I've been interested in climate change since I was really young. I watched An Inconvenient Truth in a History class in school and it really stuck with me. At the time, I was a serial shopper and had grown up in a family that always cared about clothing. It was another documentary, The True Cost, that really highlighted that this was an area of my life that the environmental impacts of I'd been ignoring because I really enjoyed clothing. It was one of those shocking moments that something you really love has a really negative impact on the world.
In my later years at the University of Edinburgh whilst doing my International Relations degree, I learned about climate policy on a macro level. When I went on to do my Masters, I really wanted to focus on fashion, particularly for my dissertation. I went to a London Fashion Week side event that year, but I met someone who was a sustainability consultant in the fashion industry, and she told me the sector wasn't ready for change. This made me feel really disheartened as I really wanted to take the lens of the course into the fashion industry, so I ended up focusing on food instead.
My first role at the Carbon Trust was an Analyst, where I worked more on the reporting and analysis side of things. When the client management role came up, I loved the idea of meeting the clients and going to events. After getting the role, I needed to then pick a sector to focus upon and food was already taken, so I thought this would finally be my chance to work with the fashion industry! We had worked with the fashion sector before, but not in a concentrated way, so it was a perfect storm as it coincided with the media attention that was ramping up on the issue of fast fashion.
By that point, I had become a sustainable shopper, and by that I don't just mean I only shop at sustainable brands, though I do try to. I still do really love fashion and I will buy items somewhere else if I can't find a sustainable alternative. However, I don't by anything that I don't think I will wear a lot, which then reduces the impact of the garment.
How is the fashion industry responding to increased awareness of its impacts?
The fact that climate change is now called an "emergency" demonstrates the changes in public attitude, the fact that everything seems more urgent. It's something that I've felt personally and has led my interest in the sector to deepen and for my habits to change quite rapidly. We also have people like Greta Thunberg who have revolutionised the way people think about climate change and helped people engage with it who hadn't before.
The difficulty with clothing is that even though it has huge impacts on the environment, it's not as easy for the consumer to connect their own garments to that. Compare that to the awareness of energy usage when we turn on lights or use appliances, but when we get an item of clothing, all the environmental impacts have already happened. We need to think about how we communicate it better with consumers.
The awareness of social issues in the sector started first with the Rana Plaza collapse in Bangladesh in 2013, that's when people really opened their eyes to the workings of the fashion industry. It started the dialogue about what had to be sacrificed in order for clothes to be so cheap. Once companies started being more transparent in their social impacts, it also led to them being more open on their environmental impacts. It's really just exploded in the last 3 years.
What has Covid-19 taught the fashion industry?
The Covid-19 pandemic has forced the sector to reevaluate itself. It's highlighted the excess stock brands do have, and how much of a mismatch that exists between supply and demand. Many brands create so many seasons that it just drowns the consumer in supply, but now that demand has almost suddenly come to a halt, there is a real risk associated with having that much stock. You simply can't put it all into a shop or recycle it.
It's made them really ask questions, as it won't be the last time a crisis affects them and we will only start to see more supply chain shocks resulting from more frequent extreme weather events. What if we only produced something once there were sufficient orders? The smaller, designer brands are now thinking more seriously about this model. London Fashion Week has also gone digital, which means no one will be flying in and there won't be any cars driving around between shows, which will reduce the carbon impact of the event dramatically.
You can already see people discussing how the sector can be reorganised after this. Giorgio Armani has sent open letters to the sector saying they need to slow clothing production down and reduce the amount of seasons. Having prolific brands like that take a stand in that way makes me hopeful that people are learning from this. From both a consumer and a brand perspective, a lot of people are doing some soul searching about what fashion means to them and what it should look like going forward. Crisis is always a time for change, but particularly for this sector.
Why is transparency in supply chains so important?
There are so many steps in producing clothing. You start with the raw materials that are spun into yarn which is dyed, then spun into a larger piece of fabric which then gets cut and sewn in a factory. It's often really difficult for companies to assess what the carbon impacts of their materials are, as many don't know where they come from or know how they are assembled. We help companies find out the carbon impact of the materials they are sourcing and then find ways to reduce the carbon impact. If more brands commit to investigating this and working collaboratively, they can help the factories invest in renewable energy and efficiency measures. Ultimately, until there is supply chain transparency, you can't know the true carbon impacts of the product.
Communicating this to the consumer is difficult, as saying "this t-shirt's footprint is 4 tonnes of carbon" means nothing to the majority of people. I think more effective communication of the item's impact should focus on a material classification, as using labels such as "organic cotton" or "recycled fibres" are a lot easier to understand.
Before you even buy something: think about why you want it, if you want it, if it is something you are going to wear a lot.
Do you think change from policy or from consumers is more effective?
I think it's everything. The European Union is really pushing for textile circularity and their Green New Deal focuses on it as one of the key sectors that needs to adapt. I went to an event recently and heard from one of the key policy makers and was really inspired and encouraged by their commitments, as well as the response from brands to the changes. There are many brands that are not doing anything in regards to their impact on the environment, and they need the policy intervention to force them to accelerate the change. On the whole, millennials do not actually shop more sustainably and you just cannot wait for everyone to "vote with their wallet", but the more people that do, the more it does communicate that there is the demand for more sustainable options. It's a bit of a 'chicken and the egg' situation. You can ask your favourite brands about what their strategies are. The more people that request this information, the more they will respond to them and act on the requests. Ultimately, they are businesses, and will follow what they deem to profitable.
Changing the fashion sector requires governmental policy, which until now has been largely absent, as well as consumer pressure and a large deal of investment. No one brand can create recycling infrastructure in one country; this is a systemic issue across the world.
Are there any environmental assurance certifications that you think are good to look out for?
Not yet. There are a lot of ones fibre producers use when contacting brands, but they are not consumer-facing. At the moment, it's about how individual brands communicate the components they are using. It's not very easy for the consumer at the moment compared to things like there Fairtrade label or the FSC label. Assurances like this are useful as they are third party, independent and everyone has to meet the same standards. If there could be one 'super' label that would be great, but it's difficult to conceive how it would appear on a label, on top of the washing instructions etc, space is already quite limited so to detail all the aspects on the garment would be quite difficult. It is difficult to say "this garment is sustainable" as everyone has different standards and opinions on what that means.
However, there are industry movements towards standardising these things through the UN Fashion Charter or the G7 Fashion Pact and a lot of brands have signed up to those, with some further along than others in meeting those requirements. They are good signals from the sector that they're cohesively working towards the same goal and an emerging alignment from the sector on what it means to be sustainable.
What is your favourite material innovation?
I think the recycled material ones are the most exciting, H&M has partnered with the Hong Kong Research Institute of Textiles to invest in a recycling technology that can break down garments within 4 hours, then it can be spun into new yarn and then can be printed into something new. That would solve so many problems. People obviously still have to consume less, but we still produce as much clothing as we throw away each year, and this kind of innovation would be groundbreaking for the sector.
What would your ideal fashion industry look like?
 A circular economy, so nothing new is created, and if it is, it's through a regenerative system that gives back more than it takes. The garments would use locally sourced materials and would be made in environmentally friendly production facilities. Everything will be recycled and turned into something new.
People love what they wear, people only buy what they will wear a lot and people learn how to sew again. Fashion returns to being a creative and expressive thing that people place value on and not something that is disposable and where it is considered normal to wear the same outfit multiple times in one year.
How can consumers influence the industry?
Before you even buy something, think about why you want it, if you want, is it something you are going to wear a lot. It's undeniable that we all buy too much, and not just limited to clothing. Given the environmental and social impacts of clothing, it's vital to remember that garments are not disposable, nothing should be. Think about your purchase; do you like it, how does it make you feel and if it is an awesome addition to your wardrobe and you'll wear it loads then if you can find it in a sustainable brand, then go for that.
Choose carefully: really think about, inform yourself on the brand and their policies
Try to find the item you like made by sustainable brands
Extend the life of your garments: Take care of it, mend it, lend to people, you resell it.
Email brands and ask how their clothing is made and materials are sourced
Where would you recommend people start learning about sustainable fashion?
Documentaries like The True Cost are very shocking, but in terms of finding out the basics, apps like Good On You and learning from influencers on social media. Good On You will help you learn what a sustainable company looks like, what one on their way to being sustainable looks like via their simple grading system. I particularly recommend the Vogue Sustainability Editor, Claire Press and the founder of EcoAge, Olivia Firth.
What are your top tips for students and recent graduates on getting into the environmental sector? 
It's important to narrow down what you are interested in because there are so many different focuses in the sector. Choose a focus you are passionate about; I chose carbon, but there are so many you can pick from. Then figure out if you'd like to focus on policy reform, work in the private sector or public sector, and then from that – be open to anything. I had no plan to be an environmental consultant, even when I had started my Masters. Be open to being surprised by what is available. I applied to 30 different jobs which were all really different, some graduate schemes at large companies, some were consultancies and in the end I now love what I do.
You learn what is right for you, not from the job description, but from speaking to someone who works there. I managed to contact someone who had done the same Masters as me and was now working at the Carbon Trust and learned about what the job would entail and was surprised how the job was actually a really good fit for me despite doubting so from the job description. Always reach out; I am always happy to help people, everyone is looking for new talent and if you can foster that connection before someone applies that's great, so don't be shy about reaching out to people in the industry.
Learn more:
Explore the Forbes 30 under 30 Retail and E-commerce category
Read the blog Pauline contributes to: The Empowered Atom