reuse and recycling
How to make hybrid working more sustainable
How to make hybrid working more sustainable
Hybrid working is part of the effort to reduce the spread of Covid-19, meaning time is split between on campus and home working.
Read on to find out how to build sustainability into your working day, wherever you're working from.
This includes: how to save energy, carbon and money at home; updated incentives to make it easier to cycle to work; ongoing funding support for eco-equipment; and the latest information on how to correctly dispose of Covid-19 related waste on campus.
These tips come from staff at the Department for Social Responsibility and Sustainability and the Estates Department.
Tips for home working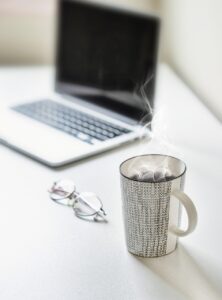 Be energy efficient
One of the side-effects of working from home is that the energy used to power computers, boil water and heat the work space is now your responsibility. Why not apply the same 'saving tips' you use on campus to save energy, carbon and money in your own home?
Switch off lights and equipment when they're not in use, and set your computer to power saving mode.
Only boil the water you need (half filling the kettle for one hot drink will use two and a half times the amount of energy needed).
As we move into autumn and winter, space heating will become the biggest use of energy in most homes. You can save energy on heating by reducing drafts, keeping radiators clear and knowing your heating controls. Find out more in Aisling's blog (Aisling O'Reilly is our Projects Coordinator specialising in Energy).
Switch to green energy
If you privately rent, you have control over your energy bills. Switch to one of the UK's renewable-based energy providers to reduce your carbon footprint and support a growing green industry. Bulb, Good Energy and Octopus are some examples. Find more companies and compare using websites like Money Supermarket or USwitch.
Tips for getting to campus
The King's Buildings Shuttle Bus will be suspended in Semester 1. The University will instead be reinvesting the funds from the Shuttle Bus to provide an extended range of alternative and financially affordable travel options for students and staff which align with this Scottish Government Covid-19 guidance. These new options will include support for students and staff with accessibility requirements.
Take advantage of staff cycling perks
For those who are able, cycling is a cheap, healthy, low-carbon way to get to and from work. Now is the perfect time to create a new, positive habit.
From September, cycle parking across the University will be increased by more than 30 per cent, with more than 1,500 further spaces available.
The University has been lobbying the Council to deliver temporary infrastructure to support an increase in walking and cycling between the Central Area and Kings Buildings. Proposals for the route are being consulted on, to be delivered for September.
Edinburgh was recently named as the best university in the UK for student cyclists

.

The Cycle to Work Scheme

has relaunched with a higher £3,000 limit. The scheme allows staff to save 32-47% on the cost of a bike or cycling equipment – including electric bikes – through salary sacrifice over 12 or 18 months.

Find out more about the Cycle to Work scheme.
Read about Vanessa's e-bike commuting experience
Not only has cycling to work been transformative for my health and wellbeing during the last couple of years, my husband and I now spend more quality time together and get to witness beautiful sun rises and sunsets together on our way to work. We see local wildlife each day including; pheasants, geese, squirrels and rabbits as well as sheep, cows and some lovely smiles from dog walkers and other cyclists.

With the emergence of bike travel enthusiasm during the lockdown phases, I hope that the community of year-round bike riders continues to grow.  It's a great way to connect with nature and of course reduce your environmental impact. If you're worried that your health and fitness is a barrier to cycling, I encourage you to try an e-bike. It may be the stepping stone or helping hand that your body needs to return to a more active and healthy lifestyle.
Vanessa McCorquodale, SRS Project Coordinator – Sustainable Development Goals and Living Lab Projects
Tips for working on campus
Upgrade equipment to an 'eco-model' to help budgets go further
The Sustainable Campus Fund is still running and open for applications. The fund can help your research grant or department budget go further by giving staff and students grants for the purchase of 'eco models' of equipment. In these times of tightened budgets it is more important than ever that we operate our laboratories and other energy intensive spaces efficiently and don't waste money operating old, inefficient kit.
Contact us with your ideas for replacing old kit and see if we can help!
Find out more about the Sustainable Campus Fund
The reopening of our spaces is happening in different ways at different locations, but often involves longer operating hours to compensate for reduced occupancy densities. If we are increasing the operating hours of old, inefficient equipment then we are at risk of exaggerating the waste of energy (and cost, and carbon emissions).
Andrew Arnott, Projects Coordinator (Labs)
Avoid disposable wipes
Disposable wipes can't be recycled, and usually are not made of recycled materials.
To minimise waste, instead of using disposable wipes try either a quick-drying spray (no wiping) or simple disinfectant spray and a high quality reusable microfiber cloth.
Opt for a reusable face covering
In line with Scottish Government guidance, it is now mandatory that face coverings are worn in all of our libraries and study spaces. If and when this guidance becomes stronger, we will adjust accordingly but we are already expecting everyone to wear face coverings in all University buildings unless individuals have good reasons for not wearing one.
Invest in reusable face coverings to prevent waste from single use items. Wash your reusable face covering after every use to keep it as clean as possible. Find out more about reusable face coverings on the Zero Waste Scotland website.
When buying, it's worth thinking about how it was made (is it fair trade?); what it's made of; if it has a design that spreads a positive message; and if a percentage of the sale goes to a good cause. There are plenty of tutorials online to learn how to make your own as well.
Dispose of new Covid-19 related waste correctly
You will notice that when you return to University that there will be an increase in paper towels/wipes, face masks and gloves for disposal. These must be disposed of responsibly in the general waste bins (grey lids), and cannot be recycled (in the dry mixed recycling (orange lids) or paper (blue lids) bins). If placed in the recycling bins, the entire load will be contaminated and rejected as recycling. Keep an eye out for stickers on all bins coming soon!
If you have any questions, please contact the Waste Office at waste@ed.ac.uk.