reuse and recycling
How to have a sustainable Christmas
How to have a sustainable Christmas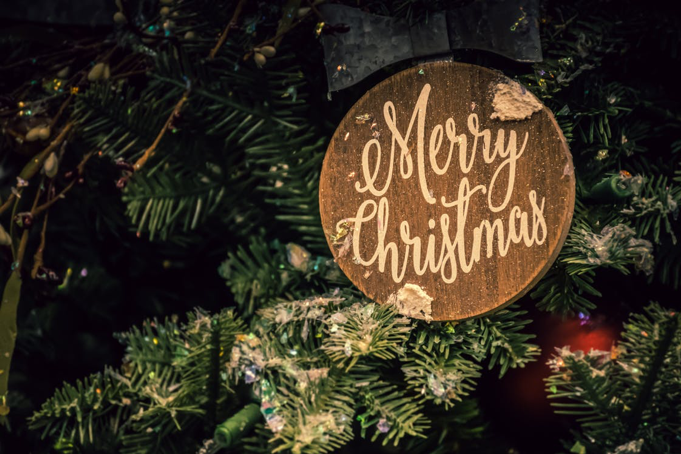 It's the most wonderful – and wasteful – time of the year. We asked student Laura Anderson (MSc Science Communication and Public Engagement) for her top tips on how to make Christmas 2019 your most sustainable yet.
This year instead of wishing for a white Christmas why don't you work towards a green one? We are approaching the most wonderful time of the year but sadly Christmas is also one of the most wasteful holidays in the calendar. In 2017, 277,000 miles of Christmas wrapping paper ended up in landfill. That's enough to reach 90% of the way to the moon! The statistics on food waste are even more frightening: 263,000 turkeys, 7.5 million mince pies and 170 tonnes of Brussel sprouts get thrown away in the UK during December. As we finish off a year where the environment was one of the most talked about topics we can't let the ball drop during our festive celebrations. So here are some of my top tips to have a carbonless Christmas this year:
Decorations
Decorations are essential for getting into the Christmas spirit and there are loads of ways to keep them green.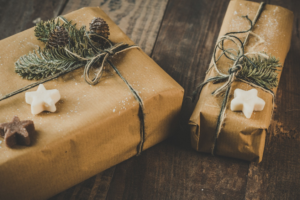 Gifts
Eco-friendly gift giving isn't just better for the planet, it's more thoughtful too!
Is it necessary? Before jumping automatically into a frenzy of present purchasing this year, have a chat with your family and friends and see if it's really necessary. In lots of cases, they would much prefer to avoid the stress of Christmas shopping and spend some quality time with you instead. This will lower the cost for everyone, and avoid the possibility your gift joining the 60 million unwanted gifts every Christmas, many of which go to landfill.
Secret Santa: It's a simple one but secret Santa is a fun activity to do in your office or your friend group and means that everyone is only buying for one person. How about setting some rules this year like homemade or charity shop gifts only?
Conscious shopper: If you are buying gifts this year there are a few things you can do to ensure they are as sustainable as possible. Buy local, organic and ethical where possible. Remember gifts don't always have to be physical objects; give a charity gift and support a good cause; buy someone an experience or take them for a meal; or give them a subscription to their favourite online streaming service.
Wrap up: When wrapping gifts this year go for the au naturale look. Choose brown paper, newspaper or search out some recyclable paper in the shops. Opt for paper tape over plastic and rather than ribbons choose rustic twine or hemp cord and finish it off with some foliage like pine or holly. Reusable boxes or tins are also great. The finished product will be sure to impress! Alternatively, how about wrapping surprises up in a nice scarf and making it part of the present.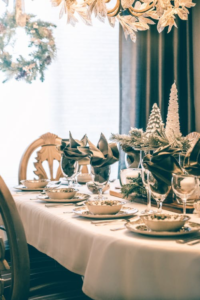 Parties
Trying to reduce your carbon footprint doesn't mean you can't enjoy party season this year. Just make a few simple changes!
Second hand chic: Try checking out the charity shop for that perfect Christmas dress or shirt rather than picking up a sparkly sequin number that you'll never wear again! Many charity shops have great selection of novelty Christmas jumpers as well. It's well worth a look and is easy on your pocket too.
Plastic tableware: You don't need those plastic cups and plates, your table will look much better with some real ones. If you're feeding a bunch of your friends ask them to chip in and bring along some of their plates and glasses and they can help with the washing up too!
Gifts for the host: If you're hosting a 'friendmas' this December, instead of guests bringing along extra snacks or excess food as gifts, why not avoid the waste and suggest that everyone brings along something for donation to a food bank
Drink organic: If you'll be drinking alcohol this Christmas why not look for something organic and local. For instance, choose wine from the UK or Europe instead of further afield or try some locally brewed craft beer. Don't forget to recycle empty bottles and cans. If we recycled the 13,350 tonnes of glass that gets binned over the festive period it would be the equivalent of taking 1,300 cars off the road.
Dinner table chats: In the midst of all the Christmas socialising why not bring up what we can all do to help the planet this Christmas. It might not seem like the most festive of topics but it's important. Be sure to be empowering, not critical or condescending. Here are some tips. Tackling climate change is definitely a case of the more the merrier!
Food
For a lot of us festive food is the highlight of Christmas, but there are planet-friendly ways to go about it.
Avoid overbuying: whether you are helping out with the Christmas shop with your family or cooking dinner yourself this year, be aware of the trap of overbuying. Opt for quality, not quantity with some of the delicious vegetarian options now on the market or local, organic meat.
Plastic, plastic, plastic: Avoid it where you can, buying fruit and veg loose this Christmas and just being able to get the amount you need will also help reduce the problem of overbuying. Try and see if there's a festive farmer's market happening near you!
Chocolate caution: Did you know that packing consists of up to half the weight of those fancy Christmas chocolates? Try to avoid individually wrapped sweets this Christmas as more often than not those wrappers are not recyclable. Try looking for something that comes in cardboard or make your own!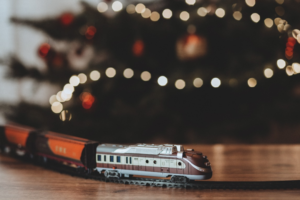 Going home for Christmas:
When it comes to keeping it low carbon, not all means of travel were created equal!
Take the train: Wherever home is for you this Christmas, research your eco-friendly options to get there. If possible take the train or bus rather than flying. You could also carpool with some old friends from home, it's a good opportunity to catch up. If you're staying in Edinburgh this Christmas use the bus or walk to the many events across the city.
Winter Shutdown: Don't forget before you leave your accommodation, get on board with our Winter Shutdown campaign and turn off all your appliances at the mains and close all windows and doors.