reuse and recycling
Living plastic free in Edinburgh
Living plastic free in Edinburgh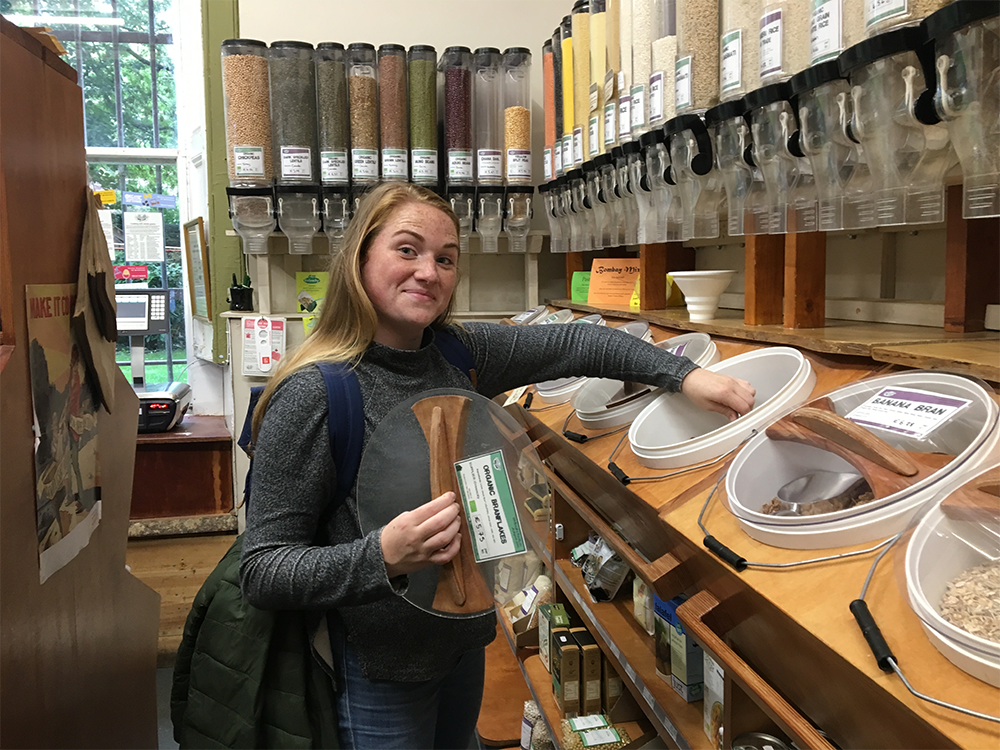 Laura is an Environmental Protection and Management MSc student at the University of Edinburgh with a passion for living sustainably. She strives to live a lifestyle that creates as little waste as possible, known as the zero waste lifestyle. In this blog, she discusses the ways students and staff can reduce their plastic waste and the array of shops dedicated to zero waste in Edinburgh.
Since 2018 brought about a huge increase in awareness about plastic pollution, it almost feels universally known that single use plastic isn't good for our planet. But with the material still ingrained in our lifestyles, how can we break up with plastic?
This was the question I asked myself a couple of years ago after realising the amount of waste we produce as a population. I wanted to make a change, to not only reduce my waste, but become a more conscious, sustainable and ethical consumer. This was the beginning of my journey to a zero-waste lifestyle.  
Moving to Edinburgh from Dundee was daunting. I had a routine and had perfected my waste-reducing habits there, but now had to try and do so in a completely different city! I had to navigate through the plastic-filled aisles of supermarkets and shops, and research into my options throughout this new city.
Luckily, I have found the groove…and here it is! 
Edinburgh is one of the most environmentally progressive cities in the UK, with a multitude of plastic-free options at our disposal. There are now four grocery shops which pride themselves in being bulk/refill style and having environmental and sustainability issues at the heart of their business models. These are located throughout the city, making it geographically accessible to a wide range of people, including many in student areas.
Let's start with the bulk refill style grocery shops. There are now four shops in and around Edinburgh which you can visit to check out the packaging and plastic-free options. They are situated in Tollcross, Newington, Marchmont and Leith.
B
efore going to a zero waste shop:
Take some containers. Whether it is glass jars, cotton produce bags or plastic lunchboxes, these are key to avoiding any packaging when filling your basket.

 

Browse the prices, make sure that you are paying what you can afford. These prices are normally done by weight, so to make sure you know what you need, and have an idea of the normal prices of produce you would buy.

 

Take your reusable shopping bags to carry your goods home!

 

Remember you can get refills of not only food but cleaning and beauty products too, so take some bottles as well.

 
Refill shops work on a weight basis. You only pay for what you buy, so taking a glass jar is fine because you weigh before and after, so it takes away the weight of the container!  
 Some plastic free shops in Edinburgh are:  
 

The Eco Larder

The Eco Larder is a Social Enterprise which opened at the end of 2018 with a mission to create a Plastic Free Edinburgh. They provide groceries, lifestyle goods, baby items and many more gems to help us live without single use plastics. They are situated in the Toll Cross area, which is a perfect location for many students, and they offer lots of workshops which tackle different areas of environmental living.

Find them at 200 Morrison Street, Toll Cross. 
The New Leaf Co-op
The New Leaf Co-op is a hands-on wholefood store. They focus on products that are fresh, local, organic, low packaging at a reasonable price.  You can help yourself to their wide range of tasty scoop-your-own ingredients and snacks: there's more than 50 to choose from! They also offer more than 100 loose herbs and spices and a whole host of refillable cleaning products for your body and home. You'll find a wide range of fresh ingredients from local suppliers, with deliveries from four local organic vegetable suppliers throughout the week, and three different bakeries! They aim to support a thriving local economy and keep food miles down, offering eco-friendly packaging where possible, and customers are encouraged to save money and waste by bringing their own packaging from home. They also have a range of jars and plastic containers donated by customers that you can use to take your shopping home if you need.
Find them at 23 Argyle Place, Marchmont. 
The Refillery
The Refillery is a plastic free grocery and ethical goods store which opened in Newington January 2019. They aim to educate and inspire people to learn about the plastic problem and take action reducing their plastic consumption. To get you started they have sourced a selection of ethical and zero plastic products available to purchase and we will continue adding to the range as they grow.
Find them at 39 Newington Road, Newington.  
Weigh to Go
Weigh To Go began with frustration at the difficulty of living a plastic free sustainable life style in Leith. This shop opened January 2019 on Leith Walk aiming to provide a more convenient solution to sustainable living. The idea of refilling containers with loose produce is far from new and before the 1960s it was standard. They want to look back to a time before single use plastics and use those methods to protect the planet for the future.
Find them at 27 Crighton Place, Leith Walk, Leith.  
These shops are a great way to cut out the plastic in your weekly shop. As well as these, Edinburgh has two local farms which go the extra mile in equipping you to live sustainably. These are East Coast Organics and Scollon Dairies. These both provide delivery services for fruit, vegetables and dairy products.
Edinburgh is bursting at the seams with opportunity and resources for people to live less wasteful lives. Combatting this plastic crisis starts with making changes to the way we live, and primarily the way we consume. Avoiding plastic and non-recyclable packaging is a massive step in reducing personal waste, and these businesses and organisations make this even more accessible.
However, there is an option for even saving food which is destined for landfill.  
The Shrub Co-op
The Shrub Co-op was started in 2013 with the aim of re-distributing good quality excess food from businesses to the community. For the last five years they have been working with over 20 businesses to collect surplus food and sharing it with local charities. They also run a sustainable cooking workshops in student halls, teaching students basic cooking skills and tasty no-waste recipes. They have also created Scotland's first rescued food shop – The Food Sharing Hub! This began because worldwide one-third of all food goes to waste, and in Edinburgh that is about 21.7 tonnes every week. Supermarkets are a large part of the problem as food is wasted after surpassing 'best before' dates.  
 The goal of the Food Sharing Hub is to save surplus food from shops, restaurants and supermarkets from an unnecessary fate in the bin. The food is still fresh and good to eat and you get to pay as you feel. You sign up to be a member for as little as £1 a month. As a member, you can fill one basket of food per day and pay as you feel to help them cover their costs. Membership of SHRUB Coop also includes access to swapping clothes and books at their swapshop and all sorts of extra benefits. Open every Thursday, Friday and Saturday, 12pm to 4pm, and you will find them at 22 Bread Street, Tollcross. 
 Edinburgh is a plastic free haven, with a multitude of different businesses, farms and social enterprises to support. Being a conscious consumer is not only vital to our environment, but it is vital for a sustainable world where equality, fairness and kindness reside.
I will leave you with one of my favourite quotes from Anna Lappe, the author and educator: 
"Every time you spend money, you're casting a vote for the kind of world you want." 
Thanks for reading,
Laura. 
Laura will be participating in our 'Visions for Change: Holding back the plastics tide' panel event, 5 February 2019, 18:00-19:30. Register your free place here.
Find Laura on Instagram, Twitter and Facebook all under @lesswastelaura