reuse and recycling
Edinburgh gets #InTheLoop with new city centre recycling bins
Edinburgh gets #InTheLoop with new city centre recycling bins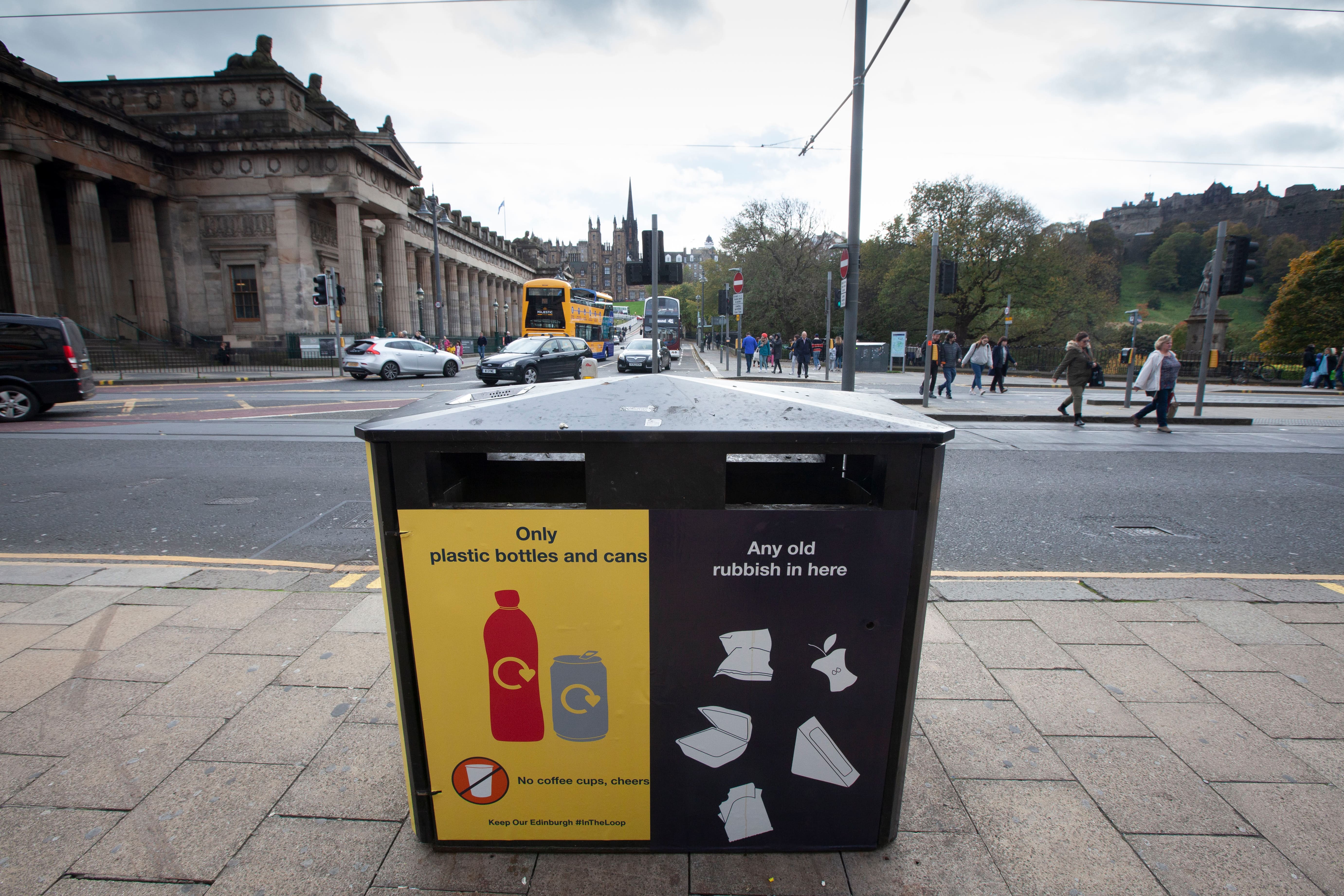 Recycling bins have recently been installed in Edinburgh City Centre, meaning city-goers can finally recycle drinks bottles, cans and disposable coffee cups on the go. Environmental campaign charity Hubbub are behind a new campaign encouraging people to use them; their Project Coordinator Sam Longworth tells us more.
Every year in the UK a staggering 5.5bn plastic bottles and 2.3bn aluminium cans go to waste, despite being some of the easiest items to recycle. To put that into context, in the time it takes you to read this blog (about 5 minutes by my estimation), 50,000 plastic bottles and 20,000 cans will be used and not recycled in the UK. What a load of rubbish!
Until very recently, Edinburgh did not have on-street recycling bins, meaning people disposed of these items in the black 'landfill waste' bins. Rubbish from these bins either goes to landfill or to an "energy from waste" plant, where rubbish is burned in order to convert heat into energy. While this is a better option that sending rubbish to landfill, it's a wasted opportunity for items that could – and should – have been recycled.
So, when will city-goers be provided with on-street recycling facilities? The answer – finally – is NOW!
Our Edinburgh #InTheLoop
"Our Edinburgh #InTheLoop" has just introduced brand new on-street recycling bins across the city centre to ensure that valuable materials no longer go to waste and can come back as something new. The colourful bins are easy to spot and easy to use to ensure minimum confusion and maximum recycling pleasure.
The campaign is led by environmental charity Hubbub in partnership with the City of Edinburgh Council. Local retailers, organisations and artists are also involved, with 16 major brands funding the campaign. Our Edinburgh #InTheLoop is Hubbub's third foray into the world of on-the-go recycling following successful campaigns in Leeds and Swansea where new recycling cultures have taken root and recycling rates have gone through the roof. Predominantly a behaviour change campaign, this project is part of a wider movement to create a less wasteful society and a more circular economy.
As well as saving materials from the misery of a landfill life sentence or death by fire, recycling has the benefit of being far less carbon intensive than making materials from scratch. Recycling a single plastic bottle conserves enough energy to power a 60-watt light bulb for up to 6 hours compared to using new materials. And you can recycle 20 cans for the same amount of energy it takes to make 1 new can from scratch. In fact, did you know that aluminium cans can be recycled an infinite amount of times?
Which brings us smoothly onto our eye-catching art installation… Infinitinny. This stunning installation lights up at night to show what happens when we recycle with materials re-appearing again and again in the infinity mirror. Infinitinny was designed by Sam Cornwell and Cody Lukas in partnership with the University of Edinburgh and UCreate and will be located in St Andrew Square for the duration of the campaign. Go check it out!
Our Edinburgh #InTheLoop aims to solve problems rather than shifting them to other parts of the world. This is why all plastic bottles and cans collected as part of the campaign will be recycled responsibly at a Mixed Recycling Facility in Broxburn (just outside Edinburgh). We will also be collecting disposable coffee cups in Waverley Mall, with their plastic lining being upcycled into reusable cups!
Hubbub's Top Tips
At Hubbub we believe that learning about environmental issues doesn't have to be paralysing. In fact, it can be really empowering to know there as so many small things you can do to make a big difference:
1. Use the new bins correctly: keep an eye out for the new recycling bins when you're out and about and follow these simple steps to avoid contamination:
Make sure the item is empty.
Right thing, right bin.
If in doubt, keep it out.
2. Carry on at home: take your new-found zest for recycling and apply it at home. If there are things you can't recycle while you're out and about, why not take them home with you and recycle them there (e.g. cardboard, paper, glass, food waste). Just make sure the items you put in the recycling bin are accepted by the Local Council or University.
3. Don't stop at recycling: recycling is an important part of the solution but it's clearly not the whole answer to the waste problem. There are half a dozen other R's that are just as important (reduce, reuse, repair, refuse, etc). Sustainability is more a mindset than a one-off action.
4. Spread the word: the more people know about the campaign and use the bins, the bigger the impact. And go see Infinitinny in St Andrew Square!
5. Follow Hubbub: for more daily sustainable living tips on Twitter, Facebook and Instagram.
If you're interested in Our Edinburgh #InTheLoop and have ideas for how you or your staff or student community could get involved, we'd like to hear from you at 'enterprise@hubbub.org.uk'. Let's see if we can collaborate to reduce waste!
Follow the campaign at #InTheLoop
Tweet Hubbub at @HubbubUK