Be Sustainable Advanced: the projects
Be Sustainable Advanced: the projects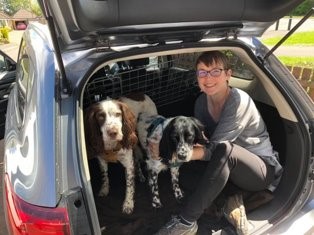 In this blog, we hear from the members of staff that have recently undertaken our Be Sustainable Advanced course, a professional development course that aims to inspire and educate staff members to live more sustainably.
The course has been developed in partnership with Learning for Sustainability Scotland incorporating expertise and resources from across the University of Edinburgh.
The course comprises of:
an introductory classroom session
six one-hour online modules released fortnightly over fifteen weeks hosted on the University's Learn platform (accessed via MyEd)
a mid-point classroom session to check your learning
a final classroom session.
The modules cover a wide range of areas within social responsibility and sustainability, exploring aspects of wellbeing, community, food and more!
Food waste
Michael Capeness started a food waste collection scheme in his Department, meaning it no longer enters the general waste bins and goes to a compost initiative instead. Michael found the process more challenging than he initially perceived and was surprised by how many people were unaware of where their waste ended up.
Karen Woodcock decided to focus upon diverting her waste away from landfill, with a primary focus on food waste. After some research, Karen bought a compost bin and started collecting her food waste along with many other items she didn't know could be composted, e.g. toilet rolls, cotton buds and dust from the vacuum! This project meant she could cancel her monthly garden waste collection and is now discussing taking her neighbour's food waste too. Her only regret is not starting composting sooner!
Recycling and waste reduction
Peter Buckley's focus was on creating a scheme for reducing, recycling and redistributing stationery items in Holyrood Campus through Terracycle. As a teacher, he was shocked by the number of whiteboard pens were thrown away daily, and decided to use the Be Sustainable Advanced course to address the issue. He and a group of volunteers categorised the items into things to be redistributed around the University, items to donate to local community projects and then items to be recycled.
Michael Webster from the Sports Union undertook a personal project to recycle more at home and be more mindful of his energy usage. After becoming his Team's Sustainability Officer, he realised he had the potential to do a lot more in terms of minimising his impact upon the planet. The Be Sustainable course has improved his knowledge and has helped him to create more sustainable habits and given him the courage to bring up the topic with colleagues and friends.
Catherine Horn decided to make a variety of lifestyle changes for her and her partner, mainly focused on the UN Sustainable Development Goal of "Responsible Production and Consumption". She reduced the waste she produced through easy swaps, like switching to recycled paper toilet paper and sending virtual Christmas cards. By making a set of smaller changes, she felt her project would be more long-lasting.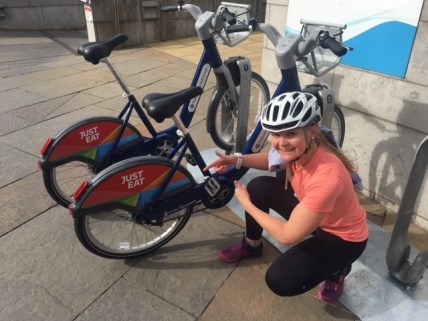 Corrina Bremer's project was to try and eliminate single-use plastic from her day-to-day life. She started to make her own soap, laundry detergent and bath bombs. She also made the switch to reusable menstrual products.
Friends, family and peers
Velda McCune decided to make her target audience the peers in her sporting community. Setting up a dedicated Facebook page, starting conversations at meetings and providing practical advice on things like sportswear. Having already worked on making her lifestyle and working environment more sustainable, Velda thought this would be a good group of people less familiar with the topic to engage with on sustainability.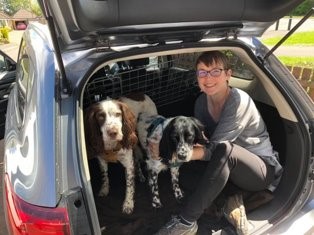 Energy
Nicola Helliwell's goal was to reduce her environmental impact and raise awareness about the issues amongst her friends and family. In conjunction with the Department for Social Responsibility and Sustainability, Nicola replaced old-style lightbulbs with LEDs in communal areas, corridors and some office spaces and in conjunction with sensors where necessary. Nicola made changes to lots of areas in her personal life, from buying in-season and loose fruit and veg, changing her pet's food, energy use, opting for reusables and changing her energy supplier to a renewable one.
Carol Powers decided to take action in a variety of areas, from buying more Fairtrade and local food, energy saving and discussing issues around sustainability with her peers. Carol applied to the Sustainable Campus Fund with the Energy Coordinator in her building to make improvements to the lighting to make it brighter, as well as save energy and cost. In regards to the actions she took in her personal life, Carol has seen financial savings as well as the more sustainable actions now becoming habit.
Active Travel
Vanessa McCorquodale focused on active travel for her project, writing a blog aimed at others new to cycling about her journey to inspire them. As she was initially motivated to start her journey by a colleague, she hopes to do the same for others. Vanessa also saved money by no longer having to pay for train fares, despite the new equipment she had to purchase. Vanessa's husband, Patryk was also inspired to join in!
Patryk Smacki also started cycling to work as his main challenge. His new method of commuting prompted conversations with colleagues about the environmental benefits and he hopes to have inspired some of their colleagues to do the same.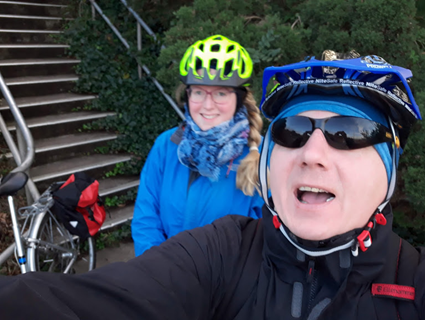 Register your interest for the next Be Sustainable Advanced course