Replacing halogen dissecting lamps with LEDs at the Hugh Robson Building
Replacing halogen dissecting lamps with LEDs at the Hugh Robson Building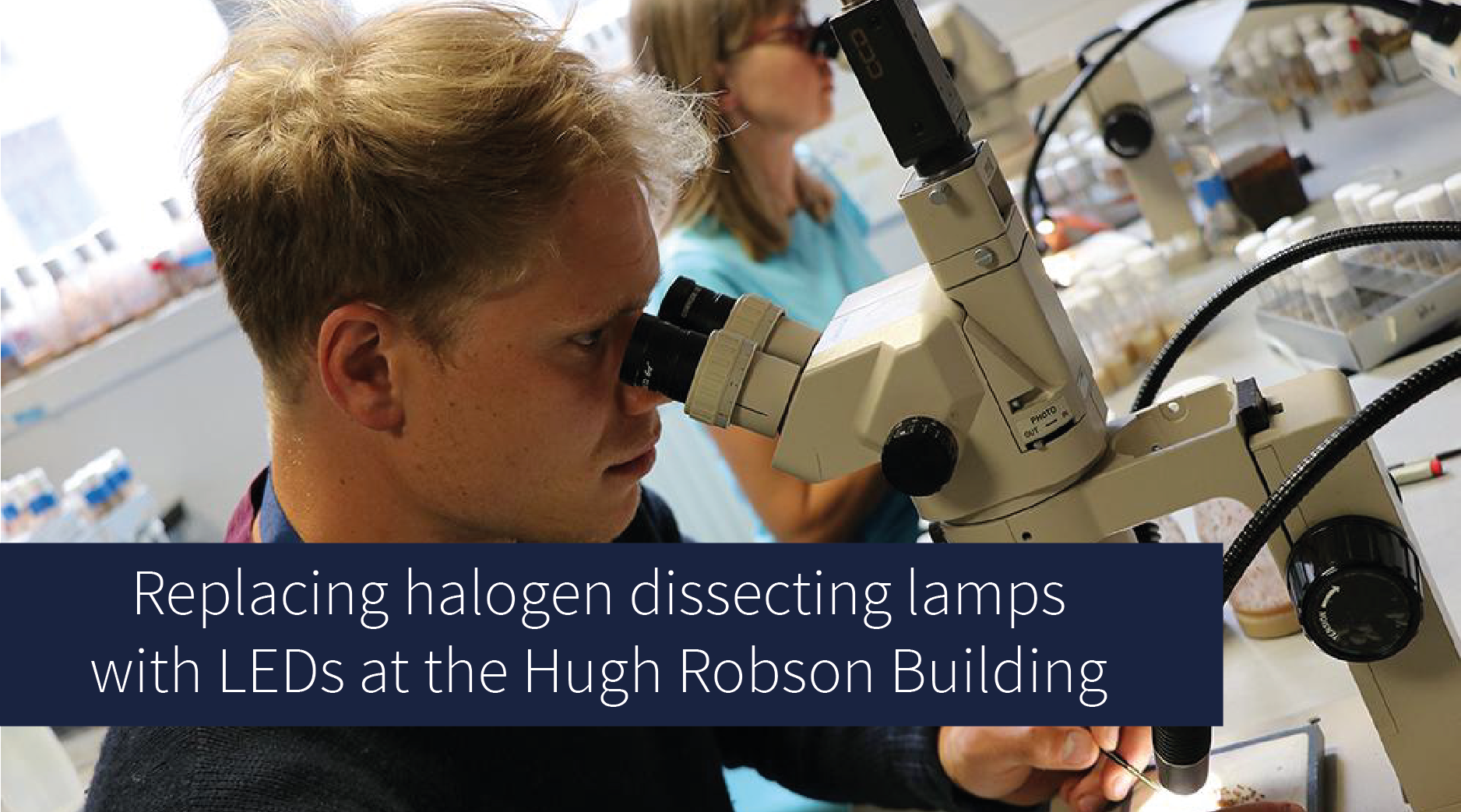 Carol Wollaston, Lab Manager at the Centre for Discovery Brain Sciences in the Hugh Robson Building discusses their application to replace halogen dissection lamps with new LED dissection lamps through the Sustainable Campus Fund.
​This blog post was first published in 2019 as a Sustainable Campus Fund case study on the Department for Social Responsibility and Sustainability website.
The true cost of inefficiency
We found that the team was spending an increasing amount of time maintaining our fleet of halogen dissection lamps. These halogen lamps were of varying makes, and ages and there was a huge variation in the type of bulbs they required. Because of this, we couldn't take advantage of any bulk buying discounts on bulbs and of course as we needed to place orders more frequently, which had associated environmental costs through additional deliveries and packaging materials.
One of the other problems with halogen bulbs is that switching the unit on when it is at maximum intensity either blows the bulb or shortens its life considerably. Despite our best efforts to remind staff to take care when turning on the halogen lamps, this did happen quite regularly.
LEDs: small size, a big improvement
The most suitable alternative to these are LED units as they tend to be smaller, freeing up much-needed bench space. LED units also do not generate as much heat and so have no cooling fans. This makes them less noisy (both audibly and electrically), and reduces the risk of damaging samples.
We had already replaced six halogen units with LED versions and were looking for help to replace more.
Following discussions with the Department of Social Responsibility and Sustainability (SRS), we were pointed towards the Sustainable Campus Fund. The fund was an opportunity to replace our old and inefficient items even though they "still worked", while also reducing the University's environmental impact.
Applying for the Sustainable Campus Fund
The Sustainable Campus Fund application form looks complicated, but we asked Chris at SRS to help with the carbon saving figures for the application as they have a lot of this data already.
The project was completed in May 2017. Both staff and students are much happier with the new LED units as – unlike the older models – they are less noisy, take up less desk space, and don't need to "warm up". The LED bulbs have a longer lifespan, and it costs less to run these too.
We have since applied twice more for the Sustainable Campus Fund – for new drying ovens and to install light/motion sensors in our basement corridor (where the light is currently on 24 hours a day, 7 days a week). Both applications were successful, and the drying ovens have been replaced, but we are still waiting on the installation of the sensors in our basement!
Apply for the Sustainable Campus Fund
​