Why I learned about sustainability
Why I learned about sustainability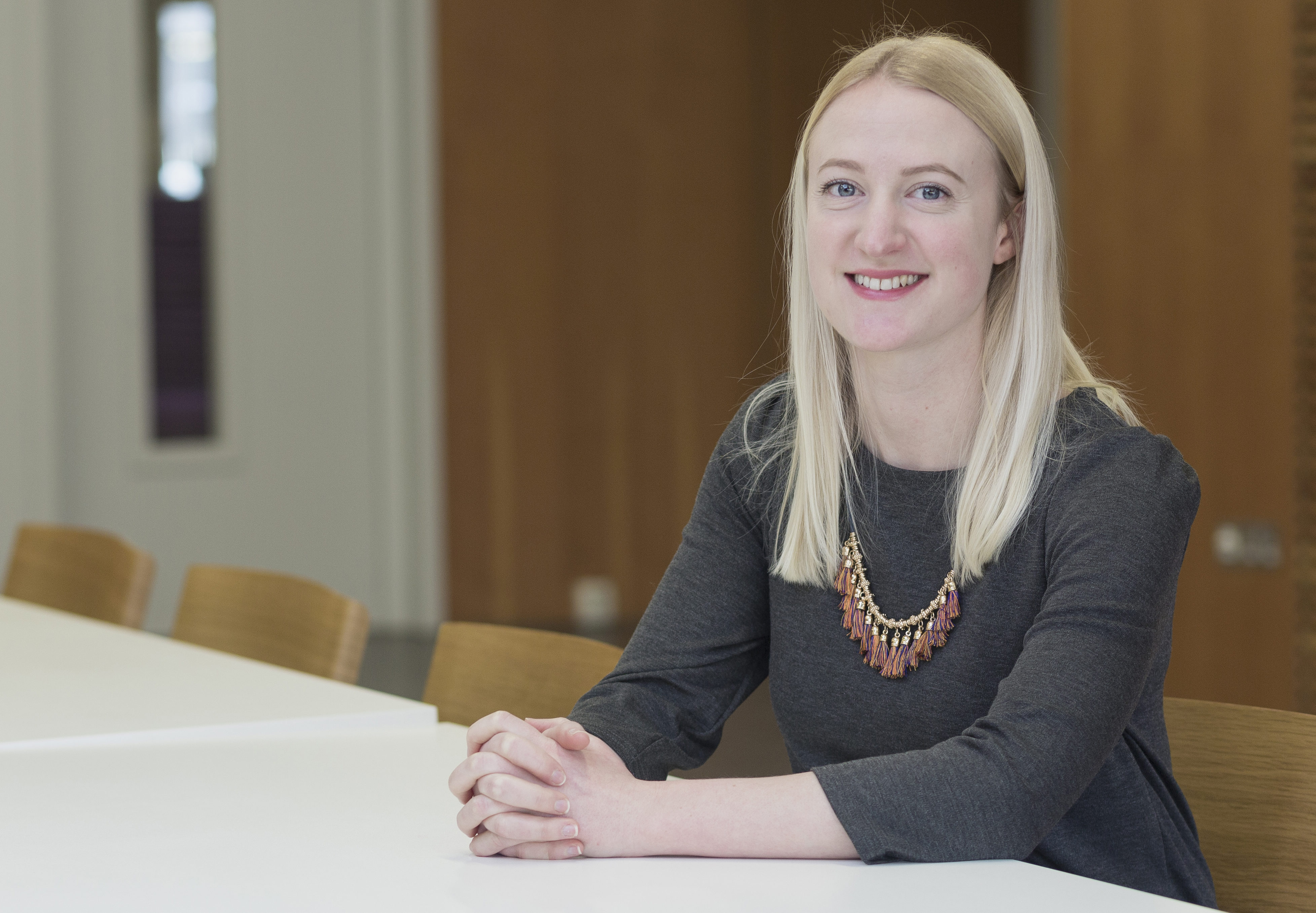 With the University announcing new training available for staff who want to learn more about sustainability, Communications Coordinator Sarah Ford-Hutchinson explains why she made sustainability part of her skillset and meets people who've done the same.
Find out more: Training in social responsibility and sustainability for University staff
Until a few years ago, I thought being sustainable meant driving less, doing the recycling properly, and not leaving Springwatch on for the cat.
I was almost four years into a career in the BBC making documentaries, and was totally burnt out from constantly moving around the UK and some pretty hard-hitting stories I'd been filming. I started to consider taking a year out of television, to bring me closer to my favourite subjects: peoples' lives and nature.
I began an 8-week MOOC on sustainability during my commute and was quickly sucked into just how big a problem climate change, resource inefficiency and inequality was.
I also realised two things:
I need to care way more about this
Sustainability needs good communicators to persuade other people to care way more about this
It was a lightbulb moment: I could use my current skill set in a different sector to tell a different story that was still ultimately about people and about nature.
At the end of 2014 I applied for a Communications Coordinator job in the Department for Social Responsibility and Sustainability. Video production was a required skill, and I got the job more on my understanding of comms than of sustainability. It was the perfect year out… and three and a half years later, I'm still here.
I've never stopped learning: about what sustainability is, why it matters, and the wealth of little and large things we can all do to have a positive impact on the world. I love the people I meet through the job – especially those involved in research, learning and teaching – and their shared passion for change. Attempting to save humanity from itself might seem like a pretty daunting task, but the positivity that exists in our department, in the University, and in Scotland – to tackle problems head-on and find solutions – is inspiring.
I didn't set out to have a career in sustainability, and I'm still not an expert. But learning about it and embedding it in my working practices has enriched my career as well as my life.
Here are some other people who feel the same.
Sarah Anderson, Community Engagement Manager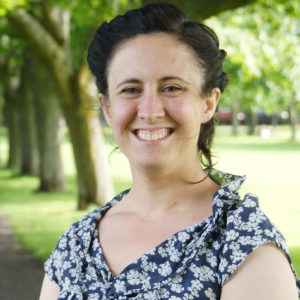 I took the long way round in coming to work for the Department for Social Responsibility and Sustainability. Now I'm here, however, everything I've done before makes sense!
I am a humanities graduate, having studied English Language and Literature at the University of Edinburgh, including a PhD here on the rhythm of English spoken words. I very nearly ended up going into an academic career, but the pull of Edinburgh as a city was too strong and there were no academic jobs here for me. Realising I was going to need to think more broadly, I took a job in the University of Edinburgh's research funding office, before moving into a role supporting public engagement with research. The thing I enjoy most in the latter job (which I still do part-time) is working in partnership with local organisations, so when the role of Community Engagement Manager came up in SRS, I immediately applied.
I have always done my recycling and walked wherever I can, but I don't own a bike and have never studied any sort of environmental (or even vaguely practical!) subject. Nevertheless, I feel right at home in SRS, maybe because all of my colleagues value people alongside the planet in everything we do. I think the type of people who work on sustainability are often highly motivated, dedicated, pragmatic and positive team-players, because they have to be: culture change is never easy, and the stakes are high when it comes to social responsibility and sustainability – we're staking the planet and the wellbeing of its inhabitants! It's a wonderful working environment to come into in the morning and I'm so glad I got here in the end.
Chris Litwiniuk, Engagement Manager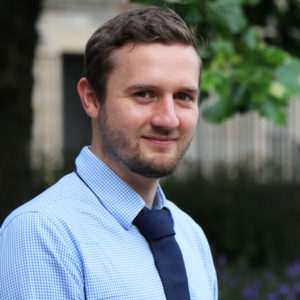 For me, sustainability, being respectful towards nature and generally efficient with resources was always important (and also my dad made recycling and switching lights off an important part of my upbringing). Job prospects in Poland, where I come from, were then however mostly limited to nature conservation or legislative compliance, none of which seemed interesting at the time. Not having a clear idea about what I want to do, I started a degree in International Relations.
I realised "ah, the thing I want to do is called sustainability" during my final year of a bachelor's degree. I came to Scotland as part of a student exchange programme and became friends another exchange student, who was studying an MSc in Environment and Business – a course showing how respecting the environment and socio-economics interact and supplement each other. Scotland was by then already a global leader in terms of ambition and vision for sustainability – I fell in love with both, Scotland and sustainability.
After finishing my degree in Energy and Environmental Management and a lengthy job search, I started an internship doing data analysis for the Waste Team at the University of Edinburgh, followed by maternity cover in SRS, which turned into a more permanent position.
Work in sustainability is hugely rewarding – finding new ways of doing things in a way that is better for the environment, empowering others to do it themselves and more generally saving the world, one day at a time.
Sharon Boyd, Lecturer in Distance Student Learning, Royal (Dick) School Of Veterinary Studies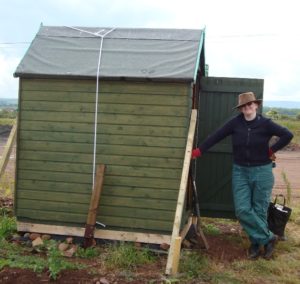 I was the child that spent hours in the garden talking to the worms. When I grew up, it made sense that I would study zoology. On graduating, I started an MSc in Applied Environmental Science, which was a fairly new discipline at that point. As it was so new, there were not many posts available. After a period of time having fun working in libraries, I got involved in the early stages of online learning. That led me to my current post at the Royal (Dick) School of Veterinary Studies, as my education and experience gave me a mix of science and tech. My role is not SRS-focused, but it was only a matter of time before I found a way to bring worms to work. I took a Carbon Conversations evening course organised by Transitions Edinburgh University. Working with two colleagues, we got permission from our School to set up a veg garden in the corner of one of the sheep fields. One of the team built our compost bin, and the worms came too.
I still felt I hadn't found a way to embed sustainability in my everyday work, so I joined the SRS Academic Network, Learning for Sustainability Scotland and EAUC mailing lists. I watched with interest in 2014 as the Quality Assurance Agency and Higher Education Academy reported on sustainability in Higher Education, leading me to apply for a secondment to the IAD looking at sustainability in veterinary medical education. I joined our Campus' Sustainability Awards team and via our activities, we have demonstrated how sustainability is already embedded in the curriculum. Inspired by being short-listed at the UK & Ireland Green Gown awards last year, we are thinking of other small projects and activities. As for the worms, we have had a build-a-mini-worm-bin stand at our new-student White Coat ceremony; this year, we're building bug hotels.
If you're passionate about sustainability, you'll be surprised how easy it is to work it into your role.
Alex Kuklinski, Communications Coordinator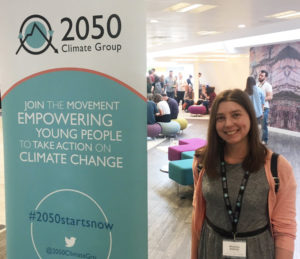 I strove to make sustainability part of my career path because I want to do all I can to address serious (and sometimes overwhelming) issues like climate change and social fairness.
I did not want the positive actions I made as an individual to be canceled out by contradictory actions made in my professional life. Luckily, I am part of a department that has the sole purpose of addressing social responsibility and sustainability issues, so I am not often forced into a position when I feel my values are being compromised. The longer I work here, the more I develop my understanding of the complexities of sustainability issues. My experience of working on sustainability has helped me make further positive changes outside of work, as well as rubbing off on some of my friends and family too.
On reflection, I do sometimes wonder if the areas least associated with sustainability are those that people like me should be working in, to change them from the inside and make a more dramatic change. The 2050 Climate Group's Young Leaders Development Programme has been a great opportunity to meet some of the people who are working in these industries – in retail, finance and many others. It is inspiring to see that sustainability is something everyone can incorporate into their work, and certainly is not something limited to those who specifically studied sustainability (I didn't!) or have it as part of their job title.
Vanessa McCorquodale, Committees & Projects Officer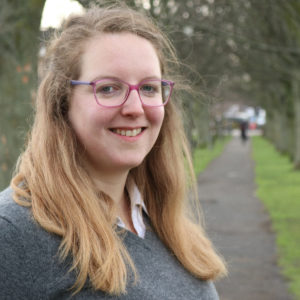 Growing up camping and swimming outdoors was a major theme of my childhood summers. Being around green spaces has always stuck with me. Keeping these spaces thriving and protecting them from damage has continued to be a priority into adulthood.
As an individual I have followed the path of being an individual 'eco-warrior', but this can only go so far and as my twenties moved along, my career, although involved behaviour change and was mentally stimulating, did not involve the kind of environmental behaviour change that I needed to see for complete job and life satisfaction. I needed to work in a place where I felt there to be ethical pride in all and for all. I realised that if my and others' collective green thinking could run through businesses, large institutions and global conglomerates, then the impact would be much greater and the earth and all its species could thrive unilaterally.
I currently work for the Department for Social Responsibility and Sustainability at the University of Edinburgh and am taking an MSc in Carbon Management at the School of Geosciences, University of Edinburgh. As I start to learn the real and measured way that we can achieve a low carbon economy, I feel myself meeting all my expectations and life goals and I go home each day feeling that I have 'made a difference' for the people I interact with and the world at large. I feel hugely positive about the future and this I believe is because I include sustainability in all parts of my daily life and the choices I make.
Find out more
You don't need to be an expert in sustainability to benefit from adding it to your skill set and making it part of your role. To find out more about training offered by the University, visit https://www.ed.ac.uk/about/sustainability/news/srs-training-staff .