reuse and recycling
Lab case study: Glove recycling in the School of Chemistry
Lab case study: Glove recycling in the School of Chemistry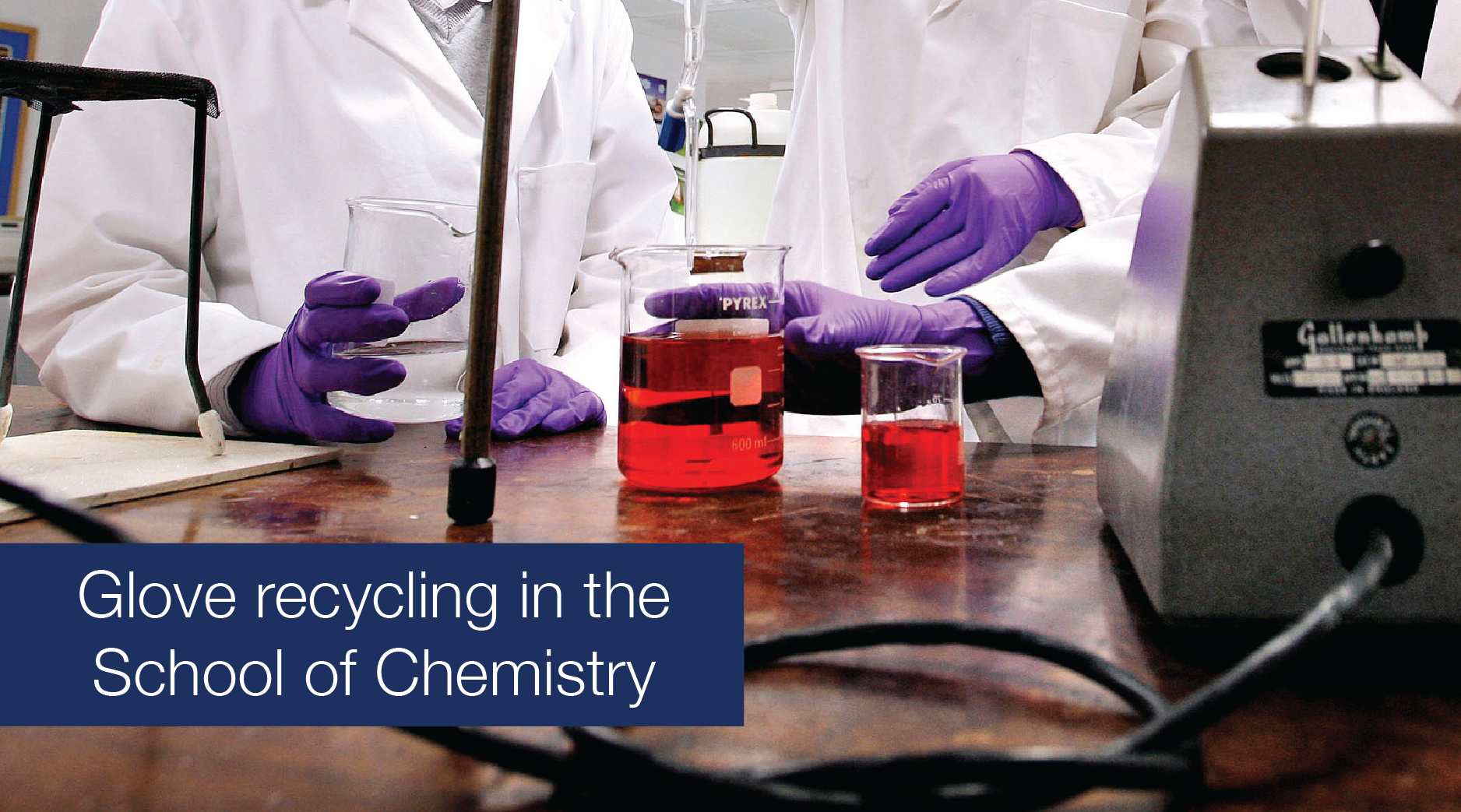 Waste Management Officer Tim Calder explains the benefits to the School of Chemistry of implementing a glove recycling initiative.
How the scheme was first set up
Over the years we have tried to find a way of recycling items that we don't have waste streams for. In February 2014 one of the Fisher Scientific representatives told us about a new Nitrile/Latex gloves recycling scheme that Kimberly-Clark had set up. It took us about six months to get it up and running and we were the first in Europe to sign up. We buy 200,000 pairs of gloves every year so this is a considerable amount of waste we're saving.
Recycling the single-use gloves has been easy to implement because the staff and students here have been happy to do their bit. I bought about 200 plastic boxes from Ikea for £1 each and sent an email round to all the lab users to let them know about the glove recycling initiative and to say that boxes were available on request. We have distributed all but one single box since October 2014! When the boxes are full somebody has to come down to empty it them the larger collection boxes in Stores; it's not for the cleaners to do.
Every 6-8 weeks TerraCycle come and take the gloves away. They are bulked at a warehouse in Lancashire and then taken for processing in Somerset, where the gloves are blended with recycled plastics to form a wood replacement composite board material. They are looking to manufacture furniture from it. Between October 2014 and September 2015 they removed 1,646kg of rubber glove waste, saving the University at least £560. This amounts to approximately 85% of all gloves used in the School.
I'm surprised that there hasn't been more take-up of the scheme in other schools. People know about it. But it's not my place to tell people what to do.
Tim Calder, Waste Management Officer, School of Chemistry, tim.calder@ed.ac.uk
Written September 2015
2019 update: 1 million pairs of gloves recycled
The School of Chemistry has recycled about 85 per cent of all its used laboratory gloves – amounting to 15 tonnes – since introducing the pioneering recycling scheme. The gloves are used to create new products such as furniture and various forms of flooring and ground coverings.
Chemists mark glove waste recycling milestone
Find out about how more unusal items are being recycled with Terracycle