Elly White: my placement with Creative Carbon Scotland
Elly White: my placement with Creative Carbon Scotland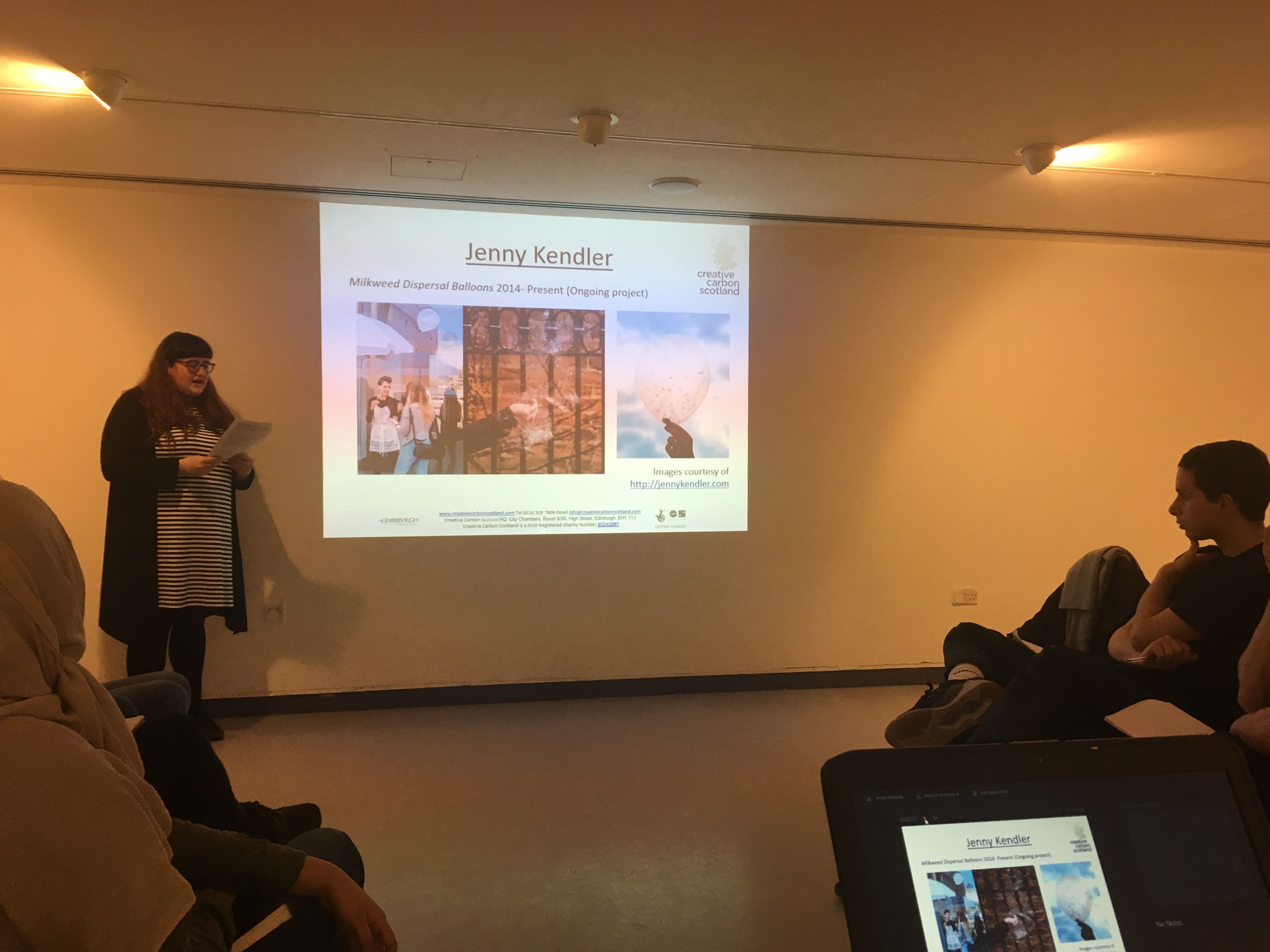 Creative Carbon Scotland is a charity working to put culture at the heart of a sustainable Scotland. In this blog, student Elly White reflects on her recent placement at the organisation as part of her Fine Art degree.
My name is Elly White and I am currently in fourth year studying Fine Art. This Joint Honours degree allows me to develop my Photography Art Practice alongside my History of Art studies. This semester in History of Art, one module that interested me was the opportunity for a work placement within an arts and cultural organisation. I was successful in securing my place at Creative Carbon Scotland (CCS) where I worked from then end of January to March. CCS was founded in 2011 to offer services to assist the arts and cultural sector in Scotland in their environmental impact towards sustainability.
The main focus of my placement was researching for the culture/SHIFT project, which explores how cultural and creative perspectives can contribute towards great sustainability. I spent my first few weeks investigating local and international examples of embedded artist projects. This included historical case studies such as David Harding's appointment by the Glenrothes Development Corporation where he worked as the town artist from 1968-78 and was part of the planning department.
A more recent example that stood out to me was Jenny Kendler at the Natural Resources Defense Council in the USA. She worked alongside their staff for a significant period of time and was given access to resources usually unavailable, which embedded her fully within the organisation. Kendler instigated artistic projects that called for participation as the NRDC wished to engage more with the public to communicate environmental issues. Projects such as Milkweed Dispersal Balloons (2014) helped create a greater dialogue. Members of the public were encouraged and invited to take the balloons home, which, when burst released seeds to help increase the only food source for Monarch butterflies. Milkweed crops had been disturbed by the agricultural industry and climate change had affected the migration of the butterflies. The project was successful as it gained news coverage, travelled across the country and further public events staged meaning increased action by the public to the issue.
Another aspect of my placement was co-hosting a Green Tease sharing event with other students on the course who had been at North Edinburgh Arts. This was a great platform to present and share some aspects of the research undertaken during my placement. The group discussion at the end of the Green Tease was great to reflect on what had been discussed and it was interesting to hear from others as we contemplated upon the information shared during the event. You can read more about those considerations in a blog post I wrote covering the event.
I found the research I was undertaking at CCS incredibly interesting, I ended up with nearly 70 examples projects (the original figure I was aiming for was 30!) this will contribute to the longer-term development of an online Library of Practice for building and sharing knowledge of embedded artists.
The numerous examples I found reinforces artists can impact and add new dimensions to organisations when given the opportunity and resources. Artists can intervene in strategic contexts, Mary Miss is currently the first artist-in-residence within the Department of Design and Construction in an advisory position. Miss has been developing a framework for how the department should approach future artist-in-residencies. The Institute of Leadership Learning and Transformation (TILLT) in a 2013 report highlighted organisations valuing artistic intervention that goes 'beyond branding and communication.' David Harding stated in his memoirs he committed to undertaking no graphic design work, placing himself firmly into the planning department.  To some extent, Jenny Kendler's work does fall into the communication sphere however the NRDC stresses she is not tasked with projects such as 'make a whale banner'. She is a valued member of staff and her work has more impact than solely branding the Milkweed project, she led the project and its dissemination under and steered via her artistic aesthetic.
Not only has the work placement offered me professional development and allowed me to utlise my History of Art skills in a live context, it has also impacted the Art Practice element of my degree. My interested in the environment is reflected in my photography. I recently showed two images from my current project at the SoftBox Collective exhibition REHEARSAL at Coburg House Art Studios.  The photographs show examples of land misuse from the Newcraighall area. Frustrated local residents are organising clean ups leading to the discussion of responsibility for land management by government, community and individuals against litter, trade waste and flytipping. I wish to continue my photographic investigation to reflect a changing environment, which will also study the effect of new developments bringing solutions or becoming greater risks to the surrounding area. Furthermore, my work placement at CCS furthered my interest in sustainability. Within my current and future projects I will consider the potential implications of how I choose to make- whether this is via digital or analogue processes- and the resources I use to present my work.