Work-based placement: Amanda Midhamre
Work-based placement: Amanda Midhamre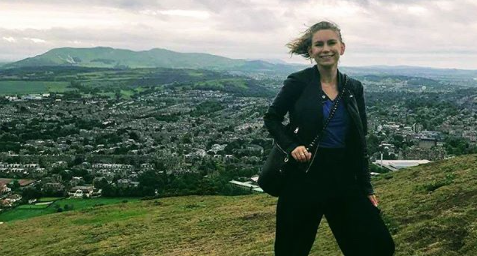 Amanda Midhamre completed a work-based placement with the department in order to produce research for her MSc Environmental Sustainability dissertation.
Having followed and admired SRS' work from the start, doing a work-based placement with them was an exciting opportunity for me. Moreover, being able to combine my own interests with sought-after research that could make a positive impact on the University seemed like a perfect way to end my five years at the University of Edinburgh.
The University has made a significant commitment to move towards a Circular Economy. However, despite activities that are already taking place at the University, there are at present limited opportunities within their own procurement to implement circular principles and thus further guidance was needed. In the pursuit to improve and further implement circular public procurement (CPP) at the University, I conducted research that will set the scene for the University's future procurement strategies and activities.
Taking a mixed method approach I used desk research, interviews and observation to gather data on CPP from Europe. From my research I was able to identify barriers, practical examples and mechanisms for the development of CPP. By applying the findings to the context of the University, my research presents a simple case on CPP with significant potential to encourage new developments in the Circular Economy. From my findings, I also came up with eight recommendations that public organisations wishing to pursue CPP should implement. One included that in order to effectively embed Circular Economy in procurement, organisations should come up with their own CPP specific vision, which could help to identify criteria and annual targets and could look something like this:
CPP by 2040
By 2040 procurement departments will have taken the next step from sustainable procurement to circular procurement, having acknowledged the limitation of sustainable procurement in providing sustainable supply-chains. Purchasing decisions will be based on life-cycle-costs, as least-cost options will be considered to build in obsolescence and inefficiency. Purchasers and consumers will have transitioned to valuing functions instead of ownership, having encouraged producers to sell product-services instead of products. The fundamental value for consumers and producers alike will be 'doing more good' inspiring systems-based design that adds value to both users and the surrounding environment.
Ultimately, my research suggests that pursuing CPP means that the University can at an early stage maximise opportunities for fulfilling a circular vision and making the University 'zero by 2040'.
My placement with SRS has been one of the highlights of my university career. Having had the opportunity to work on a real 'living lab' project that is both meaningful for me personally but also for the Department is a massive reward in itself. Most importantly, this placement has made me realise what sort of place I want to work at in the future. I want to work in a small dynamic team where colleagues support innovation and creativity and where sustainability is clearly the core of everything they do, and this is exactly what SRS is for me.