Weather and housing research in the Indian Himalayas
Weather and housing research in the Indian Himalayas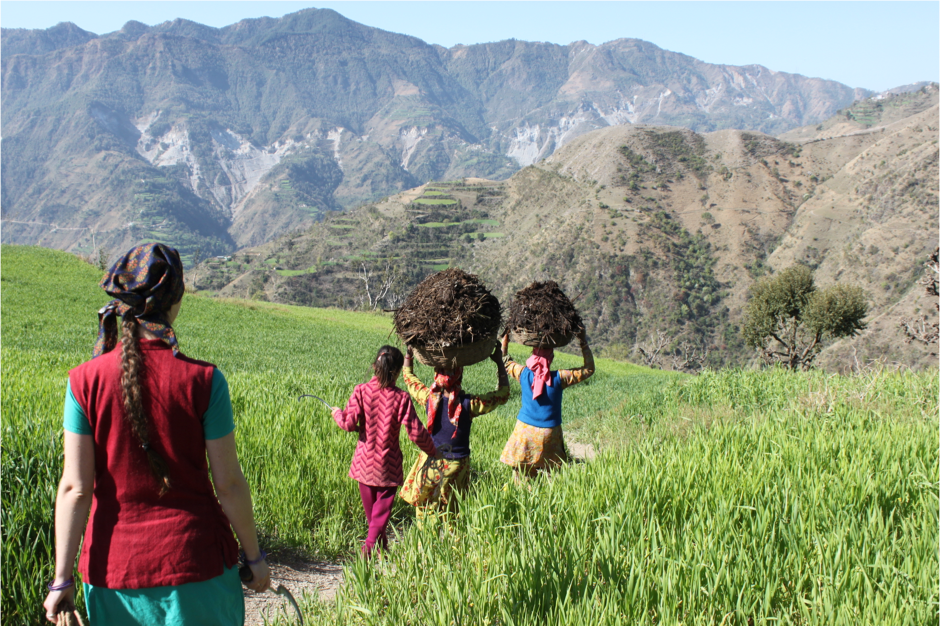 Dr Heid Jerstad is a GCRF Post-doctoral research fellow in Social Anthropology, and is interested in how changing weather patterns impact human lives. Here she discusses her past research and the Weather Matters hub – an online space for scholars to debate weather and climate change-related research.

As a Global Challenges Research Fund postdoctoral fellow in Social Anthropology at the University of Edinburgh, my work is based on my earlier research for my PhD on weather and climate change. During my PhD I spent a year and a half in India, learning Hindi and then living in a small village in the Himalayas. The mountains towered below the village – it was built up near the top – and you could see eagles circling far below. Most men were out of the village, working elsewhere and we women would spend our days going out to cut fodder for the buffalo – leafy branches from trees around the fields (these would regrow every year, it was like a useful trim) and grass from the steep mountainside. I was very proud of my sickle, although I could never carry as much as the others. In return for cutting the fodder (I didn't have my own dairy buffalo), I would be offered food and tea. I would drink the tea but refuse the food, because it would be insulting to my host family, but this was very delicate because refusing food was associated with accusations of witchcraft – i.e. that the food was poisoned (the witch herself could eat the same food and suffer no ill effects). Apparently in the past there used to be a local court set up if someone was accused, and the men from her natal village (structurally her brothers/uncles – every woman married outside the village where they were born) would come to judge her.
One day I went to cut grass with Kanta Devi, a young married woman who showed the girl I lived with her new fancy smartphone – my roommate was very impressed. I was set to cut scrub from the field edge while they went up the trees. Kanta Devi's younger husband worked for my host family sometimes, and a neighbouring old lady tutted over the fact that was part of the payment he was given lassi (buttermilk) rather than whole milk (it was his mother who came to pick it up). Because of the connection and the heavy urging, I did have supper with them that day. The young wife – she was about 22, with three kids – watched me eagerly with wide eyes, as I ate the huge plate of food in their upstairs room carved with beautiful wooden horses.
Later I would hear different opinions as to whether she or her mother-in-law was the difficult one, unwilling to work. I didn't see any sign of this myself. Her two elder children were girls, and she worried about the health of her son, telling me what a tragedy it was for a household to be sonless, and just finish (because girls would leave to be married). Although I don't approach family this way myself, I could see that this would perhaps be letting down whatever ancestor carved or commissioned those horses.
Now I'm back in Delhi, although not yet in the village, and working with a research organisation called TERI. Based in a stunning building made of red stone, the offices bustle with men and women thinking, researching, collaborating. The young women I have lunch with have studied in the UK and talk is of air pollution and Hindi films. My work here is on the issues with concrete housing both in terms of cement as the highest greenhouse gas emitter after fossil fuels, and as uncomfortable as people who, unlike Kanta Devi and her family, had built and were living in concrete and brick houses. This is a combination of working with architects, engineers and housing NGOs who focus on eco-housing, and mapping the landscape of building standards, the cement lobby and other factors contributing to choice of materials in construction.
Emerging out of my work on weather and climate change is the Weather Matters hub, a space for thought and exchange on how human lives and society are intertwined with and affected by the weather as it changes. So far there are pieces on a project to translate the climate change term, on what might be gained by using 'adjust' as an alternative term for adaptation and on liquidity and island-building in the face of the rising sea in the Maldives. There is also a thread of calls for papers for relevant conferences and a few reviews ('roundups') of happenings online – podcasts, blogs, events – around climate change in social science research and related areas. Have a look – at www.weathermatters.net and consider joining the conversation.
Contact Heid at heid.jerstad@ed.ac.uk