Two ways to Europe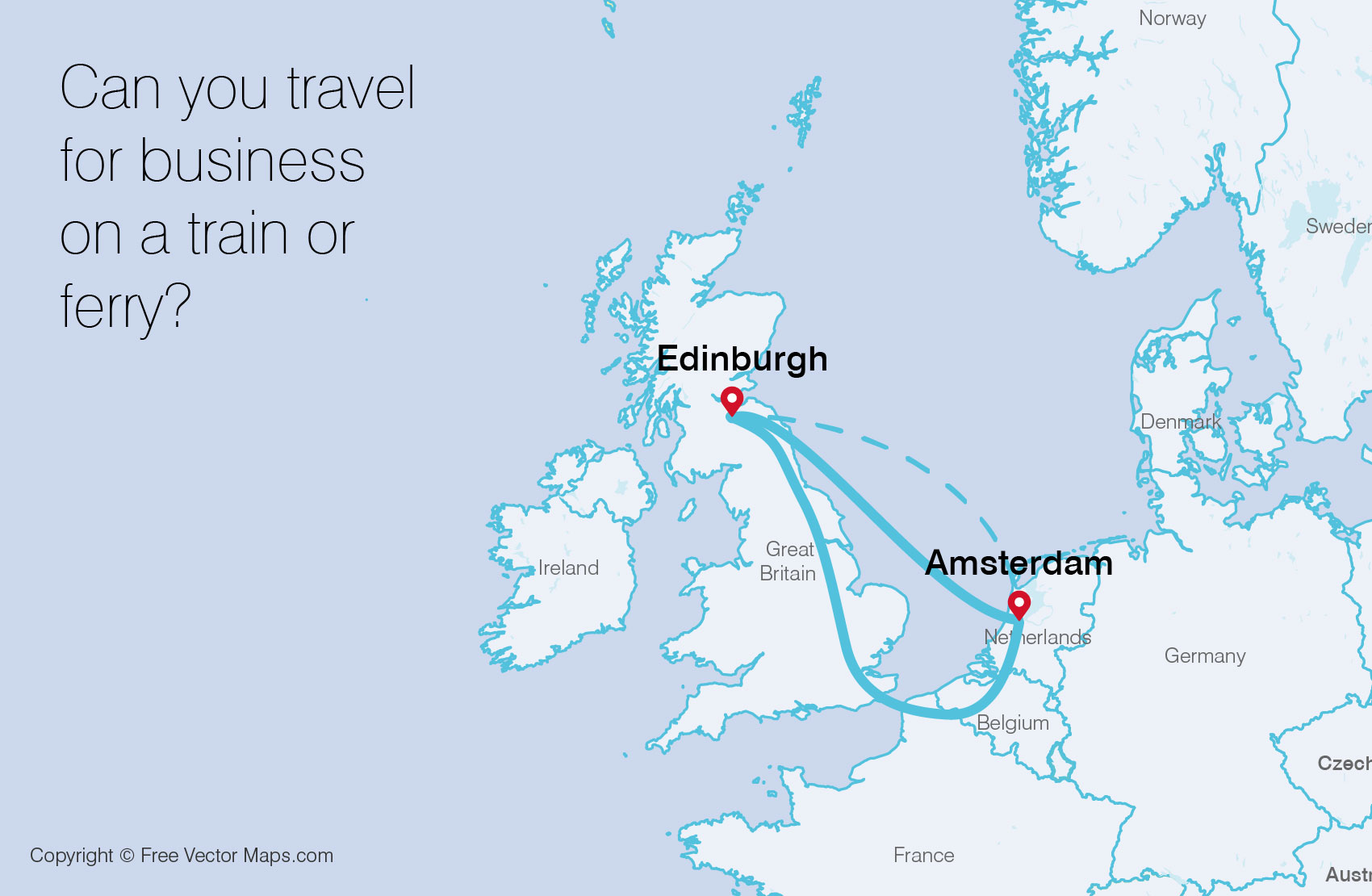 How easy is it to travel for business without taking the plane? Joseph Farthing got an opportunity to test two different routes to Amsterdam and shares his personal thoughts on business travel without a flight.
For a University with international ambitions, it's essential that we can collaborate on research projects and share knowledge and best practice with our peers in other countries. But the University has also, like every other higher and further education institution in Scotland, committed to cut its emissions.
Last year, flights accounted for 94% of the University's carbon emissions from business travel. Based upon current trends, flights will soon account for around a quarter of our total carbon emissions.
This is a huge challenge – how do we reconcile these facts? One way might be to use video conferencing more. Another could be to fly less often when travelling reasonably short distances.
Over the last two months, I needed to be in Amsterdam on two separate occasions. The first trip was planned long in advance, but the other was booked at fairly short notice when a colleague couldn't make it to a conference.
I imagine for most of us, the next step here is to log onto an airline website and book some flights.
I don't think I need to describe how a flight works. Most people at the University of Edinburgh have taken a plane somewhere. You check in – I'm paranoid so I usually do this a couple of hours before my flight – and go through security. Then you wait, maybe look at duty-free, and then get on a plane, take off, awkwardly try to read a book or use your laptop without elbowing the person in the seat next to you, land, collect your bag, and leave.
For me, this process is a little like going to the dentist. I'm not scared of it – although some people are, but I don't really enjoy it either. I really see it as an occasional necessity. It's definitely the quickest way to get anywhere further than London, and it's probably cheaper.
But is it better? I decided to try some other routes from Edinburgh to Amsterdam and to understand whether these routes are viable for business travellers.
Ferry
I begin my journey over sea counterintuitively by catching a train. Although a ferry still runs 3 days a week from Rosyth to Zeebrugge in Belgium, it was closed to passengers in 2010 and now only carries freight.
Instead, I take an early afternoon train to Newcastle. The standard class seats are comfortable, with table seats giving ample room to work; not that I had much time to work during the one-and-a-half-hour journey.
From Newcastle, the ferry operator DFDS offer a direct bus from the station to the ferry port. It's a standard double decker bus, and you might not find a seat – but there is ample room for luggage.
At the port, check in takes about 5 minutes on an automated check-in machine, or longer if you want to speak to a person. Security is very quick. Although similar to airport security, liquids are not banned on ferries.
Clutching my boarding pass, I'm met by a smiling member of the crew and directed to my cabin. Standard class cabins aren't huge. To my left is a full-length single bed. Another bunk is folded out of the way above, in case you're planning to share the cabin.
This is an overnight ferry. Even though it takes about 15 hours to sail from Tynemouth to Ijmuiden, I would be spending most of that time asleep. Thankfully, the bed was comfortable and much bigger than the beds on sleeper trains.
Every cabin has an en-suite shower and toilet. Hot and (drinkable) cold running water is available from the bathroom tap. There's a large desk with a chair and European two pin power sockets. This is easily large enough to work at, although there's no Wi-Fi in standard cabins.
But I wasn't planning on spending all my time in the cabin. There are two ships working on the Newcastle – Ijmuiden route. Both have at least 3 restaurants, a café, 1 or 3 shops, a bar and a cinema. Free wireless internet is available in several places on each boat – mostly café and seating areas.
It's not exactly luxurious, but walking around the boat is a lot more comfortable than being squeezed into airline seating. I could do a little work, get some dinner, and then take the rest of the night off.
I found sleeping on the boat comfortable. The waves very gently rock you from side to side, but those who get seasick might find this more difficult.
The boat announces your arrival about an hour before the 9:30 arrival in Ijmuiden. I woke up to a grey drizzly morning.
Central Amsterdam is about an hour away. The ferry company operate coaches from Ijmuiden to central Amsterdam, but I recommend avoiding this service. Regular bus stops are just outside the ferry terminal, and Google Maps or 9292.nl can give you public transport directions to wherever you're going that will cost less and take you to more destinations. Bus drivers accept cash and give change.
I feel good about the journey. It was long, but I didn't really notice it. It felt more like an evening at a hotel than a 400-mile journey.
Total journey time: 17 hours
Total cost: £168 per person (or £108 per person if two travel together)
Pros:
About the same total cost as a flight
Travel overnight and arrive by 10:30am
Much better for the environment than a flight (32kg CO2e vs 220kg CO2e)
Cons:
Not (quite) possible to make a 9am meeting
Possibly uncomfortable if you get seasick 
Train
My rail journey starts at 7:30 in the morning, with me standing bleary eyed at a Waverly station platform. I'm clutching coffee and waiting for the Virgin Trains East Coast service to London Kings Cross.
I booked my trip a few weeks earlier using KeyTravel, the University's approved travel agent, but so far few people I've told seem to believe I'm really going to take the train this far. Everyone I've mentioned it to asks me to repeat myself. "You're taking the train to where?"
Perhaps they're right. At the start of the journey, I'm not at all certain that I won't regret this choice.
Confession time: I've travelled a lot further than this by train. I've taken a sleeper from Paris to Florence, daytime trains from Salzburg to Amsterdam (via Munich), and much more. These were long but fun journeys, but they were also holidays. This is work.
On the ferry, I did have time and ample space to do some work, but after about 7 o'clock I switched off my laptop and spent the rest of the night resting and sleeping. This time, I'll be travelling during the daytime. Would I be able to get any work done?
The East Coast train to London takes about four and a half hours – it's one of the 'express' trains that stops in only a few places. At this time of day, it's quiet. Most of my fellow passengers are dressed in suits, and clearly travelling for business as well. I feel a little underdressed in my t-shirt and jeans, but no one knows what you're wearing by email.
I'm lucky enough to have a table seat to myself, so I have more space than I need. Internet on the train costs extra, but my phone works as a free wireless hotspot. I keep it plugged into the wall to conserve power while doing this, but I actually spend most of my time reading and planning for the conference I'm going to.
Outside my window Scotland and then England speed past. It's a sunny day – almost entirely bright primary colours and rural scenes.
My train pulls into a much cloudier London just around lunchtime. St Pancras International is just a five-minute walk from Kings Cross. You can take a specially designed tunnel between the two stations, but I decided to go outside and enjoy a little fresh air.
Check in at St Pancras took less than 30 minutes. Eurostar advises that you give yourself 45 minutes, and KeyTravel had booked me slightly more than that. Once again, security is similar to airport security except that liquids are permitted on board. Immigration checks are a little slower than the ferry, as two countries want to check your passport before you board.
For a traveller in standard class, the Eurostar is probably the most comfortable route from London to Paris or Brussels. Seats are wider, and leg room is larger than aeroplane economy class. The high-speed lines are very smooth.
I have a little less space on this train. I'm sitting in an aisle seat next to another business traveller who's furiously scribbling on printed notes. Nevertheless, I have a very wide tray table attached to the seat in front. It seems to have been sized to fit a laptop from the era the train was built – the mid-90s – and so it's plenty of space to work.
Looking a crossing of about two hours, I decided to eat my lunch and then spent some time checking and responding to email on my phone. There's mobile signal and 4G data all the way through the Channel Tunnel, though this may count as roaming depending on your provider. For me, Vodafone acted as though I was in France from the minute I entered.
The tunnel itself takes only about 30 minutes to go through. I'm from Kent, so I've done this lots of times and the novelty has long worn off. The journey is like taking a train at night, except that you might experience some pressure change effects like being on a plane.
The train doesn't slow down coming out on the other side and, bar a brief stop at Calais, speeds on to Lille and then Brussels Midi/Zuid station.
From December 2016, Eurostar will run direct services from London to Amsterdam via Rotterdam and Brussels. However, I had to change trains at Brussels. This was probably the most frustrating element, adding an extra hour to my journey time.
Changing trains at Brussels station is easy. Large signs ahead point to Thalys – the high-speed train I was going to take – and other connecting rail services. The Eurostar platform is physically separated from the rest of the station, so you have a short walk followed by some escalators before you arrive in the main concourse.
Most stations in Belgium and the Netherlands are built on two levels, with shops and facilities underneath and the rail platforms directly above. You don't need to check in for a Thalys train – I just followed signs to the area where the Thalys trains generally depart and waited until my platform was called. There's a desk here where you can ask questions, but I didn't have any.
These trains are very much like the Eurostar, based on similar TGV rolling stock, except that everything is red instead of grey. I had another comfortable aisle seat and enough space to work. Wi-Fi internet is completely free on Thalys trains, even in standard class.
For another two hours, more scenery sped past. Something tricky comes up at the office, and I end up spending about 20 minutes on the phone. All coaches on Thalys are 'quiet coaches' – so you're expected to go to the large and slightly soundproof vestibule area.
First class passengers can enjoy a dedicated meeting room space at the end of the first class carriage, but instead I could wander around the bar. You can buy espresso and drink it at a standing table while you watch as another international border goes by.
Finally, I arrive at Amsterdam Centraal. I'm not very tired, but nowhere near as rested as I was after my journey by boat. On the other hand, I had a clear 6-7 hours of working time, my seat was much more comfortable than on an airline.
Total journey time: 10 hours
Total cost: £200 per person
Pros:
Very comfortable
Quicker than the boat
Much easier to work than on a plane
Cons:
Most expensive option (currently)
Changing trains at Brussels wastes about an hour each way (though this will be resolved from December 2016)
Conclusion
Taking a flight is sometimes still going to the be the best option, but I enjoyed experimenting with other routes. Taking a plane isn't very restful, and it's hard to work in economy class. By comparison, either of the routes I took gave me plenty of space and time to work.
I looked at these options for just one route, but it's clear to me that the choices are not as clear cut as I had expected:
Flight
Ferry
Train
Travel to/from city centre (return)
£16.50
£48
£0
Main transport per person (return)
£140
£120 – one person
£60 – two people sharing one platform
£200
Includes
1x hold suitcase
1x hand luggage
Unlimited luggage
Overnight accommodation
Free Wi-Fi in café/lounge areas
2 x suitcases
1 x hand luggage
Free Wi-Fi on Thalys trains
Total travel time (each way)
3h
17h overnight
10h
Total cost (return)
£157.50
£108-168
£200
Emissions (return) kg CO2e
220
32
60
Calculations based upon: Flight – Average quote for budget flights quoted 1-2 months in advance, traveling to the airport by tram and to Amsterdam Centraal by train including hold luggage supplement. Ferry – Inside cabin booked 1-2 months in advance, taking advance booked train tickets to Newcastle and bus and train to Amsterdam Centraal. Train – Cost of KeyTravel booked trains from Edinburgh Waverly to Amsterdam Centraal by East Coast, Eurostar and Thalys trains. Accurate as of 31 March 2016. Emissions calculated using 2015 DEFRA-DECC carbon factors.
Ultimately, my preference for future journeys to the Netherlands would be the ferry – not that I have any more planned. Leaving in the afternoon and arriving the following morning actually cut out the smallest amount of working time from my day. If more than one person is travelling, it's also cheaper than a flight.
Travelling while asleep is a more efficient use of time, and I found the ability to stretch my legs and walk to a restaurant for dinner much more pleasant than sitting down for an extended period on the train or aeroplane.