Sarah Ford-Hutchinson: diary of a cycling commuter
Sarah Ford-Hutchinson: diary of a cycling commuter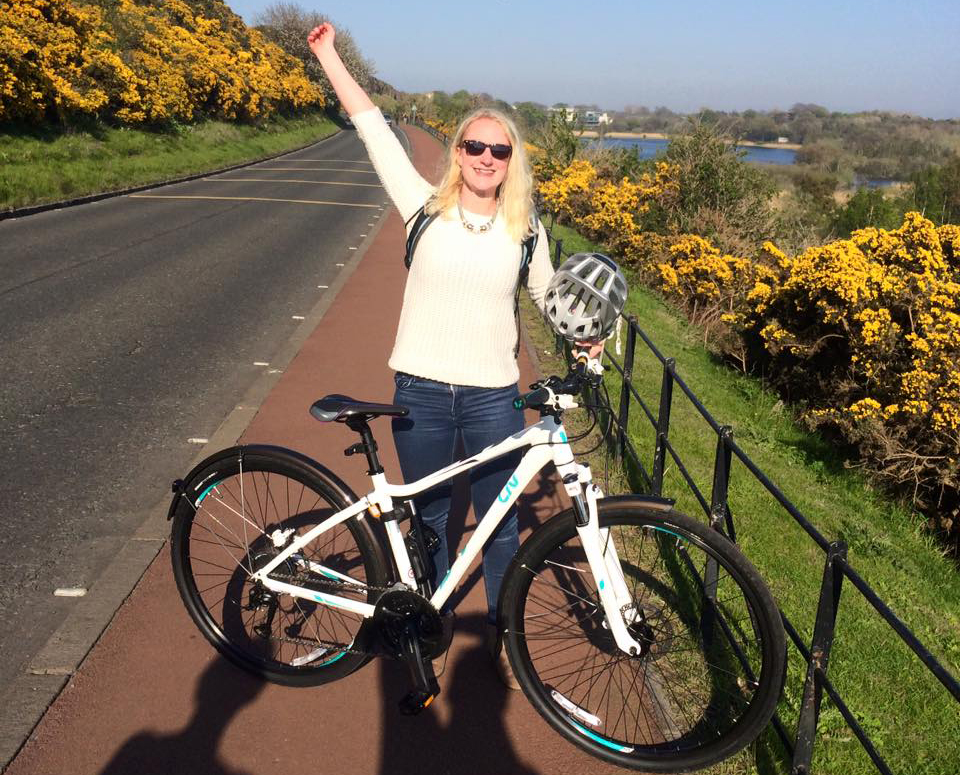 In the second of a new series, Communications Coordinator Sarah shares what it is like to ditch her bus pass and take up cycling to work.
First things first – I have a bike! It took less than a week for both Cyclescheme and the University's payroll to authorise payments for the bike I had ordered to be debited from my monthly salary. A few days later, I went along to Edinburgh Bicycle Cooperative to pick it up.
I chose a Giant Liv Rove 2 hybrid bike with lockable suspension, perfect for both a tarmac commute and off-road gravel tracks. The staff had already fitted the lights, mud-guards, and lock that I'd ordered, and upon collection, spent time adjusting the seat and handlebar grips to make my ride comfortable.
I had such a big smile by the first set of traffic lights – what a super new toy!
Once home, I purchased insurance with Cycleguard to cover 3rd party liability and injury, which came in at a very reasonable £66 for the first year. It's peace of mind in case the bike is stolen, I get hit, or I hit someone or something else – although fingers crossed none of these ever happen.
The next morning, cycling along the Innocent Railway path on my own bike was pretty special… a big hit of Vitamin D, the coconutty smell of gorse, a beautiful male pheasant crowing in the field. Having suspension makes such a difference when going over lumps and bumps, and smoothes out kerbs and cobbles.
After a few days I attended one of the free Dr. Bike sessions organised by the University Transport and Security teams. The qualified mechanic gave my bike a once over, making a few more adjustments for comfort and giving me some advice on type pressure for my weight to get optimum performance.
The ever-friendly Security team checked that I my bike had been embossed for the Bike Register, and added a sticker to the bike's frame to indicate it was registered in a bid to deter thieves.
Theft is a real concern of mine – a few years back I had a Specialized hybrid stolen and I would be heartbroken if it happened again. A colleague gave me a quick tutorial on sensible ways to lock up the bike, the suspension and the quick-release wheels, and I'm more confident now when leaving it in a new place.
I've learned a lot this month. Cycling makes you a better cyclist-aware driver, and as far as rush hour traffic is concerned, the more I'm exposed to it, the more comfortable and confident I become.
I've also noticed a change in me – the journey to work is something I now look forward to, and the journey home is a chance to take a new route and explore at the end of the day. Like many staff cyclists, I signed up for Sustrans' Scottish Workplace Journey Challenge in May, clocking up 150 miles over 47 journeys, and burning over 7,000 calories. I even won £20 worth of Filmhouse vouchers for inviting a friend to sign up too – the icing on the cycling cake.
I've been cycling for 6 weeks now, and the novelty still hasn't worn off. I've seen sparrows taking baths in puddles, met women cycling the width of Scotland, and got to cuddle my dog Snowy's doppelgänger "Molly", all because I was out in the air rather than sitting on a bus with my headphones in.
Rain or shine, I'm looking forward to what the next month has in store.
Tweet Sarah at @sarah_fordhutch
Find out more about the Univeristy's Cycle to Work Scheme and resources for cyclists.