MSc student placements: Fair trade research in Malawi
MSc student placements: Fair trade research in Malawi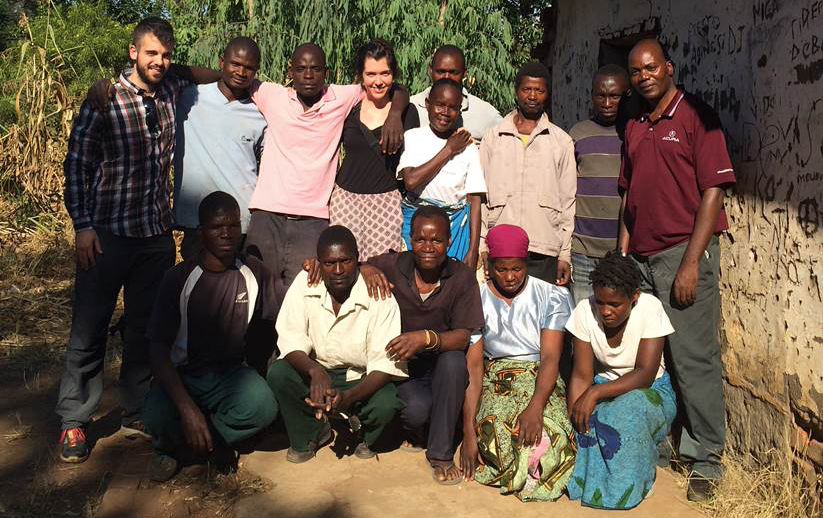 Javier Ureña Palencia, MSc International Business and Emerging Markets and Lauren Opstad, MSc Environment and Development, give an overview of their placements in Malawi looking at fair trade supply chains.
 In early 2015, a placement opportunity was organised by the Department for Social Responsibility and Sustainability at the University of Edinburgh in collaboration with Just Trading Scotland and The National Smallholder Farmers' Association of Malawi (NASFAM). Two masters students, Javier Urena Palencia,  MSc International Business and Emerging Markets, and Lauren Ops
tad, MSc Environment and Development, would be looking into the analysis of the economics and social aspects of pigeon pea (lentil) farming respectively, in a given area of Malawi, as part of the University of Edinburgh broadening its understanding of fair trade supply chains.

The project has been undertaken in June
2015, both in Lilongwe, where the NASFAM Headquarters are, and Zomba, the district where field work has been conducted.
Javier was in charge of analysing the economics of pigeon peas farming, together with the benefits of these crops on climate change adaptation, and potential buying from stakeholders such as the University of Edinburgh Catering Procurement, given the nature of the NASFAM value chain and the University's commitment to fair trade. Javier reports that this placement opportunity has given him "the experience beyond the knowledge, and a real insight into typical farming and trading issues in Malawi, a developing country where agribusiness is cornerstone to livelihoods".
Javier conducted interviews with all actors within the chain; Nasfam relevant staff, Nasfam and non-Nasfam farmers, local traders, and local processing companies. Initial evidence from his research suggests that pigeon peas can play a crucial role in food diversification, soil fertility and income stability to farmers. However, pigeon pea farming in South Malawi cannot escape from deficiencies that severely affect the parties involved. Lack of investment, climate change, information asymmetry, market imperfections, etc. – all of them diminish the value that pigeon pea offer to the chain, where actors are highly intertwined. Nonetheless, the role of NASFAM is a laudable one, since it is increasingly giving farmers the training they need to cope with many of these issues above mentioned, while receiving higher prices than the minimum established by the government
Lauren describes how her project – conducting a study of smallholder farmers growing pigeon peas in southern Malawi to ascertain what (if any) benefits exist for farmers that are members of NASFAM – felt like the perfect fit between her graduate program and her interest in African smallholders and past professional experience in international development. Lauren's fieldwork involved
collaborating with the NASFAM Zomba office to coordinate three focus group discussions, over 100 individual interviews with association members and non-members, and time with NASFAM staff to better understand the impacts of agricultural cooperatives on livelihoods and gender roles of pigeon pea farmers.
She describes how they were 'picked up each morning by NASFAM colleagues, driven over long, dusty, bumpy roads and arrived under the shade of a tree to 30 farmers waiting to be interviewed'. Lauren reports that 'the farmers were generous and gracious with their time and their knowledge'; and that she can already tell that this placement will make her research, dissertation, and graduate school experience so much richer.
Javier concludes that ongoing research will certainly upgrade the value of the study to further explain and uncover similar issues and opportunities, which can offer broader information on this ethical value chain for stakeholders to get further involved.
Javier and Lauren will be talking about their experiences on placement this summer at an event on Wednesday 29th July 2015, 3-4pm in the Business School conference room. For more info and to book your free place visit: http://sustainability.ed.ac.uk/events/series/core/fair-trade-lentils-malawi