Masters students invited to attend workshop during UN Climate Change Conference in Paris
Masters students invited to attend workshop during UN Climate Change Conference in Paris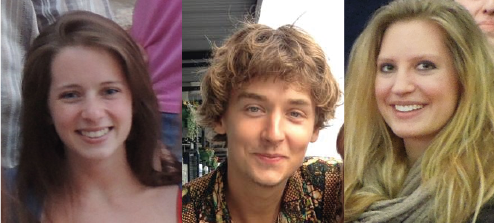 Three MSc students at the University of Edinburgh have been invited to attend a global climate action workshop during the UN climate negotiations in Paris this December. Here, they tell us about their idea on how to lower the University's CO2 emissions and about the "Carbon Railcard" – the project that will be taking them to Paris.
By Chris Palmer, Sarah Bebb and Célia Nyssens
Summer is (finally) in the air in Edinburgh, meaning that thousands of students have packed their bags and jetted off to their homes across the UK and around the globe, while staff members are taking some well-deserved holidays and flying away. With a student population of almost 30,000 and 6000 members of staff from all over the world, travels like these add up to a lot of mileage each year. Business travel alone at the university generates around 15,000 flights a year, adding up to around 9000 tonnes of CO2. That's the equivalent of taking almost two thousand cars off the road for a year. And it accounts for about 9% of total emissions by the University of Edinburgh. That's a lot. And that's why we thought it was worth trying to do something about it.
Flying anywhere is hugely carbon intensive and the surest way to reduce emissions is to simply not fly. Whilst reasonable alternative means of travel may not exist to far flung countries like Australia or the USA, there are alternatives for destinations closer to home. The Carbon Railcard is an effort to reduce the university's yearly 4,500 domestic flights by replacing them with rail journeys.
The project will bring the University of Edinburgh and rail companies together to provide an offer, discount, upgrade or other incentive that will encourage people to switch from flying to getting the train. The idea is to create a win-win situation: The rail companies benefit from gaining more passengers and the university benefits from reducing its carbon emissions, contributing to the university's sustainability aspirations.
We have been working with the University and ScotRail, and we're working towards implementing a pilot project for the start of the upcoming academic year.
There are 3 main elements to the Carbon Railcard project:
1) The University will start using ScotRail's business travel booking system, which will allow us to collect data much better than with the systems in place before. This will allow for greater monitoring and will give evidence of the extent the project is reducing emissions.
2) University staff travelling on ScotRail's services will receive 'points', similar to air-miles. These points can be redeemed for free future train journeys and will be collected in a central university pot and then redistributed for use of students travelling to conferences around the UK.
3) Finally, a personal incentive for each staff member travelling on ScotRail's services must be decided. ScotRail are still deliberating as to what they can give, but ideas proposed include an upgrade to a more flexible ticket or to First Class; a guaranteed table-seat with plug socket (to enhance journey productivity); or simply a free coffee and a cake on-board ScotRail services.
The project was started by Chris Palmer, who has been developing the idea over the last six months and successfully took part in Bill Clinton's Clinton Global Initiative University conference in March. Chris is working on his dissertation that will gauge university staff perceptions of lower-carbon travel and will look at the policies with the best potential for the university in reducing its air travel emissions. This research will feed into the Carbon Railcard project, and with team members Sarah Bebb and Célia Nyssens on board, the team will be aiding the University in making this idea a reality over the next 12 months.
We were recently invited to join the Global University Climate Forum, organised by the International Alliance of Research Universities (IARU), which brings together students from all over the world who are making an impact on their campus, their communities or in the world. We will be attending a one-day workshop that will be held during this year's UN climate negotiations (COP21) to gain input on how to make our project most effective. From then on, we will be asked to report the progress of the Carbon Railcard to an online platform on a monthly basis for one year.
As you see, these are exciting times for us and the Carbon Railcard. Eventually we're keen for the project to be expanded to all UK rail companies, and to include UoE staff, students and beyond, so keep an eye out for more news on our progress!
Reference: http://www.yousustain.com/footprint/howmuchco2?co2=9000+tons