Alumni at COP21: Célia Nyssens and Chris Palmer at the Global University Climate Forum
Alumni at COP21: Célia Nyssens and Chris Palmer at the Global University Climate Forum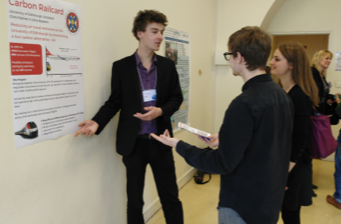 Graduates Célia Nyssens and Chris Palmer presented the student Carbon Railcard project at the Global University Climate Forum, running in Paris during COP21. PARIS, 7th December.
One of the perks of studying at the University of Edinburgh is that you get the opportunity to attend events for students in exciting places, organised by prestigious institutions. In those international gatherings, you meet fellow students who are also driven by their conviction that a better world is possible, and working to make a difference. One such meeting that we were lucky to attend is the Clinton Global Initiative University Meeting, to which UoE sends approximately 10 students each year (more info here).  Another one is the Global University Climate Forum organised by the International Alliance of Research Universities (IARU) in collaboration with the International Sustainable Campus Network (ISCN) of which the UoE is a member.
The GUC Forum (let's call it by its sexy nickname) took place in Paris, in the context of the Global Climate Change summit, COP21, currently unfolding a few kilometres away. About 60 students from all five continents were invited to come and present a project they are setting up on their campus, listen to each others' projects and network. Although Chris Palmer and I graduated this past summer, we are both still living in Edinburgh and not feeling quite grown up yet, so we applied to attend the GUCF and were successful.
The project we went to present is Chris' Carbon Railcard project that he also presented in Miami in March at the 2015 CGI University Meeting. In a nutshell, this project aims to tackle the UoE's carbon footprint by addressing the GHG emissions generating from staff's business travel.
Emissions from business travel (staff going to conferences, various meetings, and conducting research abroad), in particular air travel, are the elephant in the room. They are a considerable chunk (approximately 10%) of the University's emissions; yet, not included in any mitigation strategy. Of course, we can't forbid professors from flying to events on other continents; but what we can do is incentivise them to choose the train over the plane as much as possible, especially within the UK. The Carbon Railcard project facilitates collaboration between rail operators and the university and aims to reach an agreement where the rail operator would offer an incentive, like free Wi-Fi, a discount or a loyalty points system, and in return would hopefully gain more passengers. It's a win-win. Taking the train over the plane can reduce journey emissions by 90%.
Today is aviation day at COP21 (very interesting article about it here). Politicians are slowly beginning to recognise that the aviation sector is a significant challenge to climate change mitigation. The sector contributes only 2-3% of global GHG emissions, but it is booming. Yet, the solutions presented by scientists and businesses – technological innovation to make planes more efficient – are falling short of the real problem: if we are to limit global warming to 2°C, we will need to fly less. You can find more information about the context and environmental problems of the aviation sector in a very good article in The Economist.
In the GUC Forum, we did not only talk about air travel. Many projects addressed students' awareness and knowledge of climate change and environmental sustainability. Some intended to raise awareness, others to engage students actively and yet others to embed sustainability in the curriculum. Other important issues that came in the spotlight too included food surplus and waste on campus, Cambridge's investment policy (two – surprisingly unrelated – teams of students campaigning for "positive investment" showed up), biodiversity in and around campus, renewable energy, and environmentally friendly behaviours. At the end of the day, everyone's impression of the day was positive: so much energy, optimism, ambition! For us, it was extremely motivating and inspiring to meet and exchange with other young people who believe that change for the better is possible and that we all can be part of it.
Finally, at the GUC Forum we also had the incredible opportunity to hear from, and discuss with, experts. Prof. Le Treut and Prof. Jobert, from the prestigious French Universities Pierre et Marie Curie and Paris-Sorbonne, respectively; and Prof. Kammen from the Energy and Resource Group and the University of California Berkeley listened to some of the presentations and shared with us their expertise and insights from their professional experience in academia and politics. Throughout the day, three more experts joined us and talked with the various student groups about their projects. At the end of the day, they (Prof. Ivanova and Dr. Cash from University of Massachusetts Boston, and Ms. Harris from the ISCN) gave us feedback and engaged in discussion with all of us.
In short, this Forum was an exciting day of exchanges, new friendships, and learning. We will be going back to Edinburgh (not flying, of course) with renewed energy to make this project happen! If you wanted to get involved, don't hesitate to get in touch with Chris at cta.palmer@gmail.com.
Salutations de Paris,
Chris Palmer & Célia Nyssens