Visions of a Wilder World: Thoughts from Franziska Schmidt
Visions of a Wilder World: Thoughts from Franziska Schmidt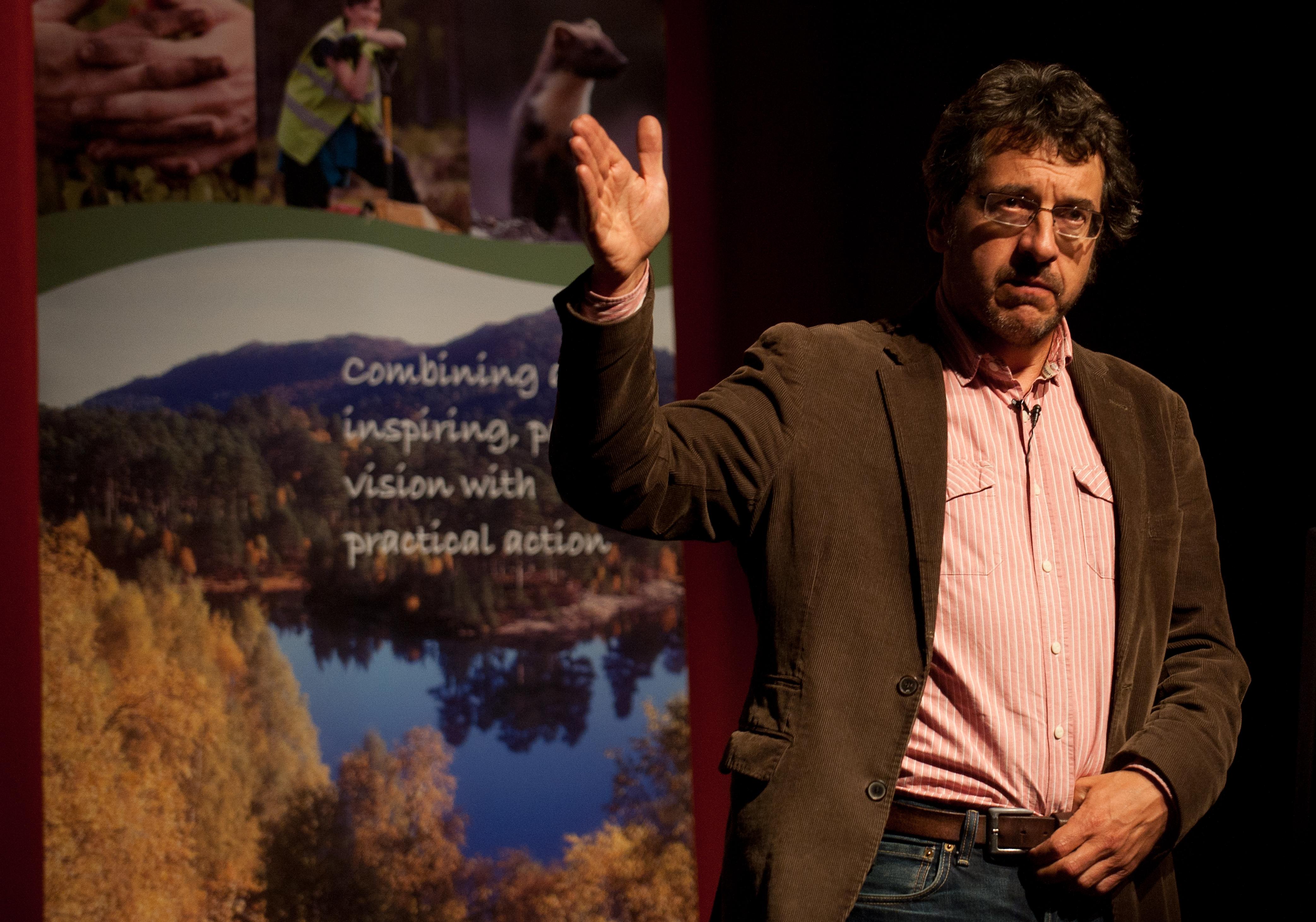 Our student reporter, Franziska Schmidt, reflects on 'Rewilding the World: with George Monbiot and Alan Watson Featherstone.

The 500-seat George Square Lecture Theatre is definitely full this Wednesday evening, as ecologist and author George Monbiot and reforestation campaigner Alan Featherstone congregate to share their visions of a rewilded world.
Monbiot, who enters the stage first, has his audience captive within minutes: "rewilding for me means a re-engagement with the serendipitous, the unexpected; with a world rich in terror, fascination and instinct". Rewilding for Monbiot not only means a "mass restoration of ecological systems, a reversal of tremendous degradation", but also a rewilding of human life. The wonder of a rewilded world could counter the ecological boredom our overly regulated and confined culture.
With irresistible wit and passion, Monbiot shakes up established notions of conservation and challenges us to think big. Instead of preserving a degraded status quo, we should embrace change and re-introduce missing keystone species such as wolves, lynx and wild boars. For Monbiot, rewilding is very much about hope, about a vision for a better future. Too often, he says, environmentalism focuses on preventing something we don't want rather imagining – and fighting for – something better. His criticism of conservation is shot through with references to the Scottish Highlands – he calls them a 'wet desert' which we allow to be mistreated for the sporting interests of a few thousand people. "Why do you allow them to do it?" he challenges his audience.
Why, indeed? During the lecture's second half, Alan Featherstone, founder and director of the conservation charity Trees For Life, brings his alternative vision for the Highlands to life. Featherstone, who made a personal vow to restore the Caledonian Forest in the 1980s, shows the dramatic difference that reduced grazing pressure alone can make for the usually – but unnaturally – barren Highland hillsides: his slideshow of before and after shots impressively demonstrates the regeneration of fenced-off land over the space of just a few years.
Trees for Life's work doesn't stop at enabling spontaneous regeneration, though. To lend nature a helping hand in areas where natural regeneration can't occur, volunteers have to date planted one million native trees – trees that will in turn attract animal life back into the deserted Highlands. "It is not about turning back the clock", Featherstone states, "but about restarting the clock of evolution in what now are museum-piece landscapes".
In a soft, kind voice, he outlines the dramatic loss of forests and wildlife the world is experiencing: over 40% in the last fifty years. The atmosphere in the lecture theatre changes noticeably as he pronounces the numbers. But it doesn't have to be like that, Featherstone repeats again and again. His own work shows precisely that. In photo after photo, the fence line demarcates the boundary between treeless landscapes and "a wild, natural garden" of returning wildlife and spontaneous regeneration. For him, rewilding is about letting nature be in charge again, about stepping back and accepting our human limits. But Alan Featherstone's vision for the future extends beyond that: ecological restoration could be the first shared task for all of humanity as we move into the 21st century. Taking care of our shared planet and passing on a more abundant and healthy Earth could be our global connection: after all, the need for restoration and rewilding is global, too.
The panel discussion is dominated by political and social questions from the audience – and neither Featherstone nor Monbiot are shy about criticizing capitalism's role in destroying the earth or criticizing current political arrangements. Especially Monbiot is vocal about Scotland's highly unequal system of land ownership, and the disengagement from nature this has caused: "we have become physical and mental trespassers – we don't go there, even in our imagination. That's why land reform is also about what's happening in the mind".
Rewilding has to work for the locals, both speakers make clear, and Scotland has the assets to become a prime wildlife tourism destination. Regeneration in itself is a labour-intensive job, Featherstone points out, that could well be taken over by local communities.
Asked how the wonderful visions presented could become a reality, Alan Featherstone appeals to the room: "looking into the audience, I see many young people, students, with your lives ahead of you. My advice from my experience in life is: allow your passion to guide you. That is an unstoppable force. And if we all do that, then the world will change".
And that is a lovely vision indeed.