reuse and recycling
Spotlight on Sustainability: Engineers without Borders
Spotlight on Sustainability: Engineers without Borders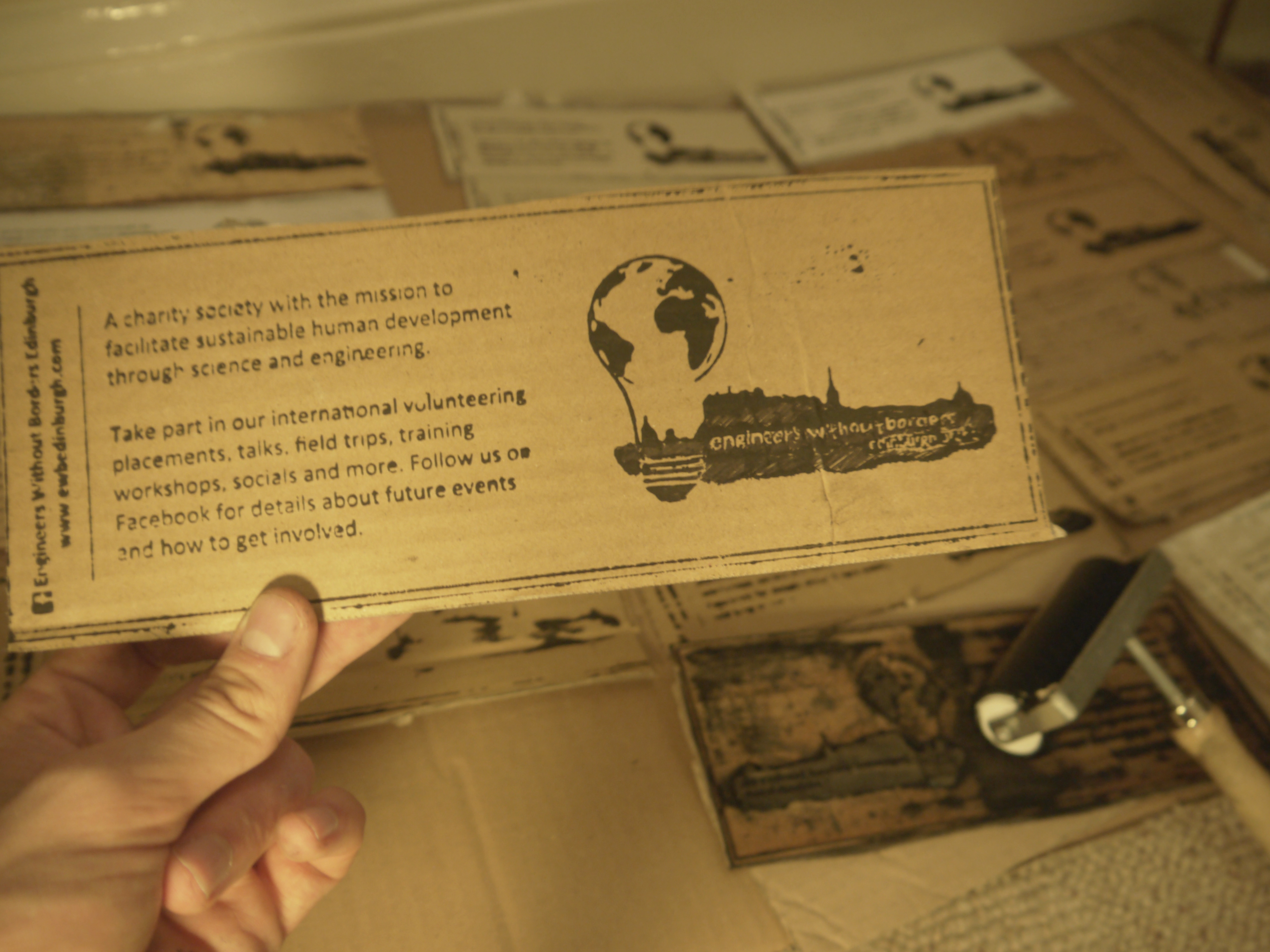 Secretary of University charity society 'Engineers Without Borders', Thomas Findlay dismisses the wasteful culture of mass flyering during Freshers' Week by advocating a more sustainable approach to printing and publicity.
To publicise our humanitarian development projects, we are printing our promotional material on waste card and paper, in an effort to act more sustainably and socially responsible. Hand printing with a wooden printing block allows us to print on material that would normally be thrown away.
While reducing our own society's waste, we also aim to raise the issue of waste and over printing – particularly during Freshers' Week. At Engineers Without Borders, we continually seek to improve and consider it important to be self-critical. It is through this philosophy that we have come to realise our own past wastefulness with regard to inefficient and excessive printing. Unfortunately, we are all too aware of the reluctant fresher being forced a flyer, only to throw it away a moment later and it is this wasteful culture that this printing initiative hopes to challenge.
In today's world we are continually told that growth is vital. More money, larger GDP, and from a student society's perspective: more members, bigger appeals – but at what cost? Rather than simply printing more promotional material and contributing to a culture driven by excess, we have tried to develop smarter solutions to recruiting more members.
The scrap paper flyer not only reduces our carbon footprint, but as a result also becomes a symbol of Engineers Without Borders' attitude to sustainability. Potential members experience our society's values from a different perspective and are ultimately able to understand our society better. The initiative also influences our approach to flyering – appeals become more personal and targeted as we try to reduce the occurrence of the reluctant 'grab and throw' fresher, saving flyers to use only as a reaffirmation for those with a genuine initial interest.
Ensuring solutions are appropriate is one of the foundations to EWB's approach. While hand-printing flyers on scrap paper and card would be an inefficient use of time for larger organisations, it is appropriate for an organisation on the scale of a student society to adopt this sustainable printing approach.