Sustainability standards: trends, challenges and future potential
Sustainability standards: trends, challenges and future potential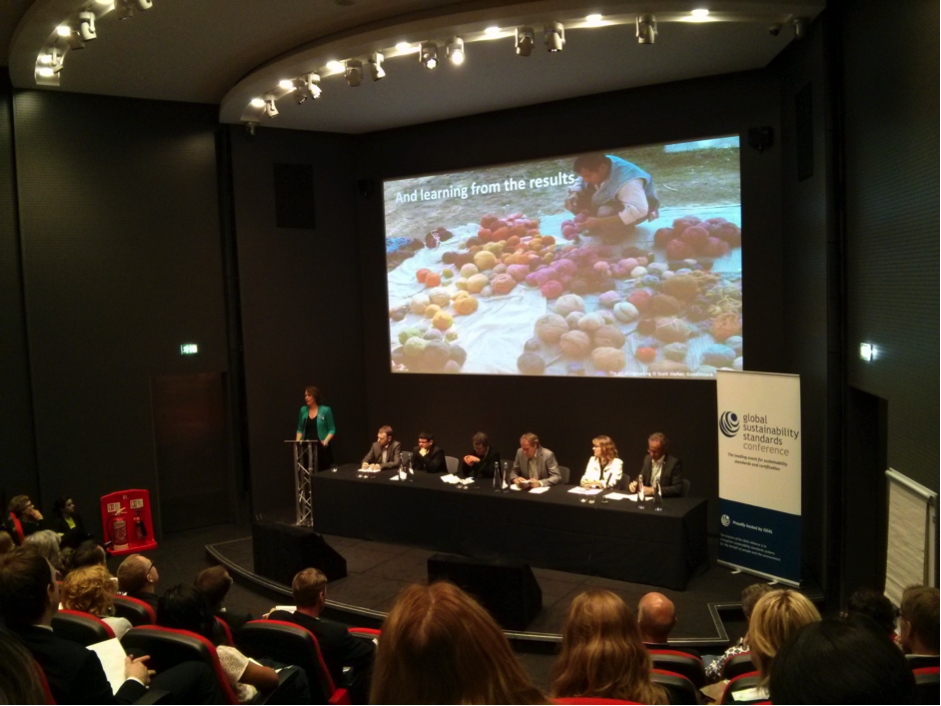 Liz Cooper, our Fair trade and Policy Manager, attended the 2014 Global Sustainability Standards Conference in London this May. Here she reflects on the day and the issues surrounding sustainability standards.
On 20th and 21st May I attended a conference in London entitled 'A Question of Trust: 2014 Global Sustainability Standards Conference', organised by ISEAL. ISEAL is a membership organisation for organisations that set social and environmental standards for products, production and supply chains. While ISEAL is described as 'content neutral', that is, the organisation does not get involved in deciding what standards are set, it aims to help strengthen standards by setting credibility principles and codes to be followed, and works to increase uptake and demonstrate impact.
One way in which ISEAL works to increase uptake of social and environmental standards is through influencing public procurement. Our Procurement Department at the University is committed to taking into account sustainability and social issues when buying goods, using standards or their criteria where appropriate. We have been a Fairtrade University for ten years, stocking a wide range of fair trade products in catering outlets and shops, and Edinburgh First catering comply with the Food for Life scheme. We are a member of the Worker Rights Consortium, which works to improve working conditions in garment manufacturing, and this year we became a founding member of Electronics Watch, aiming to do the same for the electronics industry. With the establishment of the University's new Social Responsibility and Sustainability Department, we are keen to keep up to date with trends and best practice in the world of standards, in particular in relation to our own procurement practices.
Trends in standards
In plenary sessions, a range of points were made about trends in sustainability standards. There is reported to be increasing demand for entry level standards that are not as difficult for businesses to achieve, with a view to them then progressing to more rigid standards. More supply chain management standards are being developed, rather than only focusing on production, with an emphasis on tracking and tracing from production, through processing, to retail.
Where supply chains are complex and traceability is difficult, there has been an emergence in recent years of 'mass balance' or 'book and claim' systems, where the actual product that is compliant or made in a compliant way is not tracked, but the quantities of it traded are. While this approach can be treated with suspicion by some consumers, it allows higher quantities of production to be compliant with standards. However, it was noted that there is now often more standards compliant production than sales, when looking at a wide range of standards – demand is not always keeping up with supply for some standards, interpreted as a need for increased marketing efforts by retailers, and perhaps an increased focus on the mass balance approach.
Some brands are no longer focusing on promoting standard and labels at the forefront of their corporate social responsibility communications, but are marketing their brands as 'sustainable' in themselves. Yet these tend to still use standards to provide evidence to interested parties.
Standards in new sectors
I attended a particularly interesting conference session on 'Standards for challenging sectors', with speakers from initiatives covering oil and gas, mining and the dairy industry. In light of our current work at the University on socially responsible investment, and the varying arguments relating to divestment from fossil fuel industries, I was interested to hear about Equitable Origin, described as the world's first independent social and environmental certification for oil and gas exploration and production. The organisation openly recognised that they are working with 'non-renewable and not sustainable industries', but argued that it was necessary to do something to reduce the negative impacts of such industries in a period of transition from our current reliance on petroleum products, towards renewables. Equitable Origin is a for-profit organisation that has developed the EO100 management system and performance standard, reportedly based on engagement with indigenous groups in South America, with one oil site in Colombia having adopted the standard so far. Certificates of compliance are issued which enter the trading market. There will be a second round of public consultation on the standard this year.
In terms of the dairy industry, the Global Dairy Platform is working on defining what would be suitable in terms of social and environmental standards. Research has found that one standard could not cover the diversity of approaches and contexts in which dairy products are produced, so work is now being carried out to define appropriate groupings to which standards could be applied. For now, The Dairy Sustainability Framework has been developed to cover 11 sustainability issues, which companies can adopt and receive guidance on what they need to do (but not how).
Too many standards?
A recurrent theme throughout the conference was whether there are too many sustainability standards, which can be confusing for both consumers and businesses (indeed representatives from over 30 standards attended the conference). The International Trade Centre (ITC) have developed a Standards Map brings together over 130 standards, codes of conduct and audit protocols addressing sustainability issues in supply chains. While some would like to reduce the number of standards, or have just one standard per sector or product, it was generally felt that the wide range of standards reflected the need for different approaches for different contexts.
ISEAL are currently collaborating on a standards comparison tool, being developed by German Development Agency GIZ and ITC which will be available in 2015, and may be of use to procurement professionals. With so many standards available, it was agreed that there is room for much more sharing on best practice between standards setters. In terms of an example of current collaboration, I attended a conference session about a collaboration between six ISEAL member organisations on the topic of the living wage. The organisations are working together to agree on a definition, and to define living wage levels based on field work and the costs of basic needs in different contexts. The living wage levels calculated are often higher than median wages in the particular country, and questions were raised about which companies have the margins to be able to pay living wages. Some companies considered the calculations useful now to raise awareness on costs, but that it would be a long term process towards paying living wages. Questions were raised regarding how to ensure paying a living wage doesn't mean reduced employment.
What next?
Looking to the future for standards models, conference attendees proposed more certified products targeting poorer consumers (in the West and in developing countries), more focus on intermediaries in supply chains, and greater transparency. There is room for more efforts to be made in terms of voluntary standards leading to hard regulation – for example different standards organisations collectively lobbying for regulation. The example of the Forest Stewardship Council developing a multi-stakeholder forest code for Russia having informed regulation there was cited. It was also suggested that standards could include criteria to try to limit lobbying against regulation by companies using those standards.
Throughout the conference, speakers and participants made reference to the need for more research on standards, in particular with regards to their impact on the ground. While impact studies are undertaken, for example UTZ, which certifies coffee, tea and cocoa, cited their impact studies, such organisations are seeking better ways to measure impact, including establishing baselines and developing common core indicators. Indeed, there was a lack of producers and representatives from producer communities at the conference to give first hand insights into the impacts of standards. ISEAL have set up a researcher email list to facilitate exchanges between researchers and standards organisations, and at the University we are keen to develop research, including student projects, on standards.