On placement with the Department for Social Responsibility & Sustainability
On placement with the Department for Social Responsibility & Sustainability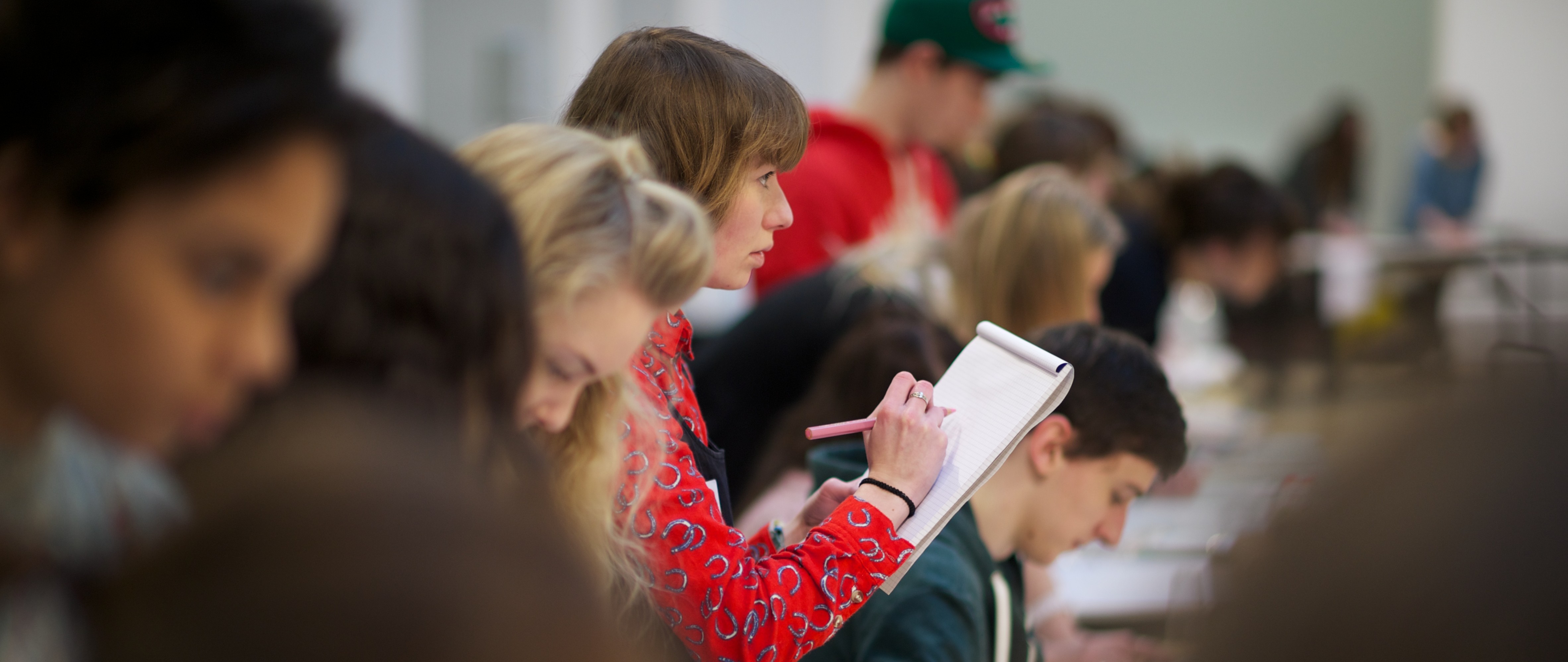 We bid a fond farewell to our recent interns Nia and Angus. For the past two months they spent time with our Programmes, Communications and Engagement team. Here they reflect on their time and what they took away from the experience.

Nia Powell, Msc in Science Communication and Public Engagement
'Every Thursday for the past eight weeks I have been on placement at Sustainability Edinburgh. As an MSc Science Communication and Public Engagement student at The University of Edinburgh, this experience has been invaluable. Every day has been a different experience, and has allowed me to develop many of the skills I will need in any future career.
The placement gave me an insight into the sustainability awards on-going at the University, and also other projects such as the Spring into Cycling roadshows and Sustainability's work with other University departments. For example one week I sat in on a seminar in which around 20 different researchers at the university, all working on issues surrounding food, met to discuss their work. Sustainability is working with this new group FRIEDinburgh (Food Researchers in Edinburgh) to help communicate their research to the university and to hopefully develop further collaborations.
One opportunity took me to the EAUC Scotland conference in Glasgow. I worked as part of the Melt Communications team, tweeting and gathering thoughts and opinions from delegates and attendees, as well as making notes on the speakers and workshops. This was a great way to develop my communication skills, approaching complete strangers for interviews and asking them questions, learning to network, and seeing the wide variety of tools and strategies a communications team has. All in all I had a great day, and left feeling inspired and informed on the many sustainability projects ongoing in Scotland.
On another day, along with Angus who is also on placement, I was asked to go and interview students around campus on sustainability issues. Armed with a camera and notepad, we set off to find some willing interviewees around campus. Not being something I do often, approaching complete strangers and asking them questions was a daunting challenge. We had to try really hard to encourage students to really express their views. It became clear that interviewing requires skills and practice, and was something I'd need to work on in future.
After eight weeks I feel like both my knowledge of sustainable practice and how sustainably I live my life has changed for the better. Wherever I end up working after this MSc degree, I hope I can take my learning on sustainable practice with me.'
Angus Logan, Msc in Science Communication and Public Engagement
'During the past eight weeks, my Thursdays have been spent in the SRS department of the University of Edinburgh. Throughout my time there I was given the opportunity to sample a wide range of activities and events, providing me with a good insight into the day-to-day activities involved in this line of employment, and to sample the exciting work that SRS are currently undertaking.
One of the more memorable days I spent with the Department was my trip through to Atlantic Quay in Glasgow to attend the 2014 EAUC Scotland conference. At this event I worked with Melt Communications to capture the knowledge and ideas generated throughout the day, and put into practice some of the skills I have developed thus far in my MSc in Science Communication and Public Engagement. Additionally, with a host of speakers ranging from the Principles of universities to undergraduate students, it enabled me to gain a direct insight into the exciting and developing sustainability sector in Scotland, of which I had no prior experience.
There were a few reoccurring activities that occupied my time with the Social Responsibility and Sustainability Department. For example, I was frequently involved in media scanning, which involved scouring the internet and newspapers for relevant and interesting stories, a task that I can reassure you was more enjoyable than my rather mundane description might imply. Again though, this task was multidimensional, giving me key experiences of working with and uploading to blogs, skills that could prove essential in my future development.
In addition I was given many other opportunities to gain practical experience. For example, I spent an afternoon with my colleague Nia interviewing students to gather their opinions on the ways the University invests its money. I was also able to attend and record the FRIEDinburgh seminar, which was primarily a networking event where academics working with food introduced themselves and their work.
My time at SRS has proved to be both enjoyable and rewarding, allowing me to gain key experience, and develop an interest in an area which I was previously oblivious to. I would like to place on record my thanks to the department for welcoming me and giving me this opportunity.'
---
This post was authored by: Sunnah Khan