Habitats in the sky: can green roofs help our urban pollinators?
Habitats in the sky: can green roofs help our urban pollinators?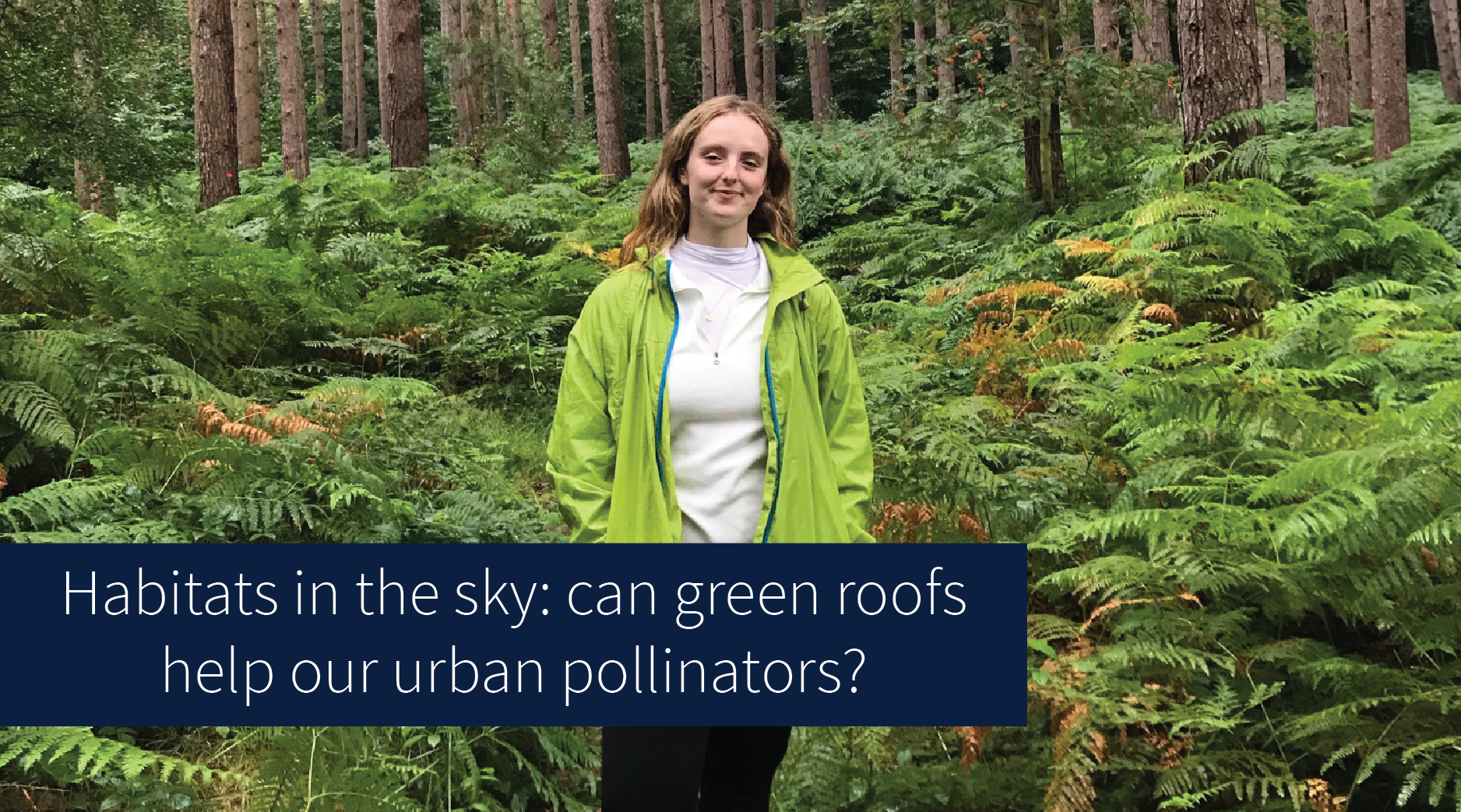 Edinburgh Napier University graduate and climate change intern with East Lothian Council, Lydia Miller, undertook her research project around Edinburgh; including the University of Edinburgh. The study looked at green roofs and their potential to support our dwindling pollinator populations and how green roofs could be successful components in urban conservation.
The situation for our invertebrates
Many species are declining globally and right here in the UK. It is also apparent that we face a nature crisis; the UK is one of the most nature-depleted countries, and urbanisation is one of the main land-use changes that affect many species including insect populations.
The decline in invertebrate species degrades the functions of urban ecosystems as they play important roles in pollination, pest control, and provision of a food source for many of the species. Their presence can represent the health of biodiversity in the area. So, the conservation of urban insect populations is very important.
Urbanisation drivers and underlying mechanisms of terrestrial insect diversity loss in cities – Fenoglio – 2021 – Ecological Entomology – Wiley Online Library
Green roofs as a solution
Green roofs are popping up across the UK and have been suggested as a component for solving urban, nature and climatic challenges. The development of green roofs can bring a multitude of benefits:
reduce urban heat island effects
stormwater management
aesthetic benefits
some may even provide habitats for urban biodiversity.
During my research project for my MSc in Wildlife and Conservation Biology at Edinburgh Napier University, I had the wonderful opportunity to study green roofs in Edinburgh last summer in 2021. They belonged to a variety of businesses, churches, and educational institutions; including the University of Edinburgh.
The study was based on two types of green roofs, extensive and intensive.
Extensive roofs can be established quickly but have low floral variety; usually made up of blanket/matting species like sedum.
Intensive roofs, similar to traditional gardens are an option for roofs that can hold more weight and are often used recreationally while holding a greater variety of plant species like herbs, shrubs and even small trees.
Green Roofs Towards Circular and Resilient Cities | SpringerLink
The study
I am interested in green roofs as alternative habitats and the serious issue of invertebrate populations in decline. I wanted to investigate if pollinator richness, abundance and diversity differed between extensive and intensive green roof types.
I further looked into how floral diversity on the roofs may have influenced pollinator diversity when compared to typical ground-level green spaces nearby.
I surveyed plant and invertebrate species on all sites, sometimes using an insect net for a closer look. As you probably can guess, flower-visiting beasties can be hard to keep up with, so some specimens had to come back to the lab for a closer look.
Intensive roofs held the highest invertebrate diversity and richness, with many bees, hoverflies, butterflies, and moth species recorded. This may be due to the higher floral diversity on these roofs. The extensive roofs, with predominantly sedum species, obviously had lower floral diversity and only supported many pollinators during brief flowering periods.
Though intensive roofs found greater diversity, there was a very low similarity in diversity between these sites and the comparable ground-level sites. This may highlight that green spaces within urban areas are highly important and should not be replaced with green roofs.
A refuge for urban bees
Another highlight from the study was the wide range of bee species recorded across the roofs. There were many other species of bee such as mason bees (Megachilidae) and mining bees (Andrenidae) and our beloved bumblebees.
Most interesting were sightings of tiny Halictid bees (Halictidae). These eusocial and solitary species were recorded on two of the intensive roofs, both with more floral variety and a traditional garden design. This indicates that these habitats may even benefit smaller pollinators with weaker flight power and short ranges from their nests.
Honeybees have been the frontrunners of the urban pollinator movement, with a city beekeeper movement thriving in the UK. This is beneficial to a certain extent, as they help to raise awareness of the importance of pollinators. However, while these charismatic species take the spotlight, our other brilliant bee species don't get as much attention as they should.
Populations of many solitary bees have been in decline. This snapshot into Edinburgh's green roofs helps us to understand how they use these alternative urban habitats. These species should not be forgotten and with urbanisation increasing, they need to be considered in future urban planning.
Supporting Bees in Cities: How Bees Are Influenced by Local and Landscape Features (mdpi.com)
Looking to the future
With careful thought on what species a roof can support and how it will be designed, it's clear that green roofs can have the capacity to help support our pollinator populations in an ever-growing concrete expansion. By consulting with organisations like Butterfly Conservation Trust, building managers can also directly contribute to conservation efforts.
For example, planting host plants for threatened butterfly species, as demonstrated by the 'Square Metre for Butterflies' partnership between the Royal Botanic Garden Edinburgh (RBGE) and Butterfly Conservation Scotland. Further research into these habitats in the sky will help us to integrate them more successfully in future conservation and urban planning. I'm hopeful we can grow alongside biodiversity and help reverse the nature crisis through thoughtful urban design.
Bringing butterflies on green roofs right to the heart of Scotland (livingroofs.org)