Sustainability lockdown learning essentials
Sustainability lockdown learning essentials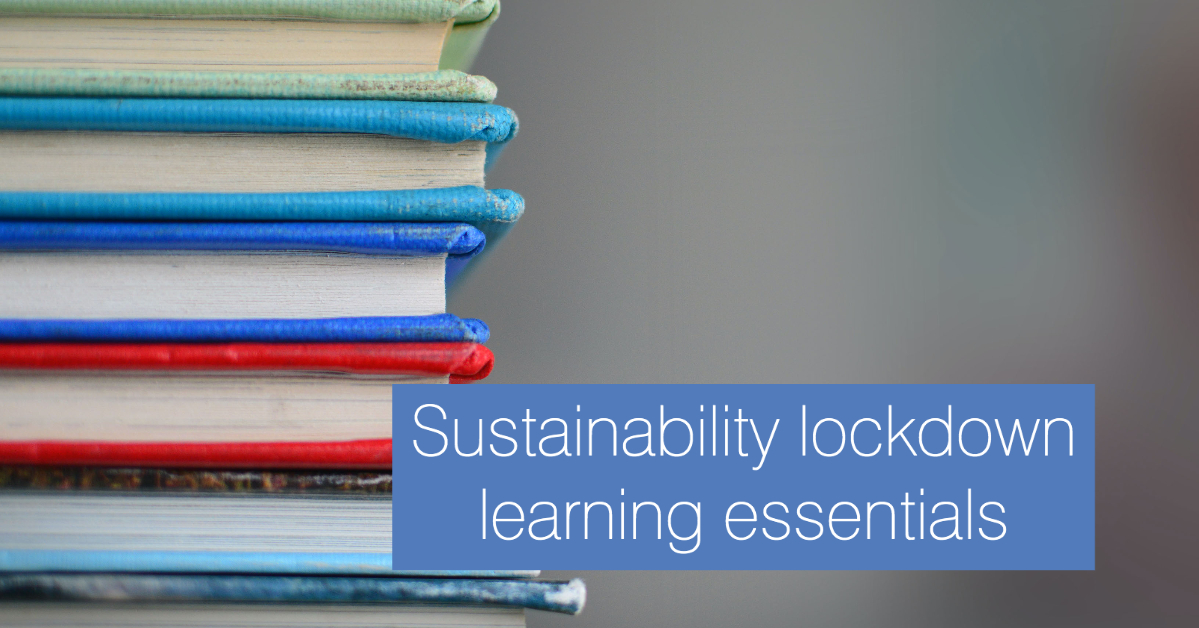 We've suddenly found ourselves with a lot more time on our hands. Without a commute or looming exam deadlines, people are restarting hobbies, gaining new skills and taking the time to learn more about a topic they've wanted to understand better.
If you'd like to learn more about topics related to social responsibility and sustainability, we've collated a list of some recommendations for things to read, listen to and watch to learn more about a variety of social responsibility and sustainability issues. Not only that, but we've also included a list of local food businesses you can support from the comfort of your own home.

Podcasts
The YIKES Podcast
First up, we have a podcast co-hosted by Medical student Mikaela Loach and fellow climate activist, Jo Becker. Focusing on climate change, human rights and the many intersections between, learn from some important discussions on subjects like the refugee crisis and eco-fascism. Partly funded through our Student Project Grant.
Sharing Things
The University of Edinburgh's own podcast, hear from alumni, students and staff discussing what it means to be part of the Edinburgh community and so much more.
Reasons to be Cheerful
Hosted by the former Secretary of State for Energy and Climate Change, Ed Miliband, alongside journalist Geoff Lloyd, they cover a variety of societal and environmental issues. Listen in on their conversations with world-leading experts on topics like a universal basic incomes, modern masculinity and what a zero-carbon society would look like.
Outrage and Optimism
A weekly podcast hosted by the founders of Global Optimism discussing the many ways we need to change the status quo in order to tackle climate change, and starts with something in the news that either outraged them, or gave them hope. They believe "that outrage without optimism leads to defeatism, and optimism without outrage leads to unacceptably incremental approaches."
Drilled
Dubbed a 'true crime podcast about climate change', this podcast explores climate change denial and the climate movement.
Thanks to our friends at EAUC for some of their recommendations too!

Online learning
Be Sustainable online: Our own introduction into what climate change is, and some simple actions you can take.
University of Edinburgh's free online courses: Ranging from carbon capture and storage to digital footprints, there's something for everyone!
Young Friends of the Earth webinars series: running from the 13- 26 April, the free series is covering topics like climate justice and online activism for 13-30 year olds.
Fashion Revolution Scotland: running from the 20-25 April, the organisation is hosting a range of events about fast fashion, how to mend your clothes and Q&As with industry leaders.
Edinburgh Science Festival: as the festival couldn't go ahead in its usual capacity this year, a virtual version has been made instead. Find a variety of arts, exhibitions and activities online.
Ellen MacArthur Foundation: learn about what a world would look like whose resources are reused instead of destroyed, and how we get there.
Green Champions training: Designed for Scottish organisations, this course gives you the skills to reduce the environmental impact of your place of work through a range of levels.
Future Learn: offer a huge range of free courses, from personal development to specific skills and interest areas.
Free open access books: In response to libraries shutting and teaching disrupted, many academic presses have made hundreds of their titles available online for free. A great option for if you've got the appetite for something more challenging!
Webinar- COVID-19 and COP26- What next for action on climate change?: ran by The Green Alliance, this hour-long event will include three distinguished speakers from the world of climate politics discussing how the current global public health crisis will impact climate action across the world. Held at 10am, 21 April 2020, registration essential.

Books
On Fire, The Burning Case for a Green New Deal, Naomi Klein: an introduction into what a 'green new deal' is, how a just transition would occur and why it's necessary.
Heat, George Monbiot: discusses how we can change our economy in order to protect our ecological systems and where the opposition to the change is rooted.
Sitopia, Carolyn Steel: explores the modern world's troubled relationship with food and how the low value we place on it hurts our health, efforts to achieve equality and our planet. Learn about Steel's vision for a food revolution.
Rewilding, Isabella Tree: explores the rewilding process of 1400 hectares of land undertaken by Tree and her husband. Gain an insight into nature and its state when untouched by humans.
The Wild Guide, Scotland: plan your next staycation via this beautiful book. Find top tips for camping spots and waterfalls for wild swimming!
The Overstory, Richard Powers: a novel about how humans relate to the natural world, an eye opening story even for the biggest environmentalist among us.
Chavs, Owen Jones: a hard-hitting dissection of the substantial impacts of class, poverty and inequality on our society.
Edinburgh-based food businesses
There are many local businesses in Edinburgh and the wider region still operating and in need of support. The companies that receive support now, will be that still exist once life (somewhat) returns to normality.
Real Foods- natural, healthy and ethical goods store offering delivery service and shop service with reduced hours. Two stores in Edinburgh, one in Tollcross and one on Broughton Street.
New Leaf Cooperative– selection of local and organic vegetarian goods, currently offering a pre-order and collection service from Marchmont. Also a living wage employer.
Real Food Source– based in Musselborough in East Lothian, they offer a range of organic and bulk foods delivered to your door. They're a Real Living Wage employer and the emissions from your delivery are offsetted and will come in biodegradable packaging too.
Food Chain– an app that helps partner local food businesses and producers, who have now opened up the service to households too.
The Eco Larder– a zero waste goods store in Tollcross offering a cargo bike delivery or collection in store. Selling a range of zero waste products and a range of local produce and dried goods.
Root to Market– a company that deliver restaurant quality produce to your door and was built to support the local supply chain and independent businesses.
Weigh to Go– a zero waste goods store in Leith offering bulk produce and locally sourced dried goods.
Dig In Bruntsfield– a community-ran greengrocer offering veg box collections and local produce in their shop in Bruntsfield.
Peelham Farm- for the meat eaters among us, why not utilise this delivery service for organic meat from a local farm?
The Refillery– a zero waste goods shop in Newington, who are open normal hours and also offering a cargo bike delivery service.
Next Chain– a website that has been set up by University of Edinburgh students to help local businesses sell on items that would other wise be wasted due to closure. Not many are currently featured, but keep your eye out for more!
Documentaries
The True Cost: Learn about the real victims of fashion: the people that made it. Learn about the damage fast fashion has on our planet and those who produce it, and what you can do to help. Available on Netflix.
Blue Planet: Forget your garden, immerse yourself in nature on the other side of the world with an episode of one of the world's most famous documentary series. Available on Netflix.
The Cove: focusing on the campaign against the illegal slaughter of dolphins in Japan. Available on Netflix.
The Plastic Wave:  a surf photographer explores the impacts of plastic pollution on our oceans in a 25 minute-long documentary. Available on Youtube.
The Disney Channel are also offering a free week's trial to their online streaming service. Not just limited to kid's films, there are also a variety of National Geographic documentaries you can pick from!

Wellbeing
Sports and Exercise introductions to Pilates videos: learn how to master some basic pilates poses thanks to our colleagues in Sports and Exercise!
The University Chaplaincy– offering virtual mindfulness check ins, prayers and resources to help you wind down and switch off.
A meditation app or video: there are a variety of meditation apps that offer both free and paid subscriptions to their tools. If you're new to meditation, try a short guided meditation on YouTube to help clear your mind.
Got a suggestion of something we've missed? Let us know in the comments or via Twitter!
Find out more
Want to help your community? Read our advice on how
Boost your wellbeing and sustainability when working from home
Follow us on Facebook, Twitter and Instagram to keep up to date!