Scottish Student Sport go plogging!
Scottish Student Sport go plogging!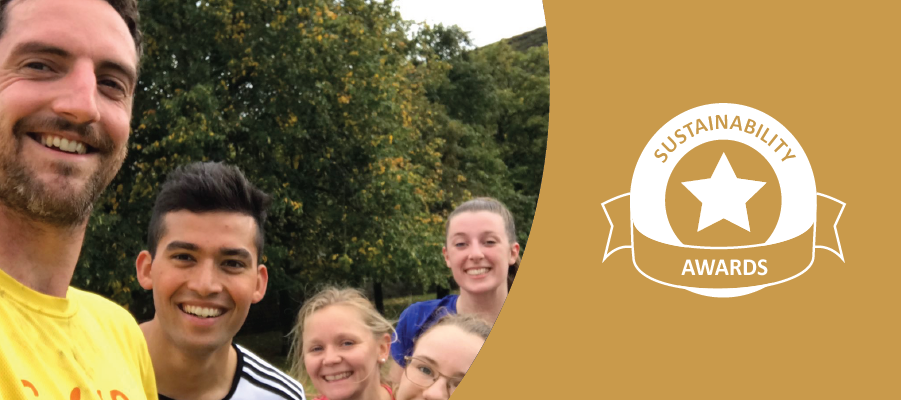 For their 2019 gold project, Scottish Student Sport encouraged their staff team to choose sustainable travel alternatives where possible, and created a series of sociable activities boosting both health and wellbeing… including 'plogging'!
​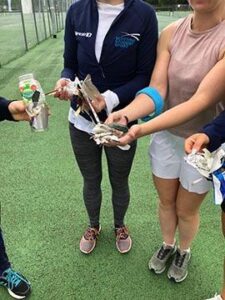 The Scottish Student Sport team practised walking meetings around campus, and used active travel methods such as like walking, cycling and running to commute to meetings. They even made socialising with each other active through regular group exercise sessions.
The team also paired getting outside with the practice of 'plogging', where joggers also pick up any litter they see en route. Over the three months the project ran for, they picked up 67 pieces of litter in the area around their office, and recycled what they could.
Highlights
2075 minutes or 34.6 hours of electricity was saved by staff choosing to conduct walking meetings instead of using indoor meeting rooms.
By logging the miles the staff walked or cycled to work, the team saved 92.28 kgC02 emissions (utilising DEFRA 2010 Guidelines).
Weekly exercise sessions for staff provided each participant 46% of their weekly adult physical activity recommendations – contributing towards staff health and wellbeing.
A sustainable success
These new sustainable practices look to be here to stay for the long-term; staff were asked in a survey to rate out of 5 their willingness to repeat in future the activity they had just completed.
The results showed the resounding success of the project:
Willingness to repeat their method of Active Travel – 4.97
Willingness to repeat their Walking Meeting – 4.89
Willingness to take part in another Physical Activity Session – 4.98
Barriers to participation included poor weather, with this being the main factor in limiting desire to carry out the project's activities. Unsurprisingly, that also meant good weather was the factor most likely to be associated with participants enjoying the activities. Time with colleagues was recognised as a particular positive factor that encouraged staff to participate.
Onwards and upwards
The team believe the legacy of this gold project will be the continuation of making good, sustainable choices, stating that a mindset shift has taken place and active travel and outdoor meetings will be serious considerations going forward. The team has now purchased litter pickers to assist them in plogging in the future!
Find out more about the Sustainability Awards
​