Ecosia: a search for a better future
Ecosia: a search for a better future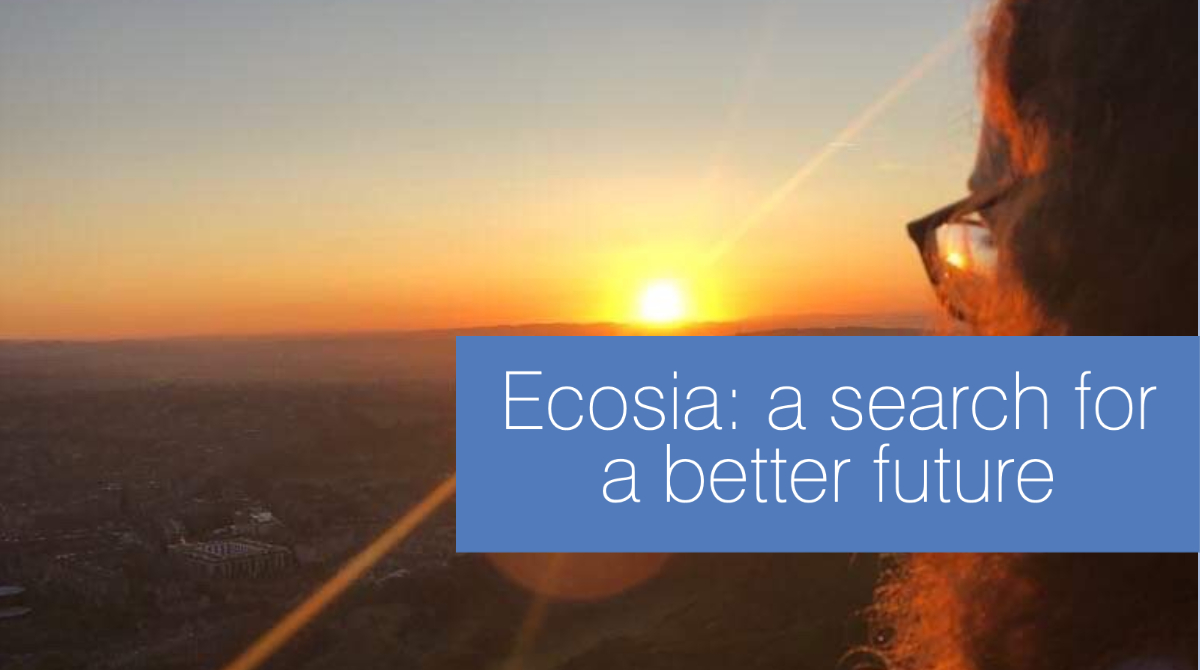 Want to reforest the planet from your own home? We hear from Tamsin Wake, a French and German student, part of the student group campaigning for the University to adopt Ecosia as its default search engine.
You may have heard of Ecosia before, the search engine that plants trees. I came across the Berlin-based company over a year ago when it popped up halfway through a YouTube video. For once I didn't skip the ad, and after a little digging and another advert, I installed Ecosia and started planting trees with my searches. It seemed like the perfect way to do more for the planet.
Ecosia is quite possibly the easiest and cheapest way to save the planet. By adding the extension to your current browser you can reforest the planet from your home. As it's an add on, your search engine will look and work in pretty much the same way (bookmarks still saved, no deleted history), but you'll be able to plant trees! There is also an app available so you can search on your phone. It takes around 45 searches to plant a tree and with the personalised tree counter that can be synced across devices, you'll be able to see your progress.
So how exactly does a search engine plant trees? Like any other search engine, Ecosia gets its money from adverts. The difference: Ecosia uses this money to plant trees all over the world, in the places that need it the most. With monthly financial reports, search anonymity and using 100% renewable energy it really is about as ethical as a company can get. You may be thinking that this all seems too good to be true, well, there's actually more. As of 2014 Ecosia is a B-Corp (a certificate of social and environmental performance), and as of 2018, the CEO is bound by law never to take profits out of the company. Additionally, shares can't be owned by people outside of the company. Since 2009, Ecosia has planted over 100 million trees with the help of local partner organisations, meaning the trees are planted by the people who actually live there. Incredible right?
Ecosia has a huge emphasis on intersectionality and is a key figure in the fight for climate justice. More trees across the globe mean a better environment for those who are least responsible for the climate crisis. The consequences of a changing climate are unfairly distributed across race, class and gender. Did you know that climate change increases the risk of child marriage? Struggling families may marry off their daughters, some believing it will keep them well-fed and safe. This may seem distant to those of us privileged enough to not be directly affected by it, but it is very much happening right now – and with Ecosia, there is hope. Trees empower women like Naliaka, a 64-year-old farmer from Kenya. She works with the Green Belt Movement at a nursery to raise saplings. These trees, funded by Ecosia, protect the river that her community depends on. She says that 'if we keep planting trees, the river will keep flowing and its water will be clean. It's become much cleaner since we started planting'. She is just one example of how your searches can build a better future.
Because I'm such an advocate for Ecosia, when I learned of the campaign right here in Edinburgh to get Ecosia on campus I knew that I had to join. Our goal is to make Ecosia the default search engine so that every search done on a University of Edinburgh computer is planting trees. Think of what a difference that could make! We have our own link to download Ecosia, and through that link, we can see how many trees have been planted by Edinburgh
students – as of 28th July we have planted 259 trees. We've been going for nearly 2 years and had some promising conversations with the university but nothing concrete has happened yet.
Ecosia is one solution to the climate crisis. So act now. Install Ecosia. Support a company that repeatedly chooses the planet over profit, and not just for the benefit of the economically privileged. In the words of Anthony Leiserowitz, 'If CO2 wasn't colourless, we would have dealt with this issue a long time ago'.
For more information and to support our campaign follow us on Instagram and 'University of Edinburgh on Ecosia' on Facebook. Download Ecosia here.
The use of Ecosia is currently being considered by the University.