Engagement and communications with Careers Service
Engagement and communications with Careers Service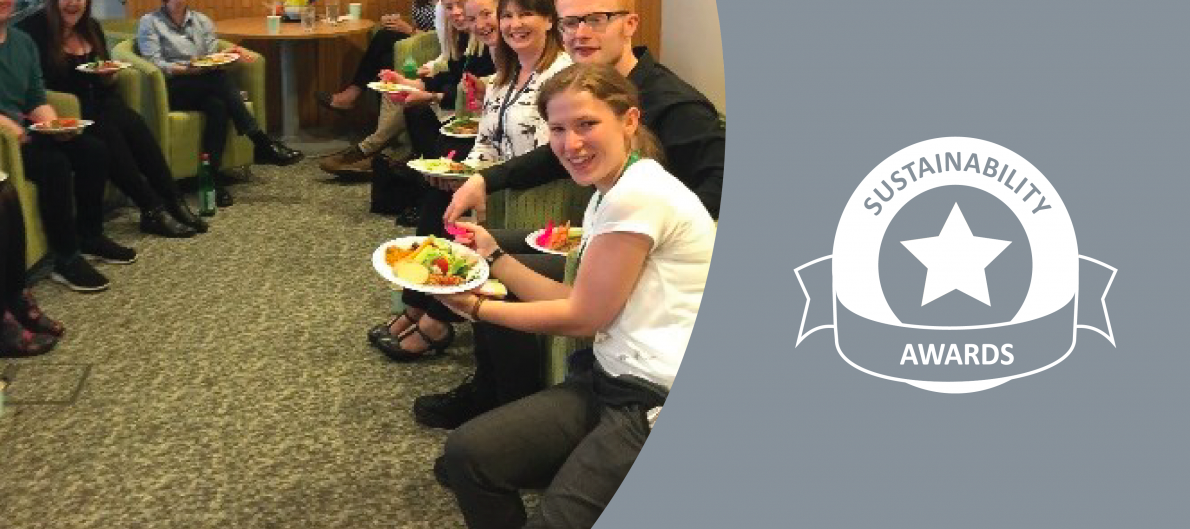 Located across the main Library Building and King's Buildings, the silver Sustainability Awards team's standout theme was engagement & communications in 2017. They chose actions that were popular to help keep everyone engaged and involved.
​

Our team

Our Sustainability Awards team is quite diverse. We currently have four members, each representing a different operational unit within the Careers Service.
We have tried to be as organised as possible in our approach to the Awards. This has helped us a great deal in balancing our normal workload with the Awards submission. One person coordinates between the different team members and sets the dates for our meetings. These tend to take place every month, but that doesn't stop us from talking about the Awards over email or in the kitchen!
Everyone in our team is very engaged and enthusiastic. Tasks are divided between us according to our interests. To make sure we are doing everything as planned, each team member oversees one or two themes. We are also very lucky because the Director of the Careers Services is very supportive of the Awards.
Where we are now
Careers Service joined the Office Awards in 2015, achieving Bronze. After taking a year out, we are now working towards Silver in 2017. Staff have shown real interest in the different activities that bring us together as a department, so we are also looking at ways to continue these beyond the Awards.
Achievements
Since taking part in the Awards, we have organised many different activities to engage staff such as:
A Bring and Share Lunch
A stationery amnesty
A new Wednesday walking group
Taking part in the Awards has been such a positive experience for us. Of course, it is great being awarded a trophy, but the overall journey has been the main reward for us. We tried to choose actions that had the most staff 'buy-in', as these were likely to result in increased engagement and participation from our colleagues. This has certainly been our experience.
We recently held a 'Bring and Share Lunch' and the response was great. It really brought people together and encouraged staff to take time away from their desks. It was also a great way of getting people to talk about the Sustainability Awards and sustainability in general. We promoted the event and shared recipes using our Staff Wiki. We posted photos of the lunch on social media and were surprised to see that the post did 95% better than our other ones. It also helped us show our commitment to people outside of the department. Staff are really keen to have another lunch like this again, which is lovely because we want to do things for the long-term, not just for the Awards.
Another great activity was our stationery amnesty. We managed to collect so many items that we were able to postpone the next stationery order. It also helped people to clear out their desks and get together.
The Awards have really helped us communicate more within our department and at the same time, they have raised awareness of sustainability and educated staff about energy efficiency and recycling.
Tips and advice
Plan ahead
Forward planning has helped us stay organised during the Awards process. We created an email plan to make sure we did not overburden staff by sending too much information about the Awards at once. We try to tie the emails in as much as possible with other initiatives that are going on in the department.
Make it engaging
When choosing which criteria to take on, we wanted to make sure we picked things that would help us engage the wider department. So far this has been a great success. Of course, it is important to learn about saving energy and adopting sustainable behaviours, but this is more fun when done collaboratively.
Do the reading and don't be discouraged
Being familiar with the criteria really helps, so make sure you read through all the documents at the start. When we first started the Awards it was easy to get discouraged by how much of a commitment they seemed to be. Once you are familiar with the process, you find it's actually achievable and can have a considerable impact. Meeting regularly as a team also helps.
Start small to build confidence
The Awards can seem daunting at first. Why not begin with smaller and easier tasks to build confidence in your team? Once you see how it easy it can be to fulfil some of the criteria, you can take on bigger tasks. And remember – you don't have to do it all at once. You have almost a whole year to space the criteria out!
Tailor it to your department
Our department is spread over two different locations. Our bigger office is part of the Main Library Building, which means that we can't do everything we'd like to do. Some things might work in the Library that are not possible at King's Buildings. It is important to adapt the Awards in a way that suits your workplace.
Communicate in a way that suits your team
We found that it works best to communicate with everyone using our Staff Wiki, as this is the one network everyone has access to regardless of their physical location. At the same time, we are also using other means of collecting feedback from staff and informing them about what we are doing. We recently asked staff to vote on the kind of active lunch activity they would like to take part in using a simple yet effective poster and coloured stickers. This was definitely more fun than an online survey. It got people talking and raised awareness.
Find out more about the Sustainability Awards
​