reuse and recycling
Alumni stories: Cal Major Paddles Against Plastic
Alumni stories: Cal Major Paddles Against Plastic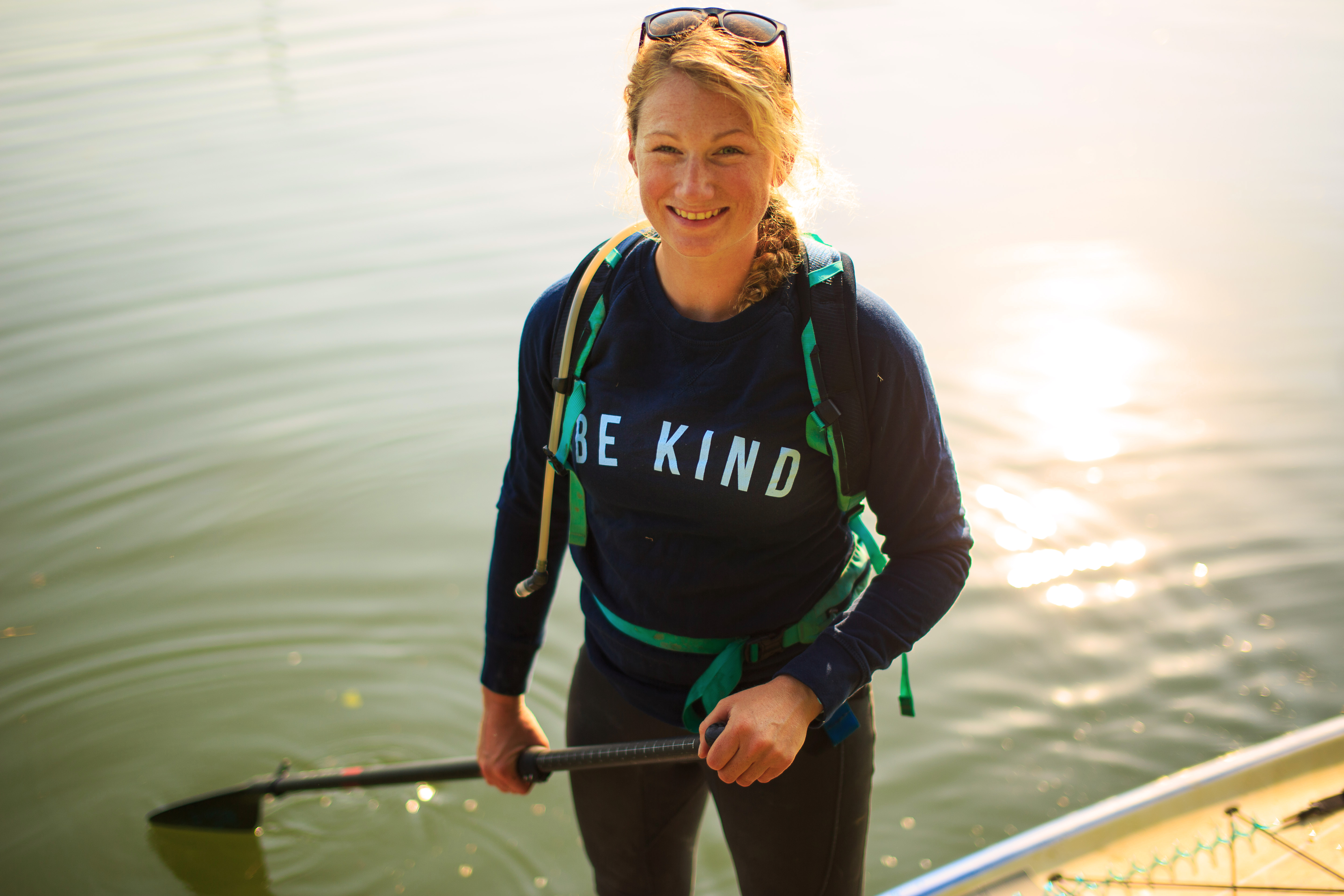 2018 will be remembered as the year that plastic pollution hit the headlines. While UK Parliament debated the Plastics Bill and supermarkets scrambled to make plastic reduction commitments, one Edinburgh alumni was planning a solo expedition to discover what effect plastic pollution was having on our coastlines, and to spread a message of positivity in tackling the problem. Meet Cal Major.
Interview by Sarah Ford-Hutchinson. Photographs copyright of Cal Major and James Appleton.
When I ask Cal Major about her time at the University, she tells me about it being a time of growing environmental awareness.
"My passion for ocean conservation began midway through my degree in Veterinary Medicine. As a student, I was definitely a bit of an environmentalist… I was part of the early recycling movement at Pollock Halls, and didn't want to see resources such as card and paper go to waste. But the problem of plastic pollution wasn't on my radar… like most people, using plastic was just an everyday occurrence."
Cal graduated in 2012 and moved home to Cornwall. As a surfer and stand-up paddleboarder, she became increasingly concerned by the amount of plastic rubbish she saw floating in the sea or washed up on beaches. In 2016, she founded the Paddle Against Plastic campaign and navigated the length of the Cornish coast to raise awareness of plastic pollution in that area.
Cornwall was just the beginning. In 2017, she became the first woman to circumnavigate the Isle of Skye solo, again to raise awareness of plastic pollution and the impact it has on seemingly remote places. Cal documented the plastic she found along the way, and upsetting footage of a cow chewing on discarded fishing rope was quickly picked up by news outlets, bringing more attention to the problem of plastics.
In early May 2018, Cal set off on her most ambitious expedition to date: paddling the length of the UK, from Land's End to John O' Groats. Her mission was not only to raise awareness of plastic pollution, but to inspire and empower people to help solve the problem.
"I chose to make this trip because it had never been completed on a paddleboard before. Physically travelling the whole length of the UK at sea level would give me the opportunity to see what pollution existed along way, and to raise awareness of it. My frequent stops along the way would also give me the chance to talk to local people – discussing what problems exist in their area, and finding out what they were trying to do about it".
The volumes of plastic Cal describes finding is astonishing. "At one point I landed on an inaccessible beach in Cumbria. I picked up 165 plastic bottles in five minutes, despite the fact that few people ever go there. Plastic bottles are the most common type of pollution I saw, simply because they float and wash up easily."
"I also frequently saw swirls of microplastic floating in on an incoming tide. It creates a sort of sheen, and it's only when you look closely that you see how many thousands of fragments there are."
Reassuringly, Cal often found that when beaches were popular and accessible, local people were highly motivated to rid them of pollution.
"There was less plastic on beaches where organised beach cleans regularly happen, such as in Cornwall, showing the impact that people can have just by picking up a few items. But as soon as I pushed off the sand and went back out to sea, it was there again. Inaccessible beaches up and down the coast were the most eye-opening: plastic still floats to the places people don't go to and don't clean, and the scale of plastic on some of the hard-to-reach Scottish beaches was staggering."
An important message Cal shared is that this isn't just a coastal problem. 80% of marine litter originates on land, which is where new solutions are needed to stop plastic being washed out to sea. Leaving the coast occasionally to travel North using canals, Cal had an opportunity to talk to inland communities about the sources of plastic pollution.
"One morning on the canals near Wigan, I counted 691 plastic bottles in the first hour of paddling. They were everywhere; I gave up counting."
Other common items Cal would see near populated areas were cotton bud sticks, plastic bags and food packaging, such as chip trays.
Being surrounded by discarded plastics for weeks at a time was bound to take its toll, and Cal admits to finding the trip emotionally challenging as well as mentally and physically. But what never failed to pick her up is the very reason she made the trip: to highlight how positivity and societal change will be the solution to this problem.
"The whole length of the UK, people are doing amazing things. Individuals and charities hold regular beach cleans, and ask their local businesses to reduce the plastic they use. Children are taught about coastal ecosystems in schools, and empowered to grow up environmentally aware."
By the time Cal pulled her paddleboard onto the beach at John O'Groats on the second of May, she had propelled herself almost one thousand miles in the space of two months. On the way, she had taken part in beach cleans, spoken to school children, discussed plastic alternatives with businesses, and campaigned for positive solutions in communities.
"I hope the trip gives people a better understanding of the scale of the problem, but also of the many positive things we can do to reduce and eventually eradicate plastic pollution. On an individual level, using reusable bags, bottles and containers is such an easy change to make.
Beyond that, asking the places you buy from to reduce their packaging and swap to biodegradable, natural options is a really positive thing. It's not just about us as individuals using less: it's about our whole economy reducing its reliance on throwaway, single-use items, and making goods reusable and wholly recyclable."
In completing the trip, Edinburgh alumni Cal Major became the first person ever to stand up paddle board from Land's End to John O' Groats. Her ambition, determination and positivity is an inspiration to us all.
For more information on Cal's journey, visit https://paddleagainstplastic.com/
To find out how the University of Edinburgh supports staff and students to use reusable cups and bottles, visits https://www.ed.ac.uk/about/sustainability/news/university-encourages-reusable-cups-bottles
To learn how to be more sustainable at the University, take our "Be Sustainable" online training: https://my.srs.ed.ac.uk/be-sustainable