Opportunities for universities to act socially responsibly…
Opportunities for universities to act socially responsibly…
Programme Manager Matthew Lawson reflects on the recent Universitas 21 Undergraduate Research Conference hosted by the University of Edinburgh.
'Future Societies, Global Citizens' was the theme of the recent Universitas 21 Undergraduate Research Conference hosted by the University of Edinburgh in June. 73 students from 21 member institutions participated in the week-long programme that encouraged students to consider the global challenges facing future societies and discuss how today's internationally-minded students can become global citizens.
https://www.youtube.com/watch?v=Tfj1_EYbuJ4
As part of the programme, Davy Gray, Sustainability Coordinator from the Students' Association, and I were fortunate enough to facilitate a workshop session with the students on the role of universities in society. In small groups students were asked to critically discuss and reflective on how universities could positively impact society through a number of areas including estates operations, finance, employment, teaching and research.
Participating students shared examples of practice from their own institutions and also identified opportunities for universities to further upscale their positive societal impacts on both the local and global levels. This included universities acting as an inclusive employer, reducing the barriers to employment for individuals from lower-socio economic groups and by developing start-up companies to improve the employment opportunities in the local area.
Students also identified the responsibility of universities to ensure their graduates go into employment with values of compassion, encouraging graduates to promote social responsibility in the policies and practices of the organisations they work in. This indirect impact could have a significant impact on society, especially as many graduates will take up leadership and management positions.
The workshop session ended with students presenting their recommendations for universities to act socially responsible way. Students were also asked how their understanding of university social responsibility had developed during the workshop session. The pie charts below highlight how students, through critical analysis and discussion of social responsibility issues, had improved.
What level of understanding do you have of social responsibility?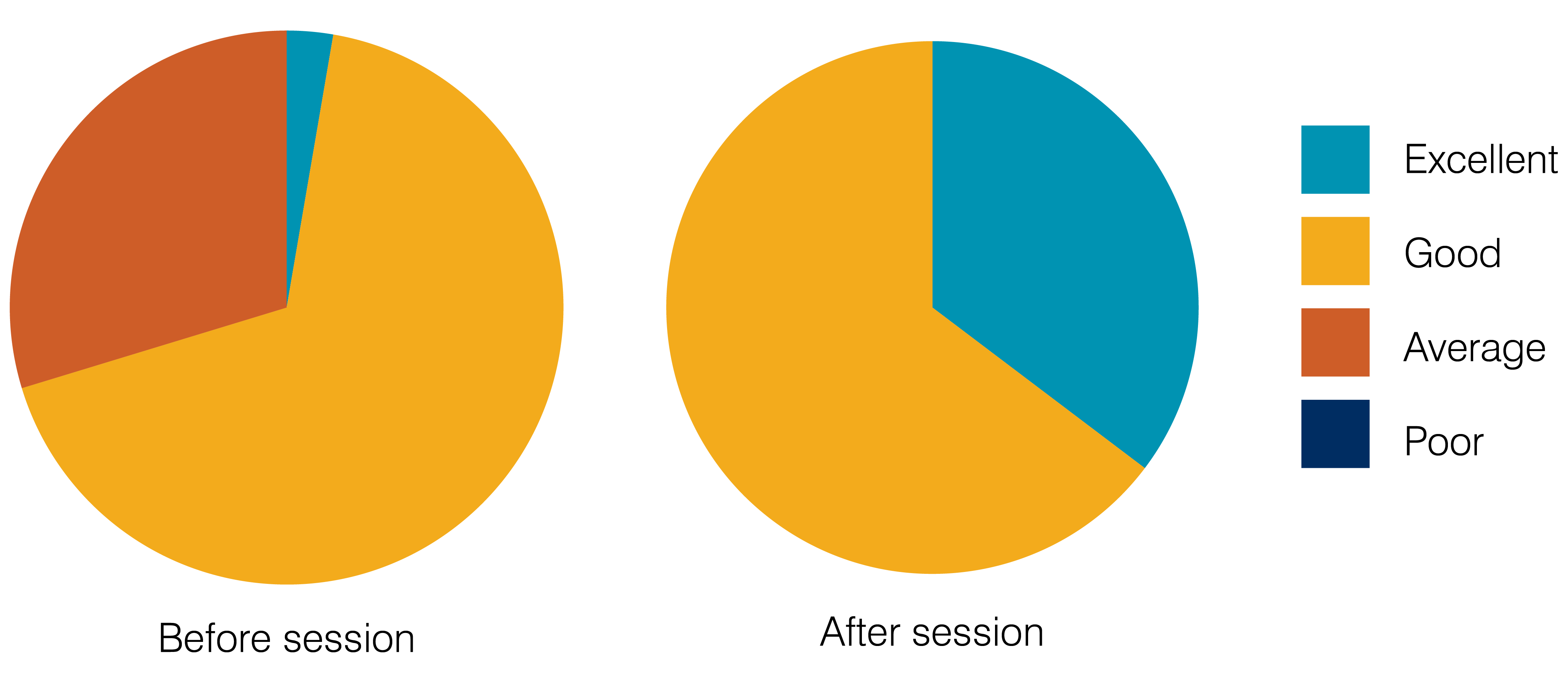 It was a pleasure to work with such an engaging, innovative and diverse group of students. It is great to see Universitas 21 and institutions provide students with the opportunity to reflect on how they can act as global citizens to positively impact society in the future.