reuse and recycling
The Reuse Hoose
The Reuse Hoose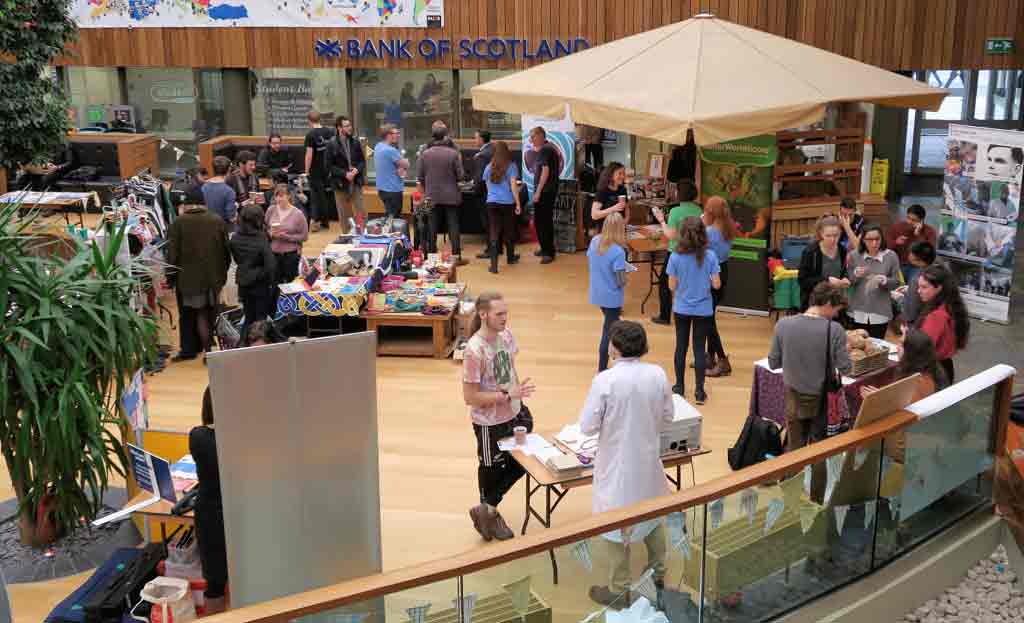 A reuse and repair fair bringing together local social enterprises, businesses and charities helping the University to reduce its waste. Summary by Marlena Segar, 1st year student in Social and Economic History with Environmental Studies.
The University's very first Reuse Hoose took place at Potterrow on Tuesday the 15th of March, organised by the Department of Social Responsibility and Sustainability along with the Waste and Recycling Department. The event which brought together various organisations across Edinburgh that are adopting principles of the sharing and circular economy, under one roof. The day provided a brilliant opportunity for staff and students to engage with the issue of waste and see how unwanted items could be upcycled and reused rather than sent to landfill, from books (Better World Books), to any and all unwanted items (Shrub Swapshop).
The variety of organisations from the Grassmarket Initiative, which seeks to share skills particularly amongst the most vulnerable, to the extremely popular Food Sharing Edinburgh, an enterprise that diverts unwanted food from local businesses to the community, highlighted the social, environmental and economic benefits of adopting a circular model to the economy rather than continuing with a linear take-use-dispose structure. A key emphasis of Reuse Hoose was sharing skills that will lead to improving the longevity of belongings and reducing the amount of waste sent to landfill; the Bike Station which provides repair of bikes, alongside Remade in Edinburgh, an electronic repair initiative, and Changeworks – the Love Your Clothes campaign – are organisations necessary for almost any Edinburgh student. In addition to mending and repairing their belongings, students also had the chance to protect their more expensive items, with University Security Services on hand to do UV marking of electronics and bikes.
Alongside personal gain the event enabled students to provide their own skills to the wider community; the Turing Trust is a great example of how the circular economy is going global with the promotion of Information Technology from urban Edinburgh to rural Sub-Saharan Africa.
The Hearty Squirrel, a society promoting healthy, organic and locally sourced food, ASCUS, a non-profit organisation connecting the Arts and Science, were all also present. The wealth of stalls in such a small area and the interest of Edinburgh students suggests there's definitely a growing demand for a circular way of life. The exclamation 'It's free!?' was arguably the most common thing to circulate during the event with the wonderful realisation from students that one of the best parts of upcycling is the exchange of skills, clothing, food, etc. doesn't have to come with a price tag.