On black boxes, unknowns and achieving aims
On black boxes, unknowns and achieving aims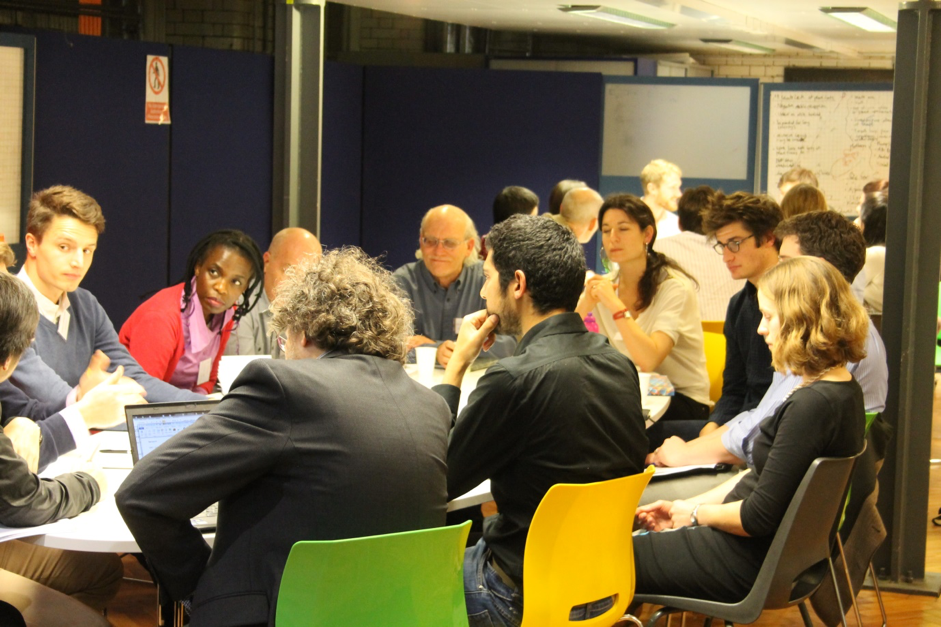 Over two days in December 2015, sixty-odd people gathered as part of a Social Responsibility and Sustainability Special Project Grant to discuss research around off-grid solar.  This post reviews those discussions.
"Academic scholarship is failing policy ambitions" – it was a strong statement with which to open the conference but Dr Rob Byrne's words were to prove prescient.
Co-organised by University College London and the University of Edinburgh this small event brought together researchers, students, practitioners and policy makers to explore the social dynamics surrounding the bulging off-grid solar industry.  The sector, most prominent in India and Eastern Africa, is not shy of big ambition.  The UN's Sustainable Development Goal #7, for instance, is aiming for universal energy access by 2030 – the majority of which will be provided by off-grid solar systems.
***
Black boxes
Behind big policy ambitions is a growing group of companies selling solar technologies to previously un-connected consumers.  The sector has only been made possible by the decreasing cost of technology; by the falling price of solar panels, itself driven by the falling price in silicon.  Speakers from two such companies based in London, BBOXX and MeshPower, spoke enthusiastically at the conference about data.  Data allows them to 'push out' information and updates to their systems regardless of how remote and dispersed their customers might be.
But the technological origins and continued technological focus frustrated some attendees who argued that innovation has its limits.  If we do not understand users, their needs, and desires then progress towards ambitious goals will be limited.  Having rich data might benefit the companies collecting it but questions were raised over who owns that data, if that data is shared within the sector or whether it is made available for academic analysis.  While companies can seal their technologies to protect intellectual property and warranty claims we have to remember that no technology operates in isolation but rather has an immediate impact on the room, house and village in which it is used.
Unknowns
The dynamics within families and communities were highlighted in presentations from Kirsten Campbell and Karima Hirji.  Kirsten asked what having a solar system at home does for one's social status, and so, what it means for those who remain without.  Karima, meanwhile, called for more attention to the role of gender when reminding listeners that the energy burden (the collection, purchase and management of energy) often falls on women.  Both, however, acknowledged, in line with Rob's opening words, that there is not yet enough research to answer such questions.
Admitting what we don't know was a theme of Kat Harrison's keynote as well.  Kat, the former Director of Research and Impact at SolarAid, gave a wide-ranging overview of the state of knowledge in the sector, referencing ongoing projects at Berkeley, ETH Zurich, and Stanford as she did so.  The focus of these projects is on solar's effect on development indicators such as education, health and income.  Often used in marketing by companies and development agencies, the academic grounding for such indicators is as yet inconclusive.
Similarly unknown was what is happening in the humanitarian setting, black or informal markets and also activities outside of the industry's darling region of Eastern Africa.
Achieving aims
In 1990 Xavier Lemaire wrote his Masters thesis on why solar projects were failing in French Guyana.  25 years later, now a Senior Research Associate, the same question still haunts his research.  Drawing on recent fieldwork in Orissa, India, renewable energy consultant, Vijay Bhopal, presented sobering images of broken solar; the solar waste of another failed project.  Meanwhile, Peter Thomas gave the example of people throwing stones at solar panels in Papua New Guinea.
Xavier's answer?  Greater role of national governments to ensure off-grid holds a safe place on the political agenda.  Vijay's answer?  Longer term metrics that ensure upkeep of products and sustainability of programmes.  Peter's answer?  Community involvement rather than external imposition.
It would be arrogant to suggest academia has the answer to avoid future failures.  And it would be wrong to let the bad overshadow the good in a sector that is transforming lives with clean energy.  But perhaps there is a need for more research to provide more answers and robust findings to support the claims already being made.
***
The off-grid solar industry closed out last year with the now routine round of investments.  At the start of December M-Kopa announced a $19 million investment then a fortnight later Off Grid Electric raised $45 million in the same week that BBOXX unveiled a securitisation deal worth $508,000.  With more promised for 2016 this financial trend looks set to continue regardless of any academic output.
However, the conclusion of our gathering – the first of its kind – was that academic scholarship can accelerate progress towards universal energy access and guide the industry from the failings of past interventions.  In order to do so we need to continue the conversation we started in a UCL basement in the depths of December.
The event was kindly supported by the School of Social and Political Science, the Department for Social Responsibility and Sustainability, UCL Centre for Urban Sustainability and Resilience, and BBOXX Ltd.  Videos of all presentations are available here.
Written by Declan Murray