Student interview: Zoe Anderson
Student interview: Zoe Anderson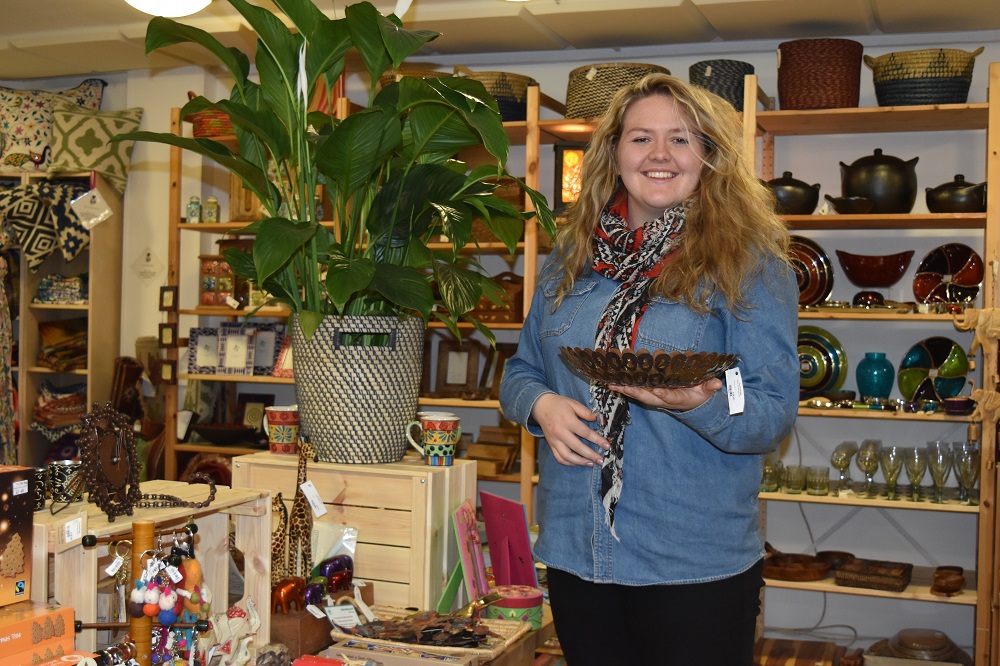 With the festive season in full flow, 3rd year Social Anthropology student Zoe Anderson reflects on her internship at the One World Shop and why we should consider choosing fair trade products at Christmas.
Why does Fair Trade matter?
I was brought up on a farm on the Isle of Man and saw at first-hand how unfair the pricing of milk was that my father was selling to supermarkets, this is in the relatively wealthy west. It made me think just how much more unfair it is for farmers in the developing world who have far fewer resources. That got me thinking about how fair trade works and the lifeline it offers to producers; now I try to buy fair trade as much as possible. I think students can afford to buy fairly traded goods if we just cut back on some other things or simply buy less of that product.
Why do you think people should consider buying Fair Trade products at Christmas?
One of the best Christmas presents I ever had was when my grandmother had bought us a "Send a Cow" gift, helping African families out of poverty – it took away any consumer guilt and made me feel I was giving as well as receiving; you can do this with fair trade products too. You can receive beautiful gifts whilst giving producers a fairer chance.
There is such a wide range of fairly traded products now, not just food and drinks. The One World Shop has some beautiful handmade crafts for all ages which would make the perfect Christmas gifts. As students at a Fairtrade University, let's be an example of the most generous type of giving and actively choose fair trade and ethical gifts this Christmas.
How was your experience working in a Fair Trade company as an intern?
I have LOVED working at the One World Shop, I felt like a true member of a family who, rather than being inward facing, are a community who face outwards and are completely inclusive. The shop has forged its own path within a movement that brings rays of hope to disadvantaged food and craft producers across the globe.
My internship focussed on organising the Fair Trade Festival Marquee at the shop and co-ordinating a team of volunteers to run it. From wrestling with marquees to scavenging for improvised decorations to create the atmosphere of an 'African Kitchen', a 'Nepalese Kids Corner', an 'Indian Interior' and a 'Recycled area'; it was never a dull day at the One World Shop. I came into the internship expecting to love the event-organising aspect of the job, but in hindsight my highlight was researching the producers' backgrounds, their stories, the processes that go into making their products and the impact that receiving a fair price for their products has on their surrounding communities. My biggest learning curve was learning how to manage volunteers, especially those who are older than me or who were already close friends. Through watching how the staff at the One World Shop did this I gained the confidence and authority to learn how to lead. I am so thankful for everything they fed into me, the numerous questions they so patiently answered, the fascinating stories I heard and the GREAT coffee.  The One World Shop's recent move from St John's Church at the west end of Princes Street to their new location at Nicolson Square is really exciting, it's so near the University –  let's get students more actively involved with it and into this wonderful, inclusive fair trade movement!
How has it changed your outlook on life and your future?
Using my degree in Social Anthropology I would love to do something along these lines in the future, communicating with other cultural groups or producers. All I want is to be able to get fully behind the vision of whoever I work for. I'd love that to be for a company who supports or is working in the Fair Trade movement, whatever shape that might be. It's important to me to challenge society's thinking behind buying and to represent the voices at the producer end that usually go unheard.
Visit the One World Shop website
Learn more about the University's Fairtrade status