EAUC Scotland Conference 2015
EAUC Scotland Conference 2015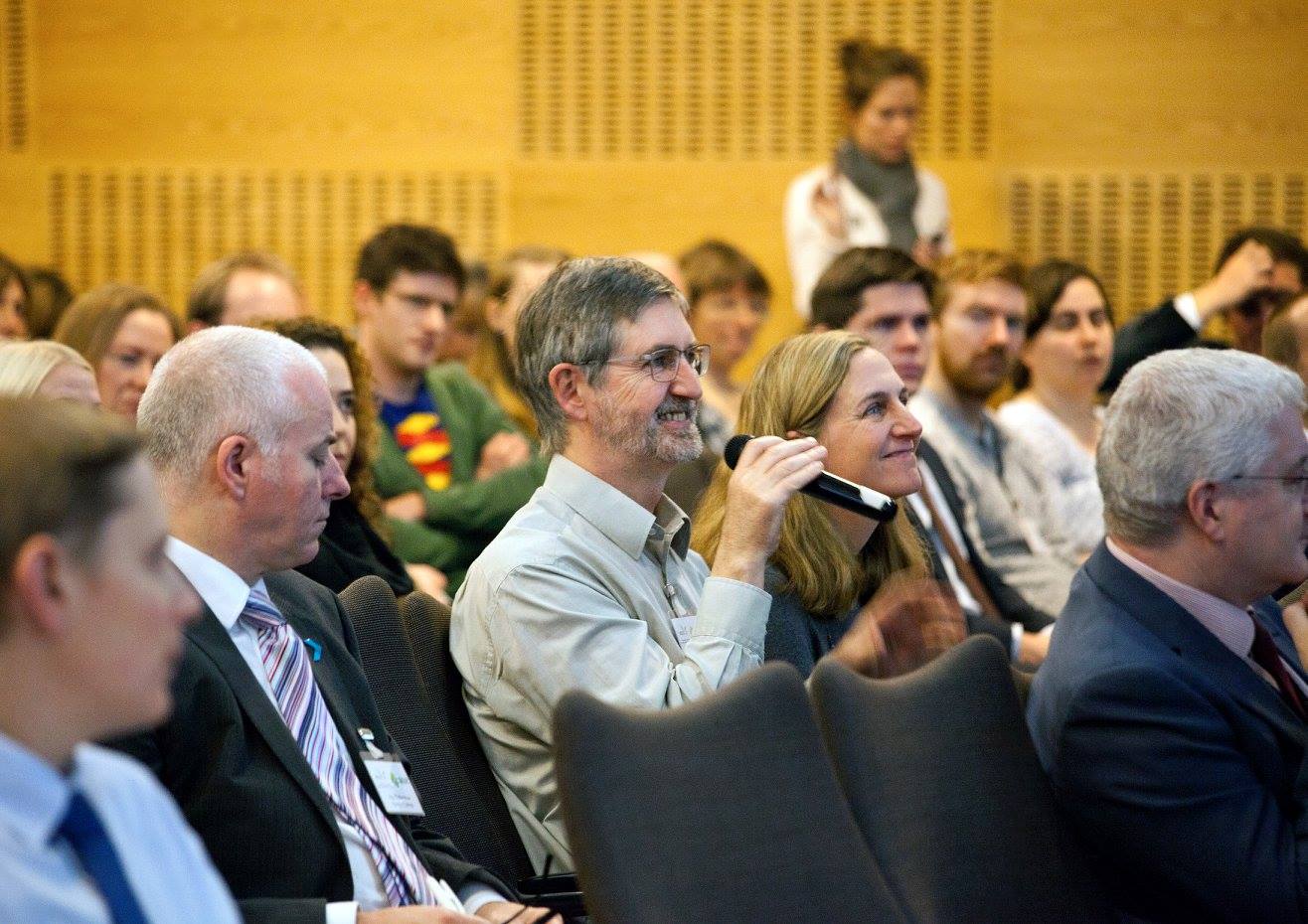 Communications Facilitator Sarah Ford-Hutchinson reflects on attending her first sustainability conference in tertiary education – EAUC Scotland's "A Shared Responsibility" conference – hosted by the University of Edinburgh in November 2015.
On Tuesday 17th November 2015, around 100 Delegates from tertiary education institutions and sector partners joined the EAUC and 13 Exhibitors from across the UK for the third EAUC-Scotland Conference at the University of Edinburgh's John McIntyre Conference Centre.
The conference theme, "A Shared Responsibility", highlighted how only a collaborative approach – between staff, students, academics, external partners and other higher education institutions – will ensure that our sustainability actions have the best possible chance of succeeding.
We were welcomed by EAUC Scotland Convenor Angus Allan and Marissa Lippiatt of headline sponsor Zero Waste Scotland, both who stressed the increasing importance of partnership working both within and between higher education institutions and with external business partners.
Dave Reay from the School of Geosciences kicked us off with a presentation on "walking the sustainable talk" – how we might enhance the environmental sustainability of our own teaching. Understanding the desire of the University to keeping growing, especially by providing more courses for more students, Dave advocates online expansion: "low carbon learning about low carbon". He has already taught successful MOOCs and stressed the value that came out of student–lecturer interaction over long distances: he may have taught the theory, but it was his students who talked of new exciting low carbon projects, strategies and policies from their part of the world. The Schools of Geosciences and Education are currently working together to develop a new online sustainability course for all undergraduates, and I look forward to updating you on the details of that in semester 2.
Dave reminded the audience that the students we inspire really are the future, referring to a handful of MSc Carbon Masters alumni who are now working as governmental advisors to various nations at the upcoming United Nations Climate Change conference, "COP21".
Conference attendees next dispersed into a fantastic choice of morning workshops each focusing on 'a whole institutional approach' – how we can work together with colleagues within our institution to further sustainability in practice. Case studies came from an array of projects happening in higher education institutions in Scotland, and, as a Communications Facilitator, I chose to attend a session on 'engaging and empowering students'. Kate Thornback, Environmental Officer at Scotland's Rural College (SRUC) told us that if people can see the value to themselves in something, they will generally participate. At SRUC, she allows students the freedom to propose sustainability projects that they can carry out as part of their own courses, meaning her advocation of a learning-by-doing approach is highly relevant to their studies. Theoretically, if every course had sustainability built in, we would be teaching students practices of the upmost relevance to them and planting the seeds for further action.
After a vegetarian networking lunch, the afternoon workshops were on 'looking beyond the institution' and discussions considered responsibilities and opportunities on a national level between tertiary institutions and key partners.
Sustainability Advisor David Somervell took attendees on a tour of the Combined Hear and Power (CHP) plant at Pollock Halls of Residence. CHP works by capturing the heat that is usually lost when generating power, and using it to heat and cool buildings. Since 2002, the University has invested more than £20 million in an efficient network of low carbon and renewable power generation that now provides the majority of our energy needs.
The final plenary session considered international tertiary education priorities and challenges through input from EAUC's sister networks in the USA and Australasia, discussing what can be learned from the tertiary education sector in other countries, their sustainability priorities, and how we can best work together to address this global challenge. I was impressed by the informative Skype call with Meghan Fay Zahniser, Executive Director of Association for the Advancement of Sustainability in Higher Education (AASHE) – proof that you don't need to fly someone halfway around the world to have an insightful and informative Q&A.
EAUC Chief Executive (and fellow Northern Irishman) Iain Patton summarised the day's conclusions with enthusiasm: to achieve real change, we need to work together – from practitioners to academics and student to senior managers – everyone playing their part to drive sustainable and transformational change across our institutions.
As someone who works in communications, these collaborations are some of the most interesting and enjoyable parts of my job. I look forward to new opportunities to work with colleagues and external partners in 2016.
Our department delivers high quality and impactful programmes to catalyse action and collaboration across campus and support the University in achieving its Social Responsibility and Sustainability strategy and related commitments.
Thanks to EAUC's Facebook page for the photographs.