Does fair trade make a difference?' lecture report
Does fair trade make a difference?' lecture report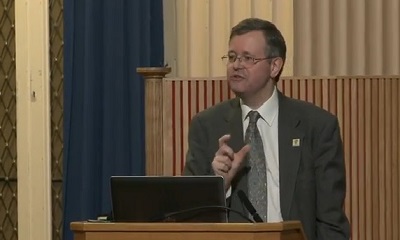 Student volunteer Rachel Kaplan reports on the University's public lecture on 25th February 2014 entitled 'does fair trade make a difference?
On February 25th, the University of Edinburgh hosted a talk discussing the question "Does Fair Trade Make a Difference?" It was put on as part of the University of Edinburgh's Fairtrade Fortnight—a celebration and critical evaluation to mark the ten-year anniversary of the University as a Fairtrade University. The talk featured two distinguished speakers: keynote speaker Paul Chandler, former Chief executive of the fair trade organization Traidcraft, and Humza Yousaf MSP, Minister for External Affairs and International Development.
Chandler split his speech into two sections, responding to three common critiques that fair trade confronts, and looking at case studies to evaluate the effectiveness of fair trade projects. Chandler first responded to the free-market critique that fair trade disrupts market efficiency, arguing that fair trade actually works within market mechanisms by using consumer choices to affect the supply sector. Chandler also disputed the free-market philosophy itself, which he argued must often be monitored and corrected for because it creates issues such as poverty and inequality. Furthermore, fair trade—far from stalling technological advancement—actually helps to create new spaces for usage, and helps to structure technology aimed in a more sustainable direction.
The second critique Chandler responded to is that the Fairtrade labeling approach must not work with big corporations such as Nestle, for Fairtrade will then get caught in a system that reproduces the inequalities and exploitative practices it is attempting to change. Chandler argued that while Fairtrade recognizes these concerns, they have few alternative systems with which to work with. Big corporations have scale and access to markets, and it is these processes of supply and distribution that Fairtrade must work to influence.
Another concern is that fair trade is merely a marketing ploy, that fair trade producers still live in poverty and therefore fair trade is insufficient to address the massive inequalities in wealth. Chandler argued that fair trade creates a small—although important—increase in wealth for those who participate in fair trade production. However, the market for fair trade is not yet big enough to allow for all markets and all production to be fair trade, and therefore we should focus on increasing the scope and depth of fair trade.
In short, Chandler suggested that fair trade was about establishing long-term benefits and should be seen as an international development project, establishing social relationships, knowledge transfer, and diversifying production. Fairtrade, Chandler argued, is important as a label because it establishes everyday consciousness about poverty. Chandler did express concern that, in the future, the Fairtrade label might carry less weight. There is talk about allowing the label 'Fairtrade' to be used on products that use only one essential Fairtrade ingredient, rather than being 100% Fairtrade. Chandler argued for the Fairtrade standards to remain rigorous, with only products containing 100% Fairtrade ingredients warranting the label Fairtrade.
Following Chandler, Yousaf suggested that buying Fairtrade and investing in a fair trade system of production is not a matter of aid, but of justice.
The audience expressed several concerns over these points. First, some asked whether we should focus on changing the system rather than focusing on individual choices. Others worried that Fairtrade divided the market into those who had access to Fairtrade markets and certification, and those farmers who were further marginalized and unable to participate in these benefits.
Regarding the question, "Does Fair Trade Make a Difference?", both speakers suggested that FairTrade has gained real traction and has made a substantial impact on people's lives. However, these changes are still operating within a narrow market. It is important to take such criticisms into account so that we can create better, more long-term solutions for the future of fair trade.