At our recent steering group meeting our Chair, Prof Melissa Terras, noted that the index cards I shared in the post on Alan Bruford's Tale Types make great writing prompts. This immediately cast me back to my Am-Dram days, when our director would ask us to pick a number and assign us whichever ATU tale type that corresponded, to create a short play with. This is a really useful tool for creativity and I thought I would share some Tale types and a few examples from the card index, which you may wish to explore.
These index cards summaries one part of a recording, or a manuscript in the SSSA collections. Often they are just the most brief description of the tale and other cards go into more detail.
ATU 1696
"What Should I have Said…?"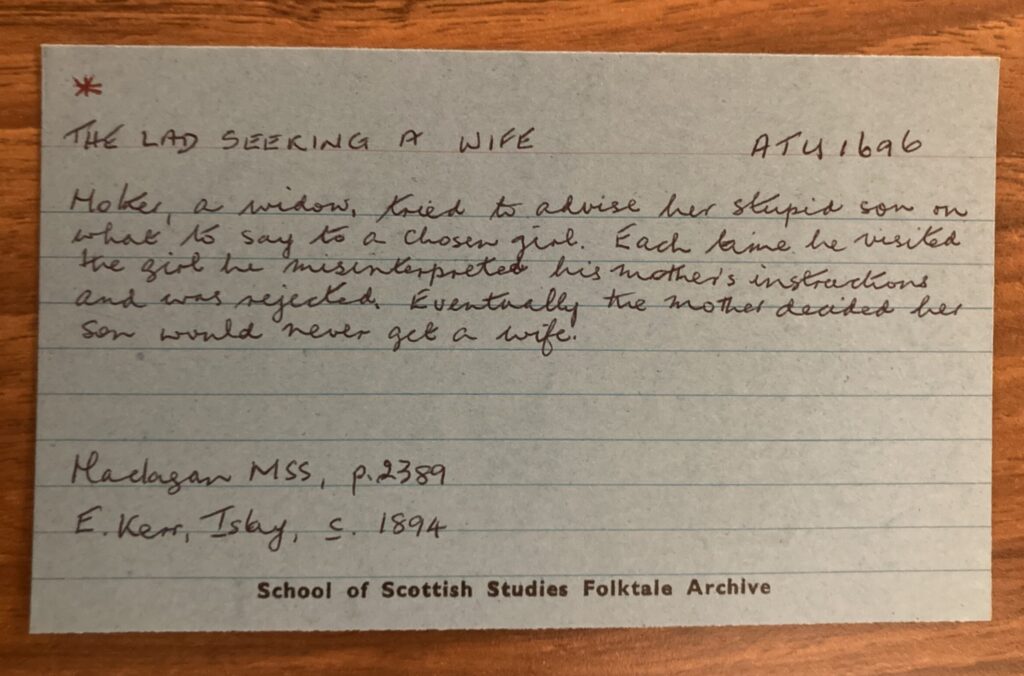 You can read this above version of this tale type in our Maclagan collection, via the OpenBooks platform (page 11, MML2389).
ATU 470a
The Offended Skull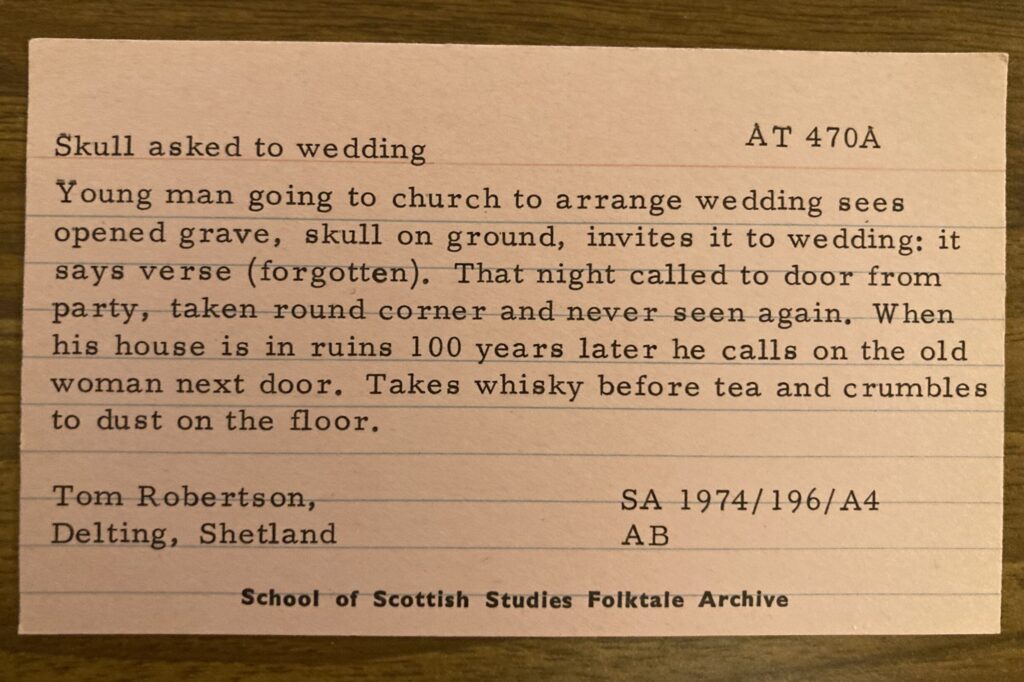 This tale is also available to listen to online and there is a much clearer summary of the tale on Tobar an Dualchais: https://www.tobarandualchais.co.uk/track/72071
Tom Robertson told Alan Bruford that this tale was his grandmother's story.
ATU 510
Cinderella , Cap of Rushes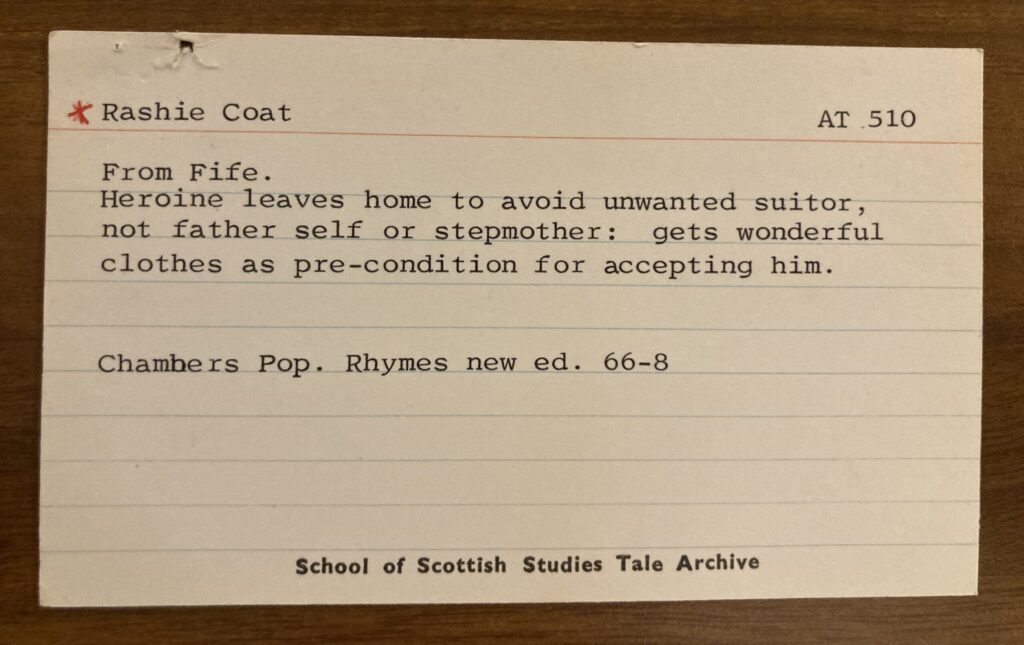 This is not from recording or a manuscript in SSSA, but I have to say that the way that the summary is written made it stand out to me. There are thousands of variants of Cinderella and many examples in the Tale Archive, including Essie Pattle, the Shetland variant. You can listen to T A Robertson read the story of Essie Pattle (SA1972.238.B1) in Shetland dialect here: https://www.tobarandualchais.co.uk/track/71783
Supernatural Witch Tales
Bewitched Dancing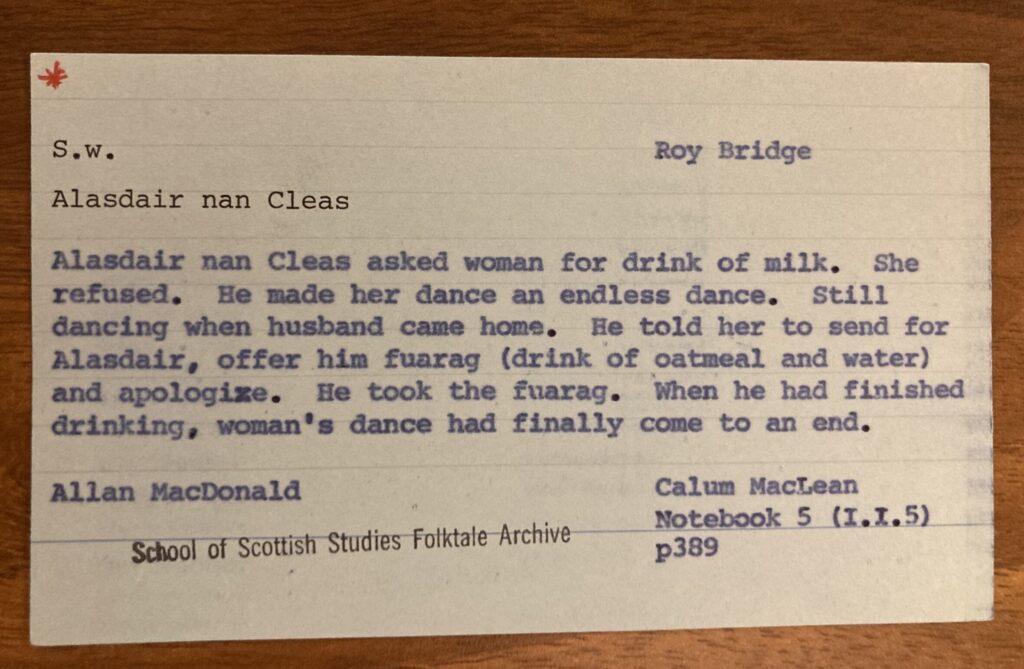 This is one of the tale types devised by Alan Bruford for classifying Witch Tales. This tale appears in Calum MacLean's notebooks, collected from Roy Bridge, and is a story of Alasdair nan Cleas – Alasdair of the Tricks – who was Keppoch Clan Chief and thought to be a sorcerer. There is a great blog about this tale over on the Calum MacLean Project blog: http://calumimaclean.blogspot.com/2015/05/dance-till-you-drop.html
ATU 1137
Tales of the Stupid Ogre / Self Did It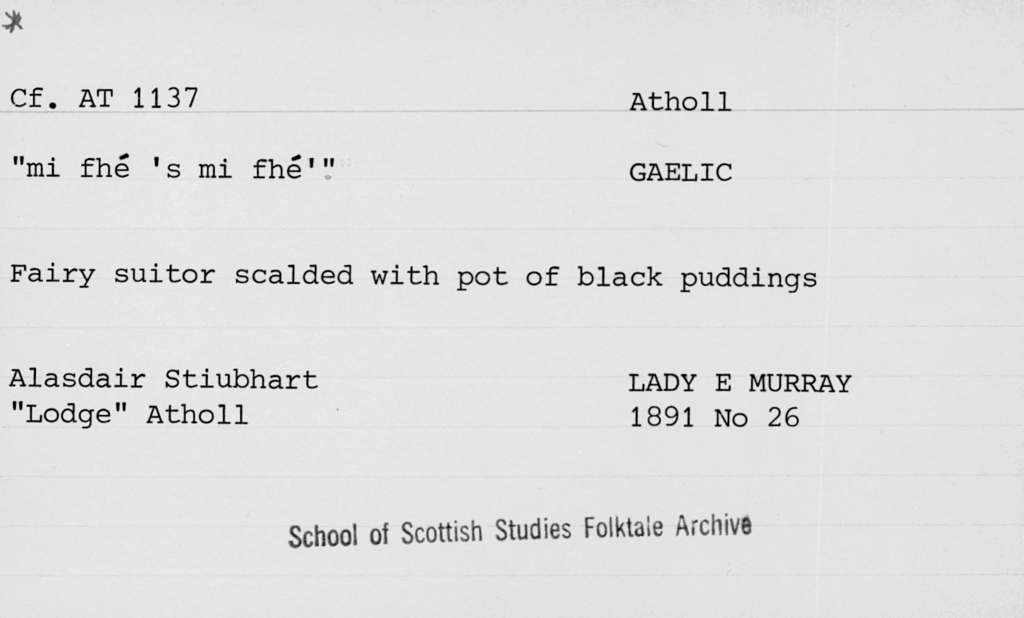 These types of tales have origins in the story of Odysseus and the Cyclops.
ATU 1452 
Choosing a Wife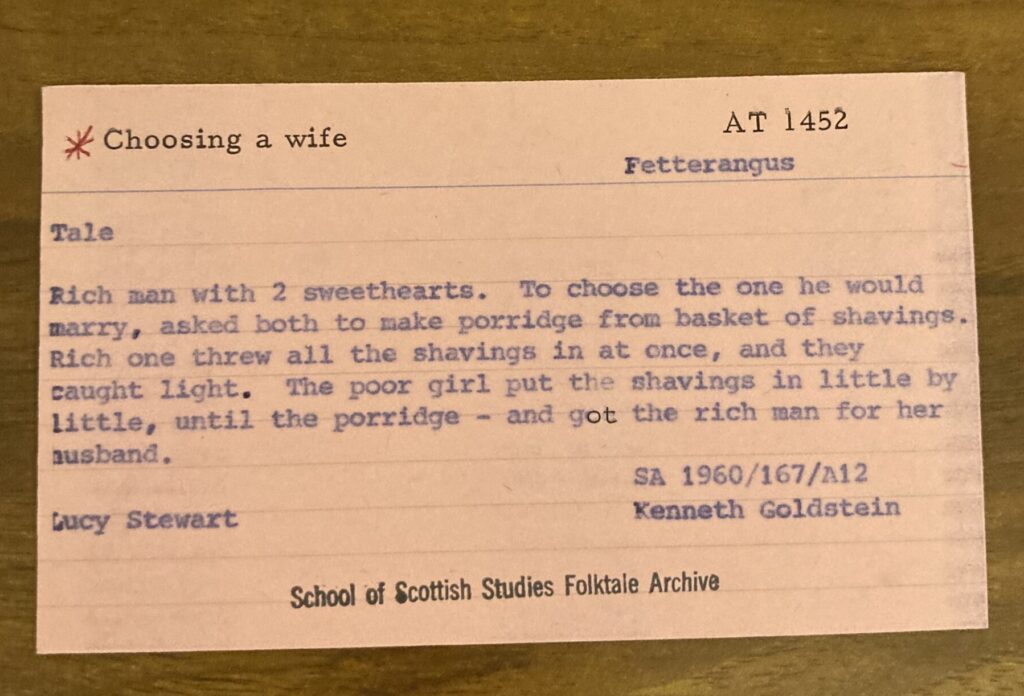 The above tale, told by Lucy Stewart (SA1960.167.A12). is a variant of a type of bride tests tale which includes stories which feature the selection of a wife on how she cuts cheese! You can listen to this recording via the SSSA material on Tobar an Dualchais: https://www.tobarandualchais.co.uk/track/22452
ATU 1408
The Foolish Husband & His Wife / The The man who does his wife's work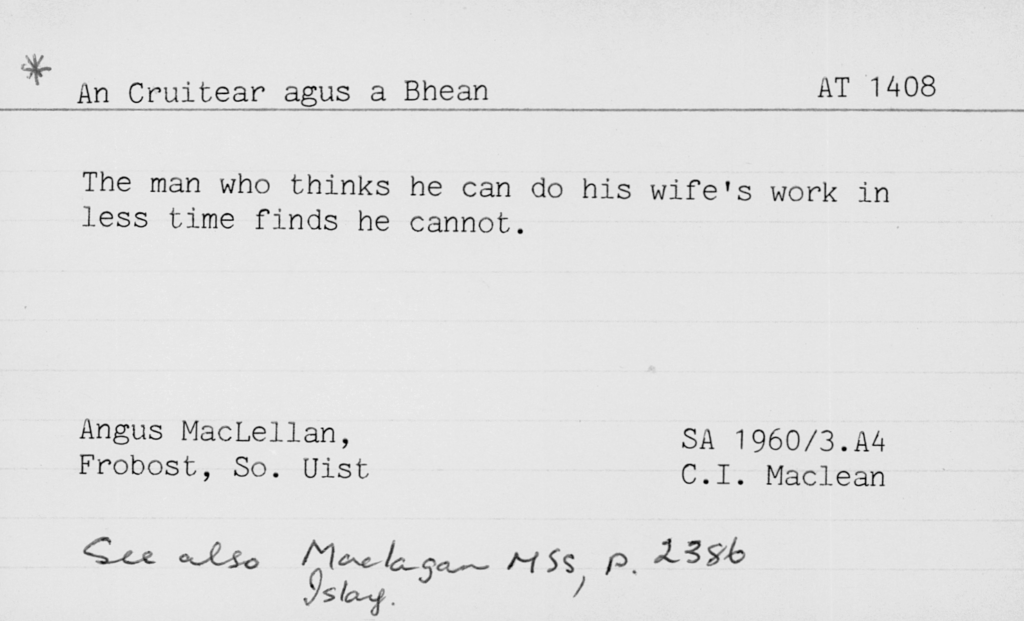 Angus MacLellan told the story of a crofter who thought his wife was useless, until she asked him to swap places with him. The recording is on Tobar an Dualchais, with a summary in English. https://www.tobarandualchais.co.uk/track/34492
We also have a version of this in Maclagan, from Islay, MML 2386
Romantic Tales: The Lad and his Dream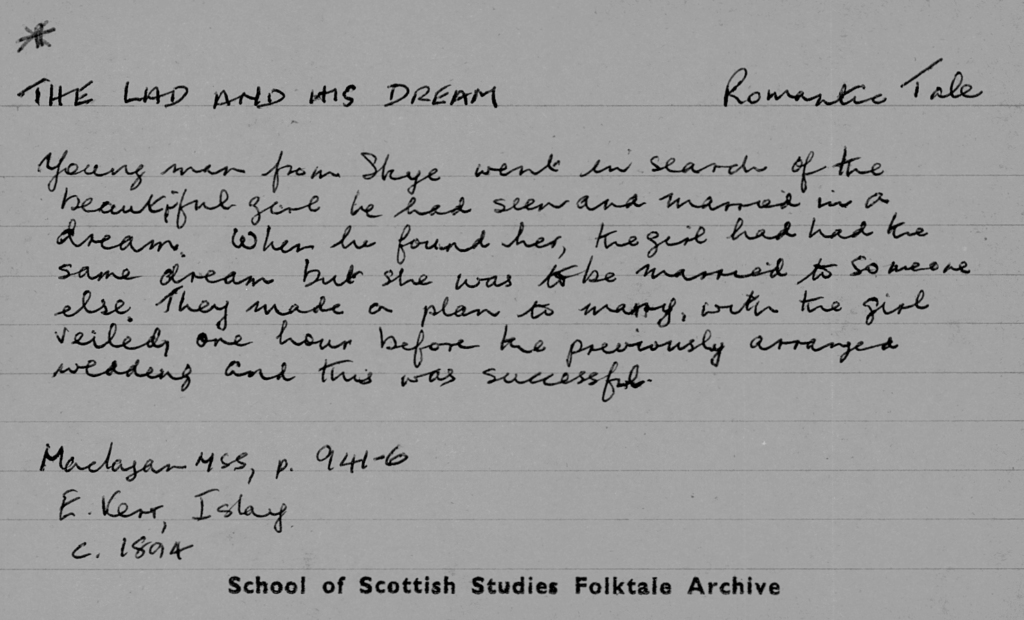 Ending with a take from the Romantic Tales Index here at SSSA – two strangers dream of one another and set off to find the other!
If you feel inclined to use any of these prompts, we would love to see your work!