Today is International Cat Day and that is as good as excuse as any to look in the Tale Archive for any material purrtaining to Felis Catus. Don't worry though – should you not hold with such cosy nonsense – for the tale I've chosen is far removed from cute and fluffy!
'Sùil a Sporan agus Sùil a Dia' was a tale given by Donald Alasdair Johnston on two separate occasions to fieldworkers for The School of Scottish Studies (SA1969.120.A1; SA1970.214.A1). It is classified as a variant of ATU 613 – Two Travellers. We have a third version of this type in the Tale Archive, which John Shaw collected from Cape Breton in 1978, from Flora MacLellan.
Donald Alasdair's story was published in Tocher in 1972 and tells the story of two brothers. Sùil a Dia believed that God would provide all he needed in life, but Sùil a Sporan argued that his purse could provide him with everything. So serious was this argument that the best way to test this out – it seemed – was for Sùil a Sporan to dash out his devout brother's eyes, in order to see if God would restore them.
Now blind, Sùil a Dia took refuge in a house which belonged to the King of Cats, Gugtrabhad, and his company. Sùil a Dia overheard the messenger kitten, Piseag Shalach Odhar, tell the clowder of a healing well. Once they left, the blind brother scrambled on hand and knee til he found the well, restored his sight and returned to his brother.However –  if not dark enough already – this tale takes a few more sinister turns!
Sùil a Sporan asked his brother to put out his eyes next to make certain of the miracle.  Once blind and alone, Sùil a Sporan felt his way inside the same house, to the same spot of refuge. When the cats assembled again there was outrage when Piseag Shalach Odhar told them that a human had been listening to them the night before. They hunted around the house and – mistaking Sùil a Sporan for his brother – exact their revenge.  The story doesn't really end well for anyone – certainly not Sùil a Sporan or the cats, ultimately, who meet a fiery end!
You can read the story as transcribed in Tocher (SA1969.120.A1), by clicking on the image below (link opens a pdf)
You can also listen to the version told by Donald Alasdair to Donald R MacDonald (SA1970.214.A1) via Tobar an Dualchais: http://tobarandualchais.co.uk/en/fullrecord/28382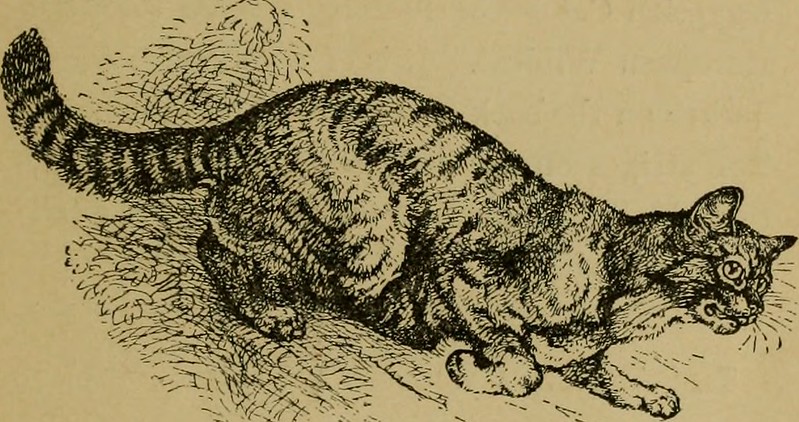 Further Information
John Shaw wrote an article for Scottish Studies which compares Donald Alasdair's tale with Sgeulachd  a' Chait Bhig 's a' Chait Mhóir, collected from Cape Breton:
Shaw, J 1991, 'Sgeulachd  a' Chait Bhig 's a' Chait Mhóir', Scottish Studies, vol 30. Pp93-106
Share