I had intended to share this tale yesterday, as it was the First of May. I hope you will forgive my tardiness!
May 1st is the date we traditionally associate with the beginning of summer  (not that it feels particularly summery in Edinburgh today) and I wanted to find a suitable tale to share with you from the collection in the Tale Archive, at SSSA.
Duncan Williamson told the story of Jack and the Singing Leaves (ATU432) to Linda Williamson and a group of children, in 1976  (SA1976.062.A2;B1).  The recording and transcription are held in the archives.
Jack, one of three brothers on a farm, was very lazy but loved animals and one day he rescued a cuckoo with a broken wing. His uncaring brothers thought Jack was a fool for taking the bird in, but they did not see that it was an enchanted bird from a faraway country. In return for his kindness, the cuckoo promised to return to Jack on the first day of May, with a gift.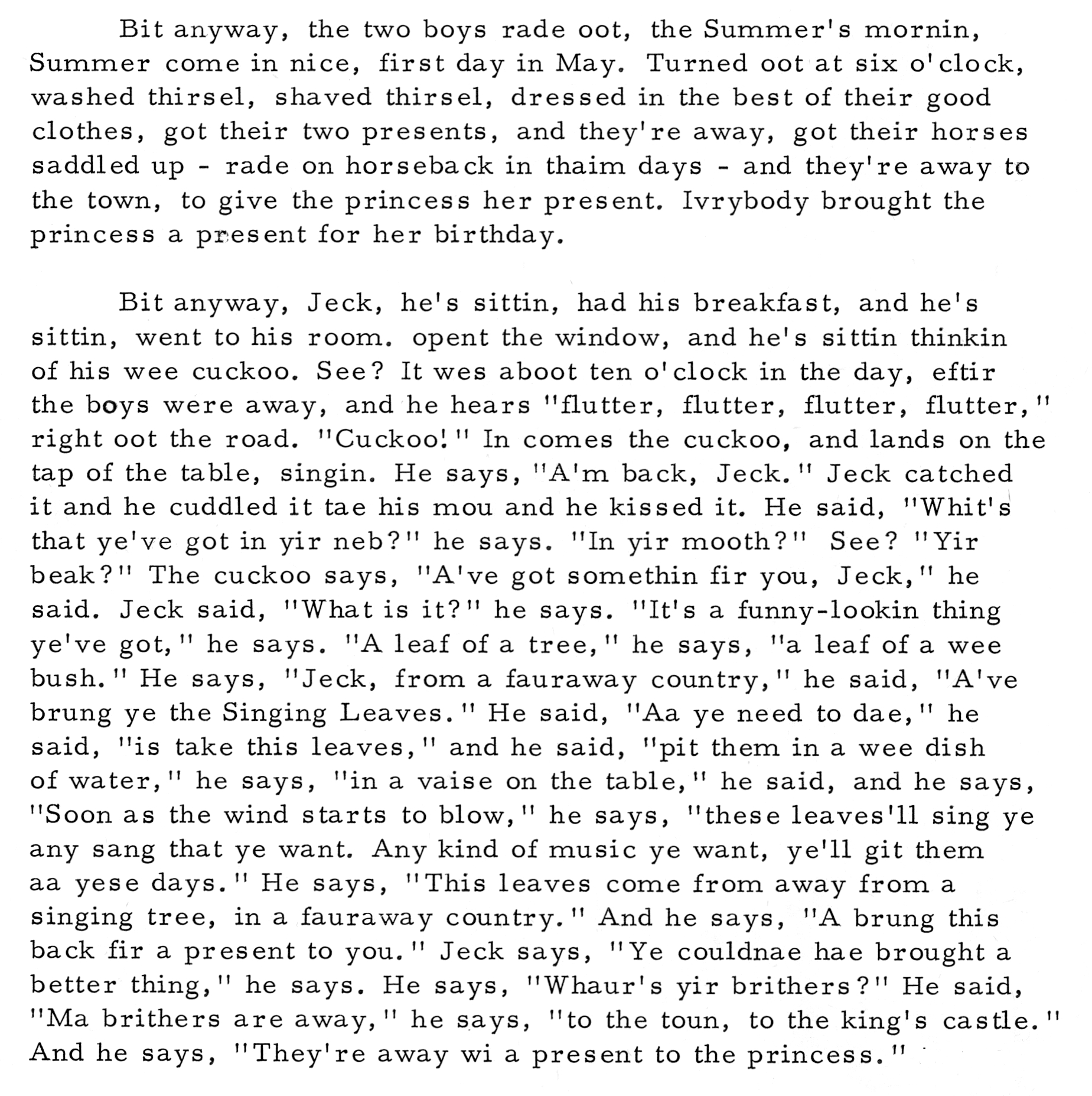 The gift of the magical singing leaves are brought to the Princess for her birthday, where they enthral the Royal Family, so much so that the King asks for more leaves and will make Jack a rich man in return. As the story transpires, by the end of the summer, they all appear to live happily ever after – with the exception of Jack's brothers perhaps!
The recording can be listened to in it's entirety via Tobar an Dualchais and it runs to around 35 minutes in length.  I listened to it whilst I looked over the scans of the transcript and was so happy to see Duncan's Scots accent is well captured by the transcriber. What the written version doesn't convey though are the responses from the children he is telling the story too; they can be heard in the background held in the thrall of a good tale and it is a joy to listen to.
…
I heard a cuckoo whilst walking near the Water of Leith last week….does that mean summer is on the way?
Share