The 20 Mph Project (two-part film)
The 20 Mph Project (two-part film)
Hello again! In this month's post, I thought I'd detail a recently completed project for SCPHRP – a two part short film focussed on the 20mph project, funded by the National Institute for Health Research (NIHR) and the Wellcome Trust. The project is part of the largest and most comprehensive study to date into the effects of 20mph speed limits and speed zones to be undertaken in the UK. The research was led by the University of Edinburgh and conducted in collboration with researchers from Queen's University Belfast, University of Cambridge, University of Exeter, University of Bristol, University of East Anglia, Sustrans and NHS Scotland.
The Brief
The team wanted an animation that would form part of a workshop that would tour the country, showcasing the results of 20mph speed limits within cities. The animation would serve as an introduction to the project, provide background on the topic, the teams approach, and the results. After reading through the script however, it became apparent that an animation would be too costly and wouldn't make the intended deadline. The script came in at approx. 15 min. That's a lot of video editing, never mind drawing and animating! I spent a couple of days framing the script as a video and pitched it back to the team as a short film comprised of clips, motion graphics and statistics. There was a risk that the client might walk away but thankfully they preferred this new take on how it could take shape and what it would mean for the project as a whole. It did mean a few weeks of script re-writes and a re-working on how everything would look.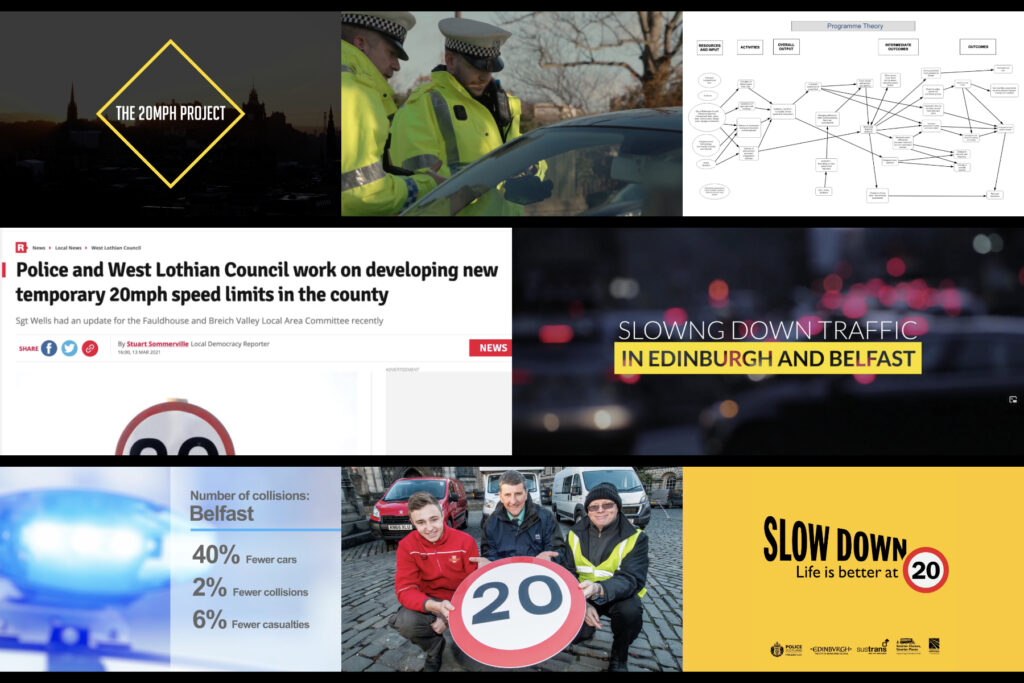 My re-write (and re-pitch)
I suggested we split the script into two films, to provide people taking the workshop the time to take a break in-between each video, and for a potential mid-point Q&A. It also makes it much more easier to digest if you're watching on your phone. We slimmed the script down to 12 minutes total and I spent some time sourcing footage from the project's partners and collaborators including Scot Gov, NI Executive, the Belfast City Council, Lothian Police, Sustrans, and NHS Scotland. The project was lacking an identity to associate with the project, so I also quickly created a subtle little 'brand' (or 'visual identity' to anyone who is allergic to that word!) to place within the videos. I believe this is now going to grow out of the videos and will appear in the workshop's materials, pop up stands and merch.
Final thoughts
This was a fantastic project to work on and I had a great time working with Ruth Jepson (UoE), Mike Kelly (UC) and Karen Milton (UEA). This project required a lot of communication and edits along the way and the team handled this with complete assurance. They even made it fun! The 20mph Project is about reducing traffic congestion, making cities more liveable and greener but ultimately, it's about saving lives. I think both videos work well and I was really pleased to get such positive feedback from the team. After everything was wrapped, the team held one more zoom meeting to let me know their thoughts on how it went and what they thought of the final product. I'm pleased that I was able to deliver on the brief and I was able to elevate the video beyond their original expectations and give it the quality and detail it deserves.  I've included both videos below to check out.
Part One
Part Two
Share