Climate Solutions MOOC Animation (using AE 3D Cameras)
Climate Solutions MOOC Animation (using AE 3D Cameras)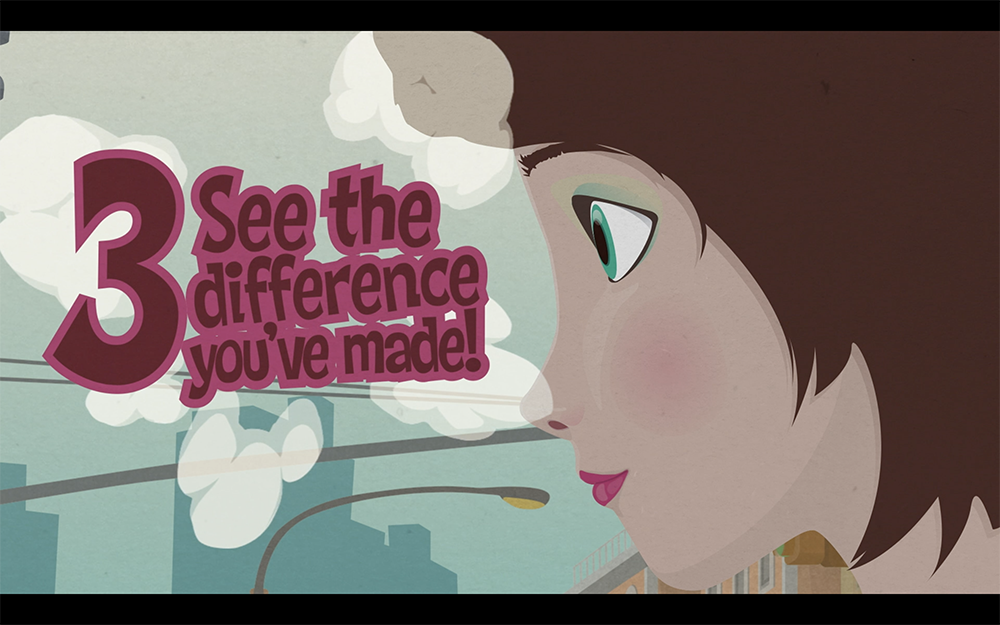 Hi all, I've been working mainly on two projects over the past few months, both of which have just crossed the finish line: Two films for Edinburgh and Belfast's 20mph project and a special animation for the new Climate Solutions MOOC. For this post, I'll focus on the Climate Solutions video.
Do Nation 'How to Make a Pledge' video
Encourage learners to join Do Nation
The brief required a video to play at the end of the MOOC to encourage learners to join Do Nation, a website that encourages people to donate by doing, as opposed to giving cash. People running a marathon or climbing a mountain can raise sponsorship by asking their friends and family to pledge small actions like eating less red meat or doing their washing at a lower temperature. The website then helps to calculate the resulting carbon savings.
Working with 3D Cameras
I was provided with a script, some rough visual suggestions with a budget and lead-time that provided me with the ability to flex my creative skills beyond the typical sort of animation work that comes out of Interactive Content (IC). I chose to create a hand-drawn vector animation edited with After Effects which utilises the software's 3D cameras.
AE's 3D camera is a ridiculously complicated application, and nobody bar myself and a few others use the software in a professional capacity in LTW, so I'll skim over details but in essence, it's a tool which can take your 2D illustrations and place them within a faux-3D environment. Each layer is placed in front of the other on a X-Y-Z axis. The animator chooses how far apart they sit, how big each layer is in relation to the other (providing a sense of perspective) and where the camera should be positioned, where it should move and what it should focus on.
Devil is in the detail
I used a lot of zoom shots so this meant I had to create very detailed drawings within IND, AI and PS. I like artwork and animations that reflect their budget to the trained eye, so I didn't skimp on detail. This also meant I could repurpose parts of one scene and use them in another and possibly use them in future animations too. Approx. 70% of the time on this project was spent creating new illustrations.
I created a single character to carry the narrative. Next, I designed six detailed scenes: outer space, street, park, kitchen, phone and laptop. Each scene contained detailed components such as crater holes, buildings, dripping taps, lamp posts, trees, signage, smartphones, curtains and a-blink-and-you'll-miss-it spaceship that whizzes past planet earth, complete with a little alien at the steering wheel. The scenes are then re-built in AE as 3D scenes and the process of camera work begins. That's the long and laborious part I won't bore you with.
Finally, I gave the artwork a slight retro cartoon vibe with weathered colours, font, old school film grain and a nice public domain music track to keep the whole thing moving along at a quick pace. I also used scans of textured paper to add visual interest and emphasise the environmental aims of Do Nation. You'll also spot scene one transitions from planet earth into a recycling logo.
Short, snappy, fun animation
The end result is a short, snappy, fun animation, worthy of a University platform which doesn't cut corners in production and was delivered within its budget and before deadline. It's also packed with details that people can spot on repeat viewings. I think it's a nice way to sign off the MOOC and I hope it inspires people to try Do Nation.
Credit where credit is due
There are of course, more people involved in the creation of this work than you might think or are typically acknowledged when media of this type is shared publicly, so credit where credit is due! Huge thanks to Galina Toteva and the School of Geosciences for the opportunity, Calum MacPhail for recording the voice-over, Lizzy Garner-Foy for editing the script with Galina and also for Kirsten Leggatt for delivering an excellent voice-over. You can check out the MOOC and visit Do Nation here.

Share