Learn Upgrade: What's new?
Learn Upgrade: What's new?
Learn will be upgraded on Wednesday 5th July to version Q4 2016 CU3 (Yippee!)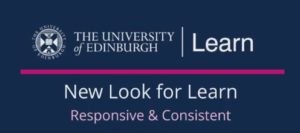 The upgrade includes a snazzy new theme which aligns with the Edinburgh Global Experience Language (basically it aligns with the University look and feel) and is responsive (aka it scales better on a mobile device). For a sneak peek watch this awesome video!
Wait, there's more! New functionality includes assignment receipts, drag and drop, student assignment reminders and improvements to the assignment download options.
For a detailed list please visit the Learn Summer Upgrade webpage.
Share