Reading Time:
4
minutes
Edinburgh University Students' Association's Student-Led Teaching Awards are back to recognise outstanding members of learning and support staff. After a challenging year for everyone, we're celebrating our worthy nominees by shouting about their successes across our digital platforms.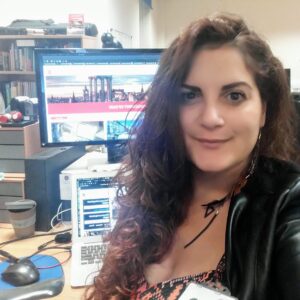 What is your full name? 
Valentina Ferlito 
What is your job title? 
Teaching Fellow 
What school or service do you work in? 
College of Medicine and Veterinary Medicine 
Please tell us a little bit about yourself and your role. 
I came to love the University of Edinburgh, the quality of their student support and their student-centred approach since the time of my PhD here (2012-2015). I started teaching while completing my thesis in Neuroinformatics and Computational Neurosciences. Since then, I have been working as a tutor and facilitator with Undergraduate Medical, Biomedical and Informatics students.  After my Post Doctoral position, I decided to leave research and dedicate myself exclusively to teaching.  I caught all opportunities to improve all skills relevant to teaching, chasing (and enjoying) every additional hour in the class and attending all Professional Development courses available. The part-time position as Teaching Fellow at the online MSc Programme in Clinical Management of Pain) was the real game-changer for my growth as an academic teacher. Together with this, I started my Postgraduate studies for a Certificate in Academic Practice (PgCAP) and thanks to the continuous support of the Pain Management Team, my teaching mentor and the whole PgCAP team I am now halfway to become a Fellow of the Advance Higher Education. 
My roles include course organisation, lecturing, marking, design and creation of online learning material and supporting students as a personal tutor. Together with this I occasionally work as Teaching Fellow in different courses at the Biomedical School Teaching Organisation, supporting my students as tutor and facilitator. Recently, I developed a keen interest in academic administration, regulations and assessment, volunteering as Assistant Convenor at the Board of Examiners for the online MSc Programme in Surgical Sciences. 
What does it mean to you to have been nominated for a Teaching Award this year? 
I was deeply touched by the beautiful words my student wrote. These nominations are for me a tangible confirmation that my teaching style, my efforts and my dedication to being a better teacher and to helping my students were effective and well-received.  
Knowing that my teaching inspired my students and that I was able to nurture them when they were stressed, worried or confused reminded me that teaching is not only a profession but mostly a way of living, of being. I am a teacher beyond the class, the lecture or tutorial, the Q/A session, and beyond the marks I have to assign, well beyond the time I am paid for being a teacher. I am grateful to all those students that came to me with their questions, complaints, doubts and queries, as they all contributed to forge and strengthen my teaching and student support skills. I am deeply honoured to be their teacher and I hope I will be able to be as good of a teacher as my students depict me in their nominations. 
A reward or award is always welcome, but the nomination itself is the biggest prize and a dazzling recognition of my efforts that will hopefully help my career progression. 
 
What's your favourite part of your role and working with students? 
I like when my students start asking 1000 questions after a lecture or during a tutorial. It tells me I managed to catch their attention and interest in the topic. Indeed, the face-to-face time is the best, but I also enjoy the online tutorials and reading their comments on the discussion boards. 
How have you adapted your approach to teaching and supporting students under the Hybrid Model this year? 
My role as a Teaching Fellow at the MSc online in Clinical Management of Pain is 100% online. Although this helped me considerably with most technicalities of online teaching, managing to catch 1st year UG students attention in online tutorials and facilitated group discussions was really challenging!  
I tried to wear my "best hut", keep smiling, be as friendly as possible but also honest and not shy in showing my students that I too was facing many difficulties with the Smart Working and the LockDown situation.  
At first, it was tough, but dedicating more time to discuss their issues, listen and answer their questions and playing additional icebreaker activities was really effective and helped me in getting most of their cams on from day one (if you have ever done online tutorials you know how hard is that!!) 
I also found that trying to promote the tutorial as a perfect opportunity for socialisation and meeting colleagues was really effective: I would email my students a couple of days in advance to remind them that the Collaborate room would remain open for them (and for myself, if they wanted me to be there!) after the end of the tutorial. I always asked them to stay and share some thoughts experience, difficulties and virtual coffees, when possible. It was time-consuming for me too, but also very enjoyable to get to know them better, as it would normally happen on campus after a tutorial or a lecture. I am not sure these are pure teaching strategies… but hey! they worked well in different courses! 
What's been the biggest challenge in your role this year? 
I think that not being in the office with my team and not being able to spontaneously discuss any issue over a coffee was the worst. They have always been so helpful, supportive and inspirational when working on new courses or content or when any sort of issue arose. I think the learning material I created this year has suffered this lack of inspiration and genuine constructive human interaction. I got slowly better and adapted to this "loneliness at work", but I am truly looking forward to seeing my teammates and my students again in person.
 
What would you say to the student(s) who nominated you, or students who are considering submitting a nomination for a staff member who has had an impact on them? 
To those who nominated me and other staff members: Thanks for the time you took to do this. and the wonderful words you wrote. It may seem a small thing to you, but it means the world to me! 
You are amongst the most important people in my life because you are the future, and I am honoured to be your teacher and to support you in this difficult but rewarding path. 
To find out more about the Teaching Awards and browse nomination categories, please visit the Students' Association's website.